Each Friday, we share three topical longreads in our Weekend Reader newsletter. This week, LionsRoar.com editor Sam Littlefair looks at the crisis in Myanmar. Sign up here to receive the Weekend Reader in your inbox.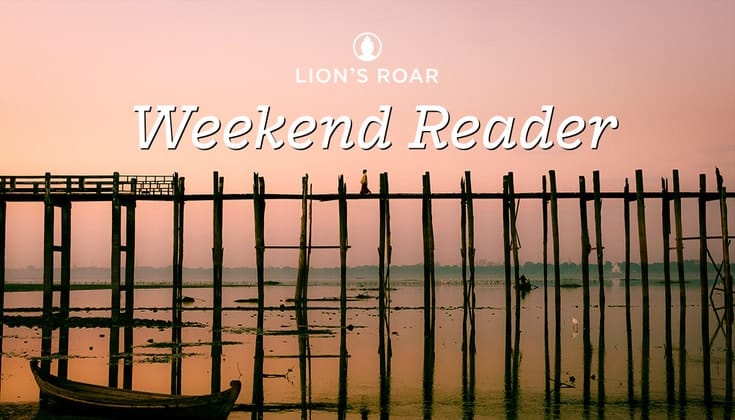 Most Buddhists are aware that there is a humanitarian crisis unfolding in Myanmar, a nation where almost 90% of the population is Buddhist. The United States recently concluded that the violence — perpetrated predominantly by Buddhists, against Muslims — constitutes ethnic cleansing. But not many Buddhists know much about the background of the crisis.
Buddhism and national identity have long been intertwined in Myanmar. As Erik Braun explains, famed Buddhist monk Ledi Sayadaw helped popularize meditation among laypeople out of fear that British colonialism would stamp out Buddhism in Burma. He started a movement that later helped popularize Vipassana and Insight Meditation around the world.
Around the same time, says Randy Rosenthal, Burmese Buddhists — anxious that their religion might disappear — developed a narrative that Muslims were the threat. Rosenthal looks at the historical background that led to the crisis today.
What does this mean for us? In her essay, Burmese-American writer Khin Mai Aung asks herself how she will tell her children about a phenomenon that runs counter to everything they know about Buddhism. It's a question for all of us: how will we understand this crisis, as Buddhists? And how will we relate to it? —Sam Littlefair, editor, LionsRoar.com
How have Buddhists become implicated in one of the worst humanitarian crises in the world? Randy Rosenthal looks through history to understand how a religion of peace has become a justification for violence.
Rakhine State is home to over a million Muslims, most belonging to the Rohingya ethnic group, and over two million Buddhists of the Rakhine ethnic group. The state's capital is Sittwe, where communal violence erupted in 2012, and relations between Rakhine and Muslims were severed. Things have gotten exponentially worse since then; recent articles published in The New York Times and Al Jazeera exposed mass graves of Rohingya massacred by Burmese troops in September 2017, with acid apparently used to disfigure the bodies beyond recognition. In December 2017, Doctors Without Borders estimated that over 10,000 Rohingya had been killed in the most recent upsurge of violence, and that about 700,000 are living in exile in neighboring Bangladesh and India, causing the UN Human Rights chief to state the situation was "a textbook example of ethnic cleansing."
Determined to save Buddhism in Burma during colonial rule, Ledi Sayadaw popularized the teachings of the Abhidharma and introduced thousands of laypeople to the practice of insight meditation. As Erik Braun tells us, he set in motion a revolution in Buddhist practice still being felt around the globe.
[Ledi Sayadaw] shared with other Burmese a sense that time was not on their side. Indeed, from the Burmese Buddhist perspective the flow of history rarely is, because it is commonly understood by Theravadan Buddhists that Buddhism will inevitably disappear from this world, not to reappear for "incalculable eons." Now, in the face of colonialism, they could see clearly how that end might come.
Khin Mai Aung once worried her children would pick up dogmatic views from her husband's Catholic faith. Now, she struggles to explain to them the terrible violence in her country of birth — incited by members of her own faith.
Previously, I didn't fully appreciate how Burmese Buddhism – like other organized religions – is more than a spiritual institution; it is also a political one. Myanmar is almost 90% Theravada Buddhist, and the sangha is a powerful player in the Burmese state. Monks are human beings with the ability to either challenge the prevailing social order (as they did in the 2007 Saffron Revolution) or to reinforce it (as hardline monks in nationalist Buddhist organization Ma Ba Tha are doing now). Our faith, like other organized religions, can be twisted by political forces and bad actors to support exclusion and persecution instead of inclusion and tolerance.