A report by Claudia Chender MacLellan on the UN High Level Meeting on Wellbeing and Happiness: Defining a New Economic Paradigm.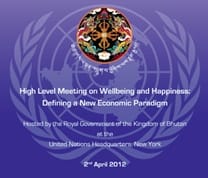 The agenda was as packed as the room at the opening of the UN High Level Meeting on Wellbeing and Happiness: Defining a New Economic Paradigm. Yesterday's meeting was hosted by the government of Bhutan, under the auspices of UN Resolution 65/309, which empowered the Kingdom of Bhutan to convene the meeting as part of this week's UN General Assembly. Brimming with heads of state, distinguished academics, spiritual leaders, civil society and representatives of spiritual communities –and featuring an afternoon video address by the Prince of Wales — it was a day full of mostly agreement and optimism about the need for a new and more commonsense way of measuring development.
Thirty years ago, the Fourth King of Bhutan declared that, "Gross National Happiness is more important than Gross National Product." This set off decades of hard work, study and application by the Bhutanese and several academics who have warmed to the idea, culminating most recently in the meeting yesterday at the UN and follow up meetings today and tomorrow to attempt to expand and refine the considerable work that has already been done into a new economic paradigm that could be adopted voluntarily by UN member states.
After a welcome from the Secretary General Ban Ki-moon, drawing on both the Buddha and Aristotle as historic champions of sustainable development, the President of Costa Rica gave a stirring speech reflecting on the tremendous gains that can come when a country has the political courage to put human needs such as sustainability, peace and happiness at the centre of a national agenda, a sentiment echoed later by the former president of Chile, Michele Bachelet. Throughout the morning, many of the speakers agreed on the need to change the manner of measuring progress and repeatedly commended Bhutan for the development of the Gross National Happiness Index.
But there were also gentle challengers. Vandana Shiva, a world renowned food activist and physicist currently working with the Bhutanese government to help them become the first country to produce 100% organic food (and the only panelist to get a standing ovation) noted that measurement automatically shrinks reality into whatever system is being used. She cautioned against thinking things are too complicated, slyly noting that in the First World Happiness Report, edited by John Helliwell, Richard Layard and Jeffery Sachs, released March 31st to coincide with this meeting, although full of measurements and analysis, makes no mention of something as simple and fundamental as food. China's official welcome was supportive of the initiative but questioned the specifics of accomplishing such a system. Throughout the day and over the working lunch several people noted the difficulties attendant to becoming too specific in recommendations that would necessarily have to be tailored to local contexts. Even the Nobel prize-winning economist Joseph Stiglitz humorously but importantly noted that he knew he was on to something with all of this some 20 years ago when the U.S. Congressional commission he chaired suggested a more robust and inclusive form of measurement, along the lines of GNH, and Congress threatened to revoke their funding.
Perhaps the most apt analogy and call to action was made late in the afternoon by the famous environmentalist Hunter Lovins. Reflecting on Bhutan's courageous attempt to create a new economic paradigm, she recounted the parable of the hummingbird. When the forest was on fire and all of the animals were fleeing around her, the hummingbird was ferrying droplets of water in her tiny beak, one by one, to try and staunch the flames. "What are you doing?" her distinguished animal colleagues asked. "The best I can", replied the hummingbird. If a tiny country like Bhutan can be so courageous and attract so much support and so many accolades from all sectors of global society, then perhaps the time has come for radical transformation.
The question being discussed today and tomorrow is how. How does a system tailored to a Buddhist society like Bhutan, with strong and mostly intact traditions of mindfulness and other techniques that can truly foster happiness, translate into the secular world? Noted academics, thinkers, activists, and spiritual leaders have been and are continuing to work hard to answer that question; here's hoping they come up with some answers.
Not surprisingly there was a great deal of social and conventional media coverage of the event. For more details, visit:
THANK YOU FOR READING LION'S ROAR. CAN WE ASK FOR YOUR HELP?
At Lion's Roar, our mission is to communicate Buddhist wisdom in today's world. The connections we share with you — our readers — are what drive us to fulfill this mission.

Today, we're asking you to make a further connection with Lion's Roar. Can you help us with a donation today?
As an independent nonprofit committed to sharing Buddhist wisdom in all its diversity and breadth, Lion's Roar depends on the support of readers like you. If you have felt the benefit of Buddhist practice and wisdom in your own life, please support our work so that many others can benefit, too.

Please donate today — your support makes all the difference.

Lion's Roar is a registered charity in the US and Canada. All US & Canadian donations are tax deductible to the full extent allowed by law.