Hozan Alan Senauke offer this recollection of Robert Aitken Roshi, entitled "Using It Up," and written for his 80th birthday in December 1996, but recalling events some years earlier.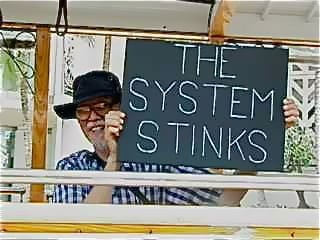 Robert Aitken Roshi — Dairyu Chotan/Great Dragon (of the) Clear Pool — died in Honolulu on Thursday at the age of 93. He was the dean of western Zen teachers, founder of Buddhist Peace Fellowship, a prophetic and inconvenient voice of truth right to the end. I am honored to have known, worked, studied, disagreed, and agreed with him. I cannot imagine engaged Buddhism in America or my life of practice without him. And, of course, he is now everywhere. Nonetheless, as the sutra says: Gone, gone, gone across, completely gone to the other shore, awake in joy!
Using It Up: Aitken Roshi at 80


.
We use up our teachers with all our troubles and thickheadedness. Or they use themselves up trying to carry us to the other shore. At least in America this seems to be the case. Suzuki Roshi, Katagiri Roshi, Maureen Stuart, Maezumi Roshi, Issan Dorsey — they all died too young. So we celebrate Aitken Roshi's fifty years of looking and pointing, pecking and tapping. Though he has used himself up so thoroughly, by constitution, character, and by the great unquenchable mystery of Dharma, nothing has been lost. Skin and bones just grow older.
.
At the second Buddhist Peace Fellowship institute in 1992 Aitken Roshi gave a series of talks on the Paramitas, or Perfections, each early morning after meditation and before breakfast. It was a wonderful way to begin our daily work. These talks, along with some of our group discussion, were later edited into his book, The Practice of Perfection. For the remainder of the day Roshi studied and rested, joined some of the workshops, but mostly I remember him seeing a steady stream of students who had heard he was in Oakland. By this point in his life, he was mostly in Hawaii, straying to the mainland once or twice a year. They came from all corners of the Bay Area and beyond, meeting him formally and informally in his room, over meals, or walking the grounds of this slightly down-at-the-heels Catholic retreat center.
One night, well into our week together, I woke about three in the morning to use the bathroom down the hall from my room. Walking back, I seemed to hear voices from further down the hall. Zeroing in on the sound I recognized the deep, dry, sound of Roshi's voice addressing a point of dharma with some urgency. My god! Did his students (I wasn't one at the time) never leave him alone? Dokusan at three a.m.? Let the old guy get some sleep!
Who was it? I hesitantly padded closer to the door. There was no dialogue. Measured sentences rolled forth. Then rolled again, with a small shift of wording or emphasis. Words on Virya Paramita, the perfection of zeal or energy, his talk for later that morning. I was astonished, somewhat relieved. I went back to bed.
This moment — bare feet in the darkened hallway, dharma words late at night — is still clear and potent for me. Roshi's expression of Virya Paramita, almost secretly practiced, using it all up and replenishing himself. Don't rely on text already written, rather, weigh each word. What do I really think? What do I really mean? Keep polishing.