Yesterday on our Facebook page we shared a story about a Connecticut inmate who had made it known to prison officials that he is vegetarian, and that this is part of living a Buddhist way of life. (Not all Buddhists feel the same way, of course.) It generated quite a lot of comments among our online friends. Why?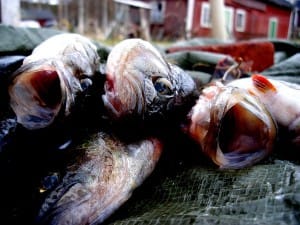 Because, despite the request, the inmate is being served fish three times a day, with the prison insisting that "fish is not meat." 35-year old Howard Cosby, who's serving a 19 ½-year sentence at the Corrigan-Radgowski Correctional Institution in Uncasville for sexual assault and other crimes, has reached out to People for the Ethical Treatment of Animals (PETA) for help.
According to the AP story, Richard Kerr, an attorney for PETA, has
"sent a letter to warden Scott Erfe on Tuesday asking that fish be removed from Cosby's diet under the federal Religious Land Use and Institutionalized Persons Act. The law, passed in 2000, requires that prisons avoid imposing substantial burdens on inmates' religious exercises.

"Not all Buddhists are vegetarians, but Kerr said Cosby practices vegetarianism as part of a Buddhist lifestyle of nonviolence, and that is enough to meet the requirements under the federal law."
The AP quotes Kerr as saying,"Clearly fish is meat. They have thoughts. They have interests. They have a central nervous system. They are not swimming vegetables."
Most of our Facebook commenters agreed.
One said, "There are many Mahayana scriptures to justify the inmate's objection – 'Food of Bodhisattvas,' shabkar.org, is a good place to find them quickly," and another suggested, "Maybe we should start saying 'We don't eat sentient beings' instead of 'We don't eat meat.' It seems to confuse others."
Another countered, "Anyhow the Buddha ate everything given to him, he wasn't a vegetarian, he ate what they put in his bowl, and that could be anything, meat, fish, veg., etc."
Many commenters at the Huffington Post, on the other hand, were far less focused on the issue of what constitutes meat, with sentiments running heavily along the lines of this from (username) "sadwitness":
"He is certainly free to not eat any part of his FREE MEAL that offends his senses. I have read that meditation is a great way to stave off hunger. Perhaps he could spend some time reflecting on the pain he caused his HUMAN VICTIMS, while he expresses his love and respect for all living beings…."
And, just as additional food for thought, here is the 17th Karmapa's relevant discussion of verse 26 from the classic text, The Thirty-Seven Practices of a Bodhisattva, from a fuller commentary in the January 2010 issue of Lion's Roar:
"If, lacking discipline, we can't even help ourselves,
Wishing to benefit others is just a joke.
Therefore, to maintain a discipline
Free of desire for samsara is the practice of a bodhisattva.

"The downside of the perfection of discipline is called 'the demon of austerity'—taking on discipline as a hardship and making it into a struggle. Done right, discipline is taken on joyfully and with a clear understanding of why engaging in it is good. For example, many people nowadays have given up eating meat. Why would we do that? We should not become vegetarian just because someone says we should, or because the Buddha taught that we should not eat meat, or because it is the custom where we live, or because giving up meat would give us a good reputation. If we give up eating meat for these reasons, it might be better not to do it at all, because our decision is not sincerely motivated.

"In the beginning, we have a certain feeling about not eating meat. Then we can ask ourselves questions, such as what are the real benefits? After careful consideration, we become certain that this is the right thing to do. Our answer has to come from within, inspired by real conviction, so that when we do give up eating meat, it does not become a hardship or a struggle but something we do with joy and intelligence. It is the same with any discipline in spiritual practice. Whatever we give up or whatever we do, we should first feel a connection to the practice and then be very clear why we are doing this and not something else. When we act this way, our discipline becomes very inspiring."