Margot Sammurtok introduces young activists who are making the planet a better place.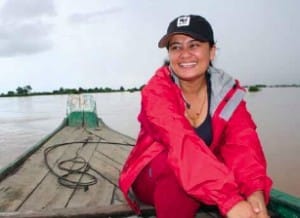 Dekila Chungyalpa
Sacred Earth Program
Washington, D. C .
"We need to break down the barrier that nature is separate from us," says Dekila Chungyalpa, whose activism has stretched from protecting endangered tigers in the Himalayas to saving the Mekong River dolphins of Southeast Asia. "We cannot live only for ourselves, we have to take into consideration all life."
Chungyalpa, thirty-six, says her calling came early, when she was a child in Sikkim. She would spend vacations with her grandmother, a Tibetan Buddhist nun who lived in semi-retreat near Gangtok, and found that she absolutely loved trees. It was the beginning of a wider love of nature that intensified over time, and when she moved to New York City at fifteen, the contrast was such a shock, she says, that she "naturally became an activist in environmental issues."
Fortifying her devotion with degrees in environmental studies and sustainable development, she has been working with the World Wildlife Fund for the last ten years, first in community-based efforts to save tigers from extinction in both the Himalayas and South Asia. "The conversion of natural spaces to our needs reduces the space needed by wildlife, especially tigers, which need a lot of space," says Chungyalpa, a devout Buddhist and student of the Seventeenth Karmapa, Ogyen Trinley Dorje. "Tigers and humans are competing for the same space."
The WWF's work in the Himalayas prompted the Karmapa to invite Chungyalpa to advise the Khoryug, an organization he has established to help Kagyu monasteries and nunneries in the Himalayas become environmental leaders in their own communities. The Khoryug, which means "environment" in Tibetan, is forming community-based partnerships to work on environmental protection, applying the Buddhist principle of interdependence of all sentient beings and the Earth itself. Chungyalpa helped develop training for monastic coordinators, and more than forty-five monasteries and nunneries now have active environmental projects going, such as solar power, organic farming, and rainwater harvesting.
As founder and director of the Sacred Earth Program, developed by the U.S. branch of the WWF to work with religious leaders in Asia on conservation issues, Chungyalpa is helping the Mahasangharaja, patriarch of Buddhist monks in Cambodia, to save the Mekong River dolphin, now found in only one stretch of the river, between Cambodia and Laos. Monks work with the WWF to teach communities about the freshwater dolphin's importance and the need to protect the river, as well as monitoring the dolphin population and protecting them from illegal fishing.
Chungyalpa says plans to develop hydroelectric power by building a massive dam on the main stem of the Mekong "would be a disaster." Some seventy million people depend on the river for their livelihood and diets, and thousands of fish species could die out within ten years because the dam would prevent spawning. "There is a solution," she says, "which is to put dams on the tributaries."
Biodiversity is not only important for wildlife, Chungyalpa says. "If we destroy it, what do we do? What we really hope the Sacred Earth project does is, through faith leaders, restore our understanding of people's interdependence with nature."
Rebecca Fletcher
Equity Trust
Turners Falls, Massachusetts
"We're all in this together!" Rebecca Fletcher says. "Each life creates ripples outward, and we are all dependent upon the land and communities that sustain us."
Fletcher is one of the employees of the nonprofit Equity Trust Inc. in Massachusetts, where she combines compassion and optimism to help groups that protect farms and affordable housing.
"I get to talk with organizers all over the country who have land-related interests and problems, and hear the stories of their remarkable projects," the thirty-year-old says. "I provide counseling, technical consulting services, and education, using shared-equity models of ownership for housing and for farms. Using community land trusts and other ways of combining public and private ownership, the benefits of land can be shared more broadly and equitably."
Solidarity economics—social and economic justice—are the mainstays of her philosophy. From the time she was six until she was nine, she spent one night a week on a lumpy fold-out couch at a homeless shelter where her mother worked the Saturday overnight shift. On Sundays, she played with the kids at the shelter.
"Poverty, homelessness, and malnutrition could never be faceless or abstract for me," Fletcher says.
A focus of her work is community land trusts, or CLTs, through which residents can own the houses, but not the land itself. CLTs can be used for housing and other purposes like farms; they lease land to a co-op or another nonprofit, and set resale formulas so residents can make a reasonable profit on the sale of a house, but not a "windfall," she says.
A project close to her heart is near her home in Northampton. She helped develop the nonprofit Grow Food Northampton in 2009 when prime agricultural land came on the market in town. Grow Food raised $670,500 in eight months and bought 121 acres. There are seventeen acres for community gardens and land for commercial farms—the first of which signed a ninetynine- year lease and sold harvest shares to two hundred families, including twenty-four households with very low incomes that Grow Food subsidized.
Another project close to home is the Holyoke Community Land Trust in South Holyoke, which provides quality homes to low- and middle-income families. "The HCLT is committed to preserving the affordability of housing," she says, "one owner after another, one generation after another, in perpetuity." It was originally formed in 1992, but a combination of economic and social factors caused the HCLT to go dormant for several years. Fletcher and others, however, collaborated to revive the land trust and it is once again a vital part of the community with plans to add two new homes.
Fletcher is a member of the Transatlantic Network 2020, an initiative of the British Council. Members are chosen for their high levels of accomplishment in their field and the expectation that they will "continue to develop and lead their sectors in the long term." TN2020 aims to develop networks across Europe and North America "to incite grassroots actions on global issues," and has 150 members, mostly in their twenties and thirties, from twenty-four countries. The project, as its name implies, is meant to end in 2020.