The Buddha and Religious Diversity
by J. Abraham Vélez de Cea
Routledge, 2013, 245 pages; $13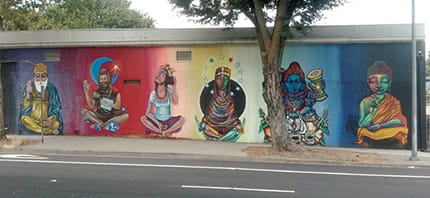 Nearly forty years ago, at a meditation course I attended in Nashville, Indiana, Lama Thubten Yeshe was asked by a Christian woman in the audience, "Are God and dharmakaya the same?" Lama remained silent for several minutes, rocking back and forth on his cushion, pondering, as we sat in suspense. Finally, he simply said, "Yes." I have never known quite what to make of his answer, but it has remained a sort of interreligious koan for me in the years since as I've tried to puzzle out how my identity as a Buddhist did or did not intersect with the identities, ideas, and practices of people in other religious groups.
Not every modern Buddhist is interested in such questions. Indeed, if recent debates in the Shambhala Sun and elsewhere are an indication, nowadays many Buddhists think they practice not a religion but a form of "spirituality" or "mind science." One's view of the matter, of course, hinges on the meaning of various big words, most crucially "religion." Many people who deny they are "religious" associate religion with blind faith, ritualism, and dogmatism. Confident that Buddhism is free from these, Buddhists believe they are not practicing a religion—never mind that scholars are just as sure that Buddhists do belong to a religion.
Such debates notwithstanding, historically most Buddhists have seen themselves as part of a religious community and have, whether by choice or necessity, found themselves both in conversation and competition with other such communities. From the Buddha's engagement with the Brahmins and ascetics of his own day, to Milarepa's song and miracle contests with Tibetan Bonpos, to Ven. Gunananda's debates with Christian missionaries in nineteenth-century Sri Lanka, and to contemporary practitioners' attempts to see Jesus as a great bodhisattva—or God as dharmakaya— Buddhists have squarely faced the problem of religious diversity.
Religious diversity is a "problem" simply because there are in the world at any given time multiple groups that claim to understand, and provide access to, "the ultimate"—and their descriptions of the ultimate and its attainment often appear contradictory. Thus, a faithful Christian soul being saved through the grace of a loving-creator God seems rather different from a Buddhist awakening through meditation on the absence of any eternal deity or self. Who, if anyone, is right?
Many Buddhists undoubtedly find such a question unanswerable, uninteresting, or both, and they are content to live with a sort of postmodern agnostic pluralism: "We do our thing, they do theirs, and who knows where the truth lies?" For those, however, who still are intent on capital-T Truth and therefore feel compelled to think and converse across traditions, no better guide has appeared than J. Abraham Vélez de Cea's The Buddha and Religious Diversity. This lucid and sophisticated book—which cries out for an affordable paperback edition—is at once a learned reflection on the categories we use to think about religions that are not our own and a scrupulous inquiry into the Buddha's view of other religions. It presents a provocative set of suggestions for how Buddhists—or anyone—might engage the religious other, now and in the future.
For almost a half-century, Christian theologians and those they influence, including Buddhists, have employed a trio of terms to describe how someone in one religious tradition may regard an alien tradition: exclusivism, inclusivism, and pluralism. Broadly speaking, exclusivism involves the belief that the highest truth and goodness is only to be found in one's own tradition—what we might call the "I'm okay, you're not okay" approach. Inclusivism acknowledges that there is much truth and goodness in other traditions, but it ultimately subordinates them to one's own tradition: "We're all okay up to a point, but in the end, I'm the most okay." Pluralism recognizes multiple traditions that describe the highest truth and goodness, and it asserts that none can supersede the others. In other words, "We're all okay."
Vélez de Cea aims to refine and complicate these categories. What I have called "the ultimate" or "highest truth and goodness," he designates by the slightly awkward but tradition-neutral acronym OTMIX: Our Tradition Most Important X—with X remaining unspecified to allow for various notions of what is Most Important, whether it's a principle like Tao, the state of nirvana, a deity, or some ethical principle or ritual practice. He distinguishes between views and attitudes, such that, for example, a Christian may take an exclusivist stance toward the ideas and practices of Buddhists while still remaining in friendly and informative dialogue with them.
More importantly, Vélez de Cea adds a fourth category to the usual three: pluralistic-inclusivism. This category acknowledges that some religions may express the same fundamental concepts and values as one's own religion but in different terms. Therefore, this view does not ultimately subordinate other religions. Instead, it says, "I'm okay and you are too—if, despite our surface differences, we agree on the essentials."
The possibility of pluralistic-inclusivism is crucial to Vélez de Cea's analysis of the Buddha's view of religious diversity. There is, he suggests, an important distinction between the views of many Buddhists, both past and present, and that of the Buddha himself. Historically, most Buddhists have been either exclusivists—claiming that Buddhism alone is the key to the highest attainment while other traditions are dead ends—or inclusivists, acknowledging that other religions are conducive to the highest attainment but only if, in the end, they are subsumed under Buddhism. He categorizes two important contemporary Buddhist thinkers, Bhikkhu Bodhi and the Fourteenth Dalai Lama, as "inclusivistic-exclusivists" who combine an exclusivist view of other religions—in which full liberation is properly attained only through one or another version of Buddhism—"with a genuine inclusivistic attitude that accepts and respects elements of truth and goodness found in other traditions."
Whatever the views and attitudes of most Buddhists, Vélez de Cea argues, the Buddha himself was not an exclusivist, inclusivist, or a pluralist but rather a pluralistic-inclusivist who had a firm sense of the elements of the dharma that were nonnegotiable—for instance, the four noble truths, the eightfold path, dependent origination, the four types of accomplished ascetics (streamwinner, once-returner, non-returner, arahant), and nirvana—but remained open to the possibility that those elements might be found in traditions other than his own, either during his lifetime or afterward. In other words, the Buddha was willing to acknowledge the validity of other traditions, so long as they incorporated in some way the ideas and practices that have come to be associated with buddhadharma.
Vélez de Cea builds his case on the basis of selected passages from the suttas of the Pali canon (the Mahayana is beyond his purview). Drawing on his expertise in Pali and his familiarity with both classic and modern Theravada commentaries, he painstakingly explores the interreligious implications of a number of key texts, including the Satipatthana Sutta (Discourse on the Foundations of Mindfulness), Kalama Sutta (Discourse to the Kalamas), and Mahaparinibbana Sutta (Discourse on the Great Decease). It is impossible to trace the details of his complex and nuanced argument in a brief review. Instead, I will simply outline three of his most important claims.
First, he says, despite criticizing other teachers and doctrines, the Buddha never explicitly states that liberation is to be found solely through him and his dharma. He remarks on a number of occasions that he approves only of that "teaching-and-discipline" in which, for example, the eightfold noble path and the four types of accomplished ascetics are found. But in Vélez de Cea's reading—very different from that of orthodox Theravadins—these statements do not preclude such a path or such ascetics being found outside the Buddha's dispensation. Indeed, because the Buddha states elsewhere that the truth is the truth regardless of whether buddhas teach it or not, it is possible that those outside the sangha might discover it on their own and articulate it in their own non-Buddhist way.
Second, Vélez de Cea points out that the Buddha's openness is evident from his delineation of three kinds of fully awakened beings: disciples, or hearers (savakas); solitary buddhas (paccekabuddhas); and fully enlightened buddhas (sammasambuddhas). Fully enlightened buddhas, who periodically found the sangha, and disciples who have joined the sangha and learned the dharma from a fully enlightened buddha or his successors, presumably are Buddhists. But the solitary buddha does not join the sangha, study with the Buddha, or teach others. Yet the solitary buddha is accepted as enlightened, implying, says Vélez de Cea, that liberation may be attained by persons outside the Buddhist order.
Third, because in Vélez de Cea's view the Buddha of the Pali canon made no claims to omniscience of the sort later attributed to him by both orthodox Theravada and Mahayana traditions, he could not and would not claim to have knowledge of all possible permutations of the dharma, let alone of religion more broadly. Thus, there might well have been instances of the true dharma outside his order of which he was unaware. More importantly for contemporary Buddhists, the Buddha could not foresee the future course of religion, leaving open the possibility that there might be valid non-Buddhist paths to liberation in eras after his passing—including our own.
It is important to reiterate that Vélez de Cea does not see the Buddha as a pluralist, let alone a relativist, for whom all spiritual paths are equally valuable. He is, rather, a pluralistic-inclusivist, and as such only will acknowledge the validity of those traditions in which such "nonnegotiable doctrinal claims" as the four noble truths, the eightfold path, and so forth are in play. For Vélez de Cea, the Buddha's approach provides a model for contemporary Buddhists who no longer need to be prey to the dogmatic outlook of exclusivism, the condescension implicit in many forms of inclusivism, or the relativism suggested by pure pluralism. By adopting pluralistic-inclusivism, they can remain open to non-Buddhist instances of the dharma, so long as certain doctrinal requirements are satisfied.
In the course of his argument, Vélez de Cea avoids many common traps. He does not claim that the Pali canon is equivalent to the views of the historical Buddha but rather only seeks to uncover an "early Buddhist" position, of which the Buddha of the Pali canon is a representative. He does not assert that his interpretation of the Buddha's outlook is the only plausible one but rather just one of many possible readings in a tradition rich with debate. He does not boil down Buddhism, or any religion, to a single set of doctrines and practices, recognizing instead that traditions may be as diverse internally as they are in relation to one another.
Most impressively, he does not conflate historical analysis with theological advocacy. He definitely has a theological point to make. He admits at the outset that he wants to "build the Buddha's ecumenical house," and he explicitly applies what he calls the "principle of hermeneutical charity," arguing for a reading of the Buddha's words conducive to that ecumenical project. Despite this admitted bias, his historical and textual scholarship is sober and sound, and it is much to his credit that he is clear about his agenda and methods rather than disguising them. His conclusion—that the Buddha was open to instances of the dharma outside Buddhism, and modern Buddhists should be too—seems honestly earned.
Much as I admire Vélez de Cea's analysis, I think it begs two important questions for the modern Buddhist, neither of which he fully addresses. First, must non-Buddhist instances of dharma—either in the Buddha's time or our own—explicitly promote the four noble truths, the eightfold path, and other Buddhist concepts, or might they do so implicitly, using other terms? In the former case, no non-Buddhist tradition could qualify, and the Buddha would turn out to be an exclusivist, after all. In the latter and more likely case, we are left with the difficult interpretive task of deciding, on a comparative basis, just which non-Buddhist teachings or traditions show sufficient parallels to Buddhist "nonnegotiable doctrinal claims" to pass muster—and the question of how to undertake such a comparative project in a responsible manner is one that theologians and scholars of religion long have wrestled with, without obvious success. How, for example, could we ever decide whether God and the dharmakaya are the same or different?
Second, must the traditions to which Buddhists compare the buddhadharma be restricted to religions in the usual sense? This question is particularly apt nowadays, when Buddhists are more likely to juxtapose their teachings with scientific or secular humanist ideas than with the doctrines of Christianity or Hinduism. Put another way, they may be less interested in how dharmakaya compares to God than how it relates to the space-time manifold, a particular brain state, or some nonmetaphysical notion of happiness. I don't think Vélez de Cea's scheme rules out such comparisons, but its application to nonreligious worldviews would beg further questions about which traditional Buddhist concepts are "nonnegotiable" and whether some of them—such as karma, rebirth, and nirvana—might be sacrificed or downsized in the interests of a pluralistic-inclusivism that has room for both Buddhist and scientific truths.
These unresolved questions aside (and what good book does not leave some?), The Buddha and Religious Diversity is an outstanding work of theological analysis and a thought-provoking contribution to Buddhist critical-constructive reflection, which ought to be read by anyone concerned with Buddhism's relation to other ways of seeing, and living properly within, our world—whether those ways are religious or not.