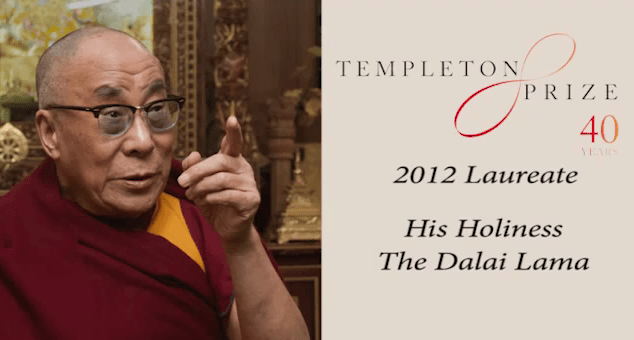 His Holiness the Dalai Lama has announced that he will donate his £1.1 million ($1.1 million) Templeton Prize to charities supporting children's rights, meditation research, and science education. The Templeton Prize, which His Holiness received in a ceremony held at St. Paul's Cathedral in London on Monday, is bestowed upon those deemed to have made an "exceptional contribution to affirming life's spiritual dimension, whether through insight, discovery, or practical works."
At the ceremony, he said he plans to give most of the prize money, £900,000, to the Indian branch of Save the Children, an international organization dedicated to ending child labor and exploitation, and providing health care, education and other services to impoverished children. Another £125,000 will go to the Mind & Life Institute, a nonprofit that aims to understand the human mind and the way contemplative practices like meditation can benefit it. The remainder of the money will go into a fund to educate Tibetan monks about science.
Templeton Prize organizers said the Dalai Lama was chosen for the award because of his encouragement of scientific research and his engagement with people from many different religious traditions. The prize is the largest monetary award given annually to an individual.
"When I heard your decision to give me this quite famous award, I really felt this is another sign of recognition about my little service to humanity, mainly nonviolence and unity around different religious traditions," His Holiness said when he was announced as its recipient. For more information on the Templeton Prize and the Dalai Lama, watch this video on YouTube.