Harvard University's Buddhism and Race Conference presents the Radical Re-Orientation Speaker Series, in which Buddhist authors and teachers share talks on issues of race, identity, and power.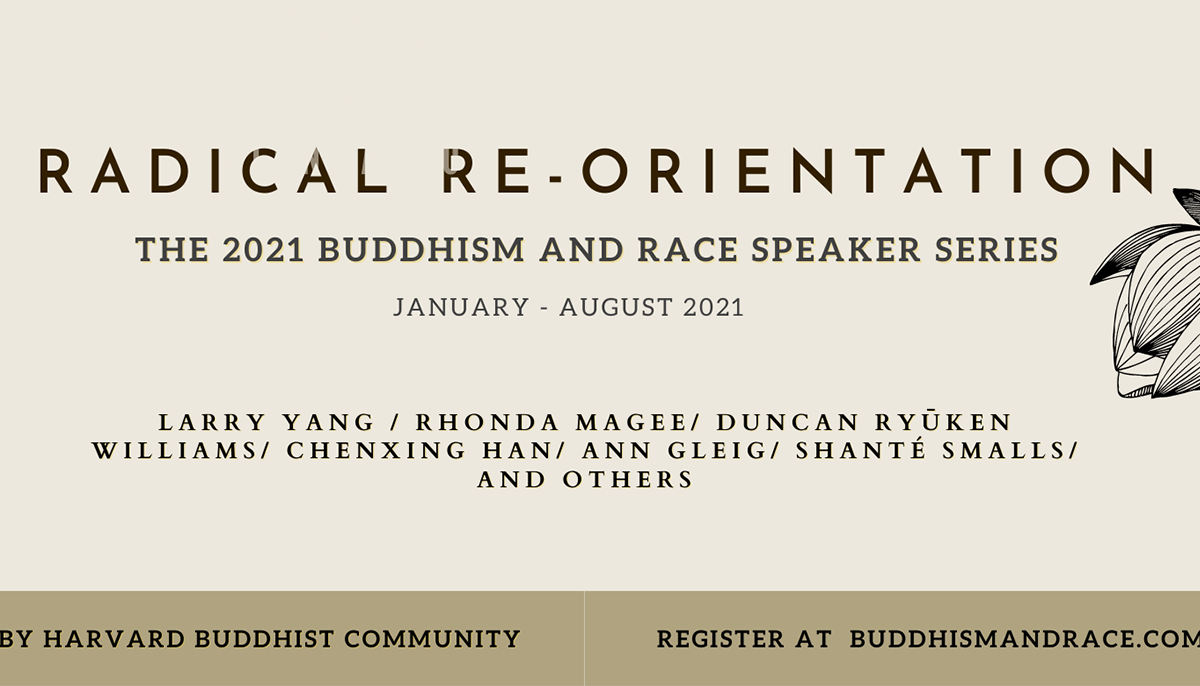 Due to the pandemic, the folks behind Harvard University's annual Buddhism and Race conference have reimagined it as Radical Re-Orientation: 2021 Buddhism and Race Speaker Series. Every month from January through August, they are hosting lectures from Buddhist luminaries focusing on racism and discovering anti-racist approaches vital to the Buddha's imperative of relieving the suffering of all sentient beings. According to the Buddhism and Race's site, the series' speakers will attempt to answer a range of questions: "How can Buddhism be a force of social justice? How can a deep engagement with issues of race, identity and power illuminate and transform Dharma in return? How can we help create a courageous community of multi-racial dharma practitioners grounded in anti-racist principles?"
The first speaker of the line-up was Larry Yang, author of Awakening Together: the Spiritual Practice of Inclusivity and Community (Wisdom Publications). In January, he shared his talk, "Multicultural History of Dharma and Diversity: Focus on US and Insight Meditation communities," a reconsideration of the story of the Dharma's spread throughout the world to demonstrate how the instructions of the Buddha have always been a cross-cultural experience. The video of this talk was made available for only one week after its release.
Following Larry, Rhonda V. Myozen Magee, author of The Inner Work of Racial Justice: Healing Ourselves and Transforming Our Communities Through Mindfulness (Penguin Random House TarcherPerigee: 2019) presented "Dismantling White Supremacy, Healing Humanity: The Dharma of Racial Justice," in which she offers a re-examination of "racial justice" from a dharmic standpoint, investigating both the personal and social aspects of "mindfulness and liberation." Watch the video below.
Next, Duncan Ryūken Williams, author of American Sutra: A Story of Faith and Freedom in the Second World War (Harvard University Press, 2019) offers "The Karma of a Nation: Racial Reparations from an Asian American Buddhist Perspective." In this presentation, he shares how the wisdom of his Asian American Buddhist ancestors provides a way to mend America's racial and religious ruptures that continue to the present day. Watch below:
Upcoming in the 2021 Buddhism and Race Speaker Series:
On April 22nd at 5-6:30 PM EST, Ann Gleig, author of American Dharma: Buddhism Beyond Modernity (Yale University Press, 2019), will present "Undoing Whiteness in American Buddhist Modernism." Register to attend.
Chenxing Han, author of Be the Refuge: Raising the Voices of Asian American Buddhists (North Atlantic Books), will be the lecturer for the month of May. More information coming soon.
THANK YOU FOR READING LION'S ROAR. CAN WE ASK FOR YOUR HELP?
At Lion's Roar, our mission is to communicate Buddhist wisdom in today's world. The connections we share with you — our readers — are what drive us to fulfill this mission.

Today, we're asking you to make a further connection with Lion's Roar. Can you help us with a donation today?
As an independent nonprofit committed to sharing Buddhist wisdom in all its diversity and breadth, Lion's Roar depends on the support of readers like you. If you have felt the benefit of Buddhist practice and wisdom in your own life, please support our work so that many others can benefit, too.

Please donate today — your support makes all the difference.

Lion's Roar is a registered charity in the US and Canada. All US & Canadian donations are tax deductible to the full extent allowed by law.