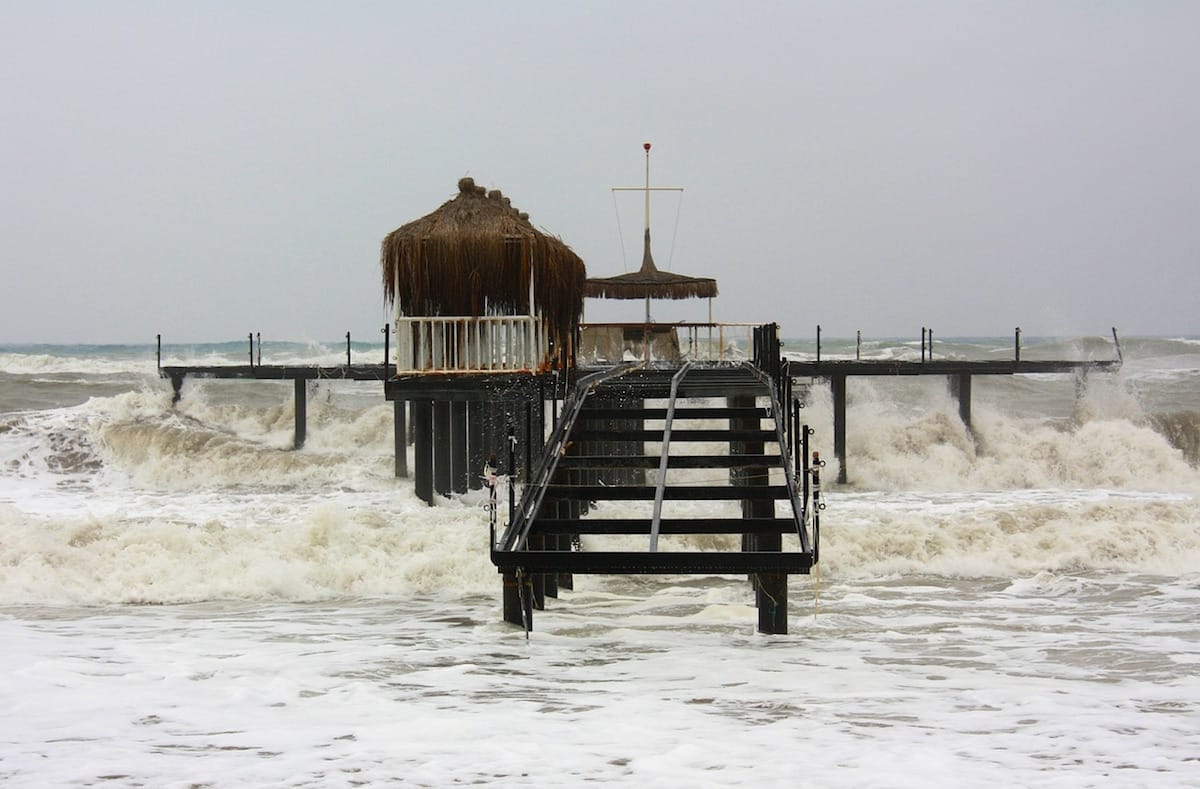 Note: In 2018, Sakyong Mipham Rinpoche became the subject of a number of allegations of sexual assault and misconduct and stepped back from the community he led, Shambhala. While Lion's Roar does not endorse him as a Buddhist teacher, we understand that some may want to access his past teachings in light of recent events, and so we are continuing to make this article from our archive of past issues available for those who wish to do so.
 The tsunami disaster asks us, says Sakyong Mipham Rinpoche, to reach out to others and to confront, once again, the deep truth that death comes without warning and there is no time to waste.
Leaving a meditation retreat recently, I was confronted by news of the tsunami catastrophe. I had been trying to meditate on the world's ongoing suffering, and there it was, blatant. As I saw the images on television, I felt a strong emotional link to the situation, because I had visited or lived in some of the affected areas. At first, it was hard to absorb the level of devastation and the suffering that was occurring. But since I had been meditating on compassion, I had a practice and a view with which to relate to the situation in some small way.
Many people I spoke with after the tsunami told me that it had seemed so monumental and distant that they couldn't really wrap their mind around it or get too emotionally involved. I could understand how difficult it was for them to relate to the enormity of the event, especially if they felt no personal connection to Southeast Asia. Yet their difficulty struck me as a symptom of the ongoing struggle we have in relating to the suffering of others.
As our technology becomes more sophisticated, we perhaps think that our emotional responses need to be more sophisticated as well. But what seems best is simple, direct feeling that is not padded with logic or twisted concepts, such as, "Maybe they deserved it," or, "I'm glad it's not me," or, "They should have known better," or even, "That's their karma." These contorted responses reflect poorly on our own state of mind. If compassion feels unnatural, it's probably because we're still thinking of ourselves. We want the suffering to go away because it scares us or it causes us personal pain.
Contemplating compassion is the ideal practice under such circumstances.
Contemplating compassion engrains the habit of turning our thoughts to the pain and turmoil of other people. Just sitting with that, we discover that a clear and natural wave of compassion arises from the depths of our mind. We just don't like seeing others in pain, if only because we don't like to see ourselves in pain. We naturally want the suffering of others to cease, whether it is one person or 150,000 people.
The tsunami disaster beautifully demonstrated this reality. First, it was hard to believe what had happened. Then, a huge surge of compassion arose in the minds of people all over the world: we wanted the suffering of those individuals to stop. That first wave of compassion was pre-thought. Reason hadn't yet entered in.
The next step was more practical: we wanted to help. People overcame their doubt and hesitation and began to act. At that point, we went from aspiration to actual compassion. Donations began to flow, and little by little the force of compassion and courage eclipsed the initial shock of the disaster. Our attempts to help seemed so small compared to the enormity of the catastrophe, yet we were all engaging in what we felt at the bottom of our hearts. This was the mind's natural energy at work.
Sometimes we imagine compassion to be a noble and spiritual activity. According to the Buddhist teachings, concern and compassion for the welfare of others is the source of worldly satisfaction. When we try to distance ourselves from the pain or the joy of others, we are distancing ourselves from our own happiness. For genuine joy lies in caring for the welfare of others—having direct compassion when they have difficulty, as well as delight when they are doing well.
At the end of Buddhist practices, we dedicate to all beings the merit that we have accumulated. This is how we share our mind of compassion with others. Another way to do this is to take delight in the merit of others—buddhas, realized masters, bodhisattvas, and just ordinary beings engaging in goodness. Instead of feeling threatened or jealous of the good work of others, we can routinely cultivate joy in seeing them practice compassion, loving-kindness and wisdom. If we take delight in it, we are said to share in their merit.
I have studied with many great meditation masters, all brilliant in their own way. When they ask how someone is doing, if I answer that So-and-So is not well, they relate to the pain immediately, responding with kindness and compassion, because they truly want no one to suffer. If I say that someone is doing well—that they are practicing or that they have a new job or that they are happy with their family—their reaction is just as basic. Without exception, they respond in a simple, honest way. Just in the tone of their voice, I can hear the genuine delight they are taking in the good activity of others.
This is an interesting attitude to take, even when we see accounts on television of others donating money or flying into devastated areas to offer care. Being happy for those people who are engaging in something good is an easy way to engage in the virtuous mind of compassion and the happiness that it generates. When we see or hear about the heroic or beneficial lives of others, we can use it as an opportunity to connect with our enlightened mind of compassion.
One of the most beneficial meditations in Buddhism is to contemplate how fortunate we are to have this precious life. Death can come without warning. Therefore, we should not waste time in meaningless mental activity when we could be engaging in compassion and love. This disaster reminds us how easily we can take our situation for granted. We may be overwhelmed by ongoing daily hassles, but we rarely acknowledge that fundamentally we are living in a very unstable environment. This human life is a rich opportunity. We should use it wisely, which means doing what our mind naturally yearns to do—extend itself with kindness and care.
One of my students, Peter, was just sitting down to breakfast in Thailand after a run on the beach when out of nowhere, the tsunami hit. Suddenly the environment became a powerful and vivid illustration of these simple, profound truths. He told me that his first thought was how fortunate he was to be alive, and then immediately his heart opened to all who were suffering around him. His meditation had come alive. He said that he felt emotionally better equipped to handle what was happening because he had meditated on these principles.
Life is always unpredictable, but no matter what happens, we can always depend on compassion and delight. The goodness and compassion of the world's response to the tsunami demonstrates the elemental energy of the openness that is available to all of us. What happened proves that we can be forthcoming with our compassion and care, and that it is all right to proclaim it. They say that a small string attached to a finger can slowly move an oil tanker forward. Any time we show compassion, we are encouraging others to engage in releasing the mind's innate energy, a power that is ultimately stronger than any force of nature.