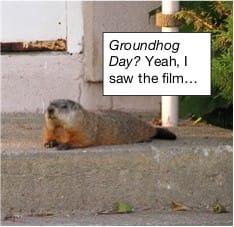 Ghostbusters is one of my favorite movies… ever. Harold Ramis not only co-wrote that movie but also played the role of parapsychologist, aka ghostbuster, Dr. Egon Spengler.
Well, we were just reading Ain't It Cool and lo and behold, Harold Ramis was being interviewed about Year One (which I haven't seen) and he started talking about, us.
The interviewer says: "A friend of mine who is a long-time practicing Buddhist gave me a copy of Lion's Roar (formerly the Shambhala Sun.) What a great piece. I learned a lot about you, about other things. I was not aware—maybe because I was just too young when GROUNDHOG DAY came out—that the spiritual community had embraced that film until many years later."
This is true; I think I'm the only person in the office who hasn't seen Groundhog Day.
Anyway, Ramis replies: "So totally, I mean, it was amazing. But that Lion's Roar piece, I have to say, it proves to me that even Buddhists are capable of hype. There's Buddhist hype in that thing."
… [The sound of jaw dropping is heard] …
What do you mean by "Buddhist hype," Mr. Ramis? Are you insinuating that Buddhists will watch, read, listen, to anything a famous person says, writes, produces, that mentions, implies, implicates something directly, connotatively, remotely Buddhist?
What is Buddhist hype anyway? You be the judge – read Perry Garfinkel's profile of Ramis, from our current issue, here.