Each Friday, we share three topical longreads in our Weekend Reader newsletter. This week, LionsRoar.com's Sam Littlefair looks at a different kind of consumerism.  Sign up here to receive the Weekend Reader in your inbox.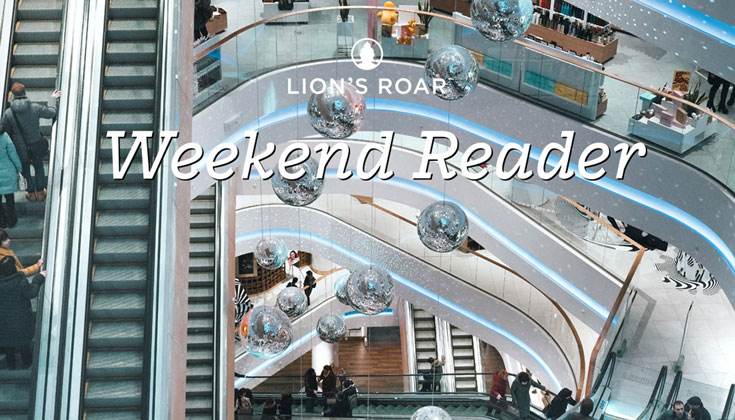 If consumerism is America's religion, then Black Friday is its holiest day. On this day, millions of Americans congregate in public spaces to make devotional offerings to their sacred brands.
Many believe that Buddhists rise above this kind of materialism. But, personally, I've always loved going to the mall. I'm a sucker for a sale. And I think I'm more brand-conscious than I'd like to admit. But I don't think any of that makes me a "bad Buddhist."
As long as we exist in this world, we have to breathe, eat, wear clothes, pay taxes, and devotedly upgrade to the latest iPhone each year. (Or… maybe not that last one.) We have to consume to survive, but we can aspire to consume in a way that prevents harm and promotes benefit. The three teachings in this Weekend Reader look at how we can do that. First, Sylvia Boorstein talks about how shopping can be a habit and what that means. Then, Laura Jomon Martin offers advice on how to practice mindfulness of money. And finally, Thich Nhat Hanh gives a primer on mindful consumption.
Whether or not you're celebrating this Black Friday, I hope the teachings in these articles inspire you to bring mindfulness to all of your consumption.
—Sam Littlefair, editor, LionsRoar.com
Buddhist teacher Sylvia Boorstein on 5 styles of habitual reaction — and how to find freedom from yours.
Emily, a long-time participant in my regular Wednesday morning Buddhist class, told us about a distressing experience she'd had the previous day. "I couldn't believe it," she said. "I came out of my apartment building and there was my car, just where I'd left it the night before, but lower. All the tires had been stolen. I got so upset that I walked the three blocks to Macy's and bought the silk pajamas I'd been coveting."
Laura Jomon Martin suggests ways to identify our habitual patterns and attitudes around money and to foster a more generous outlook.
Practicing gratitude, we feel rich, full, enough. We can enjoy our public parks that are staffed with caretakers. We can stop and pay attention to our senses and the millions of love notes they are sending us every moment. We can say "thank you," and really mean it, at every purchase — even when paying bills! For those of us with a tendency toward greed, practicing gratitude can be like eating before you go grocery shopping.
When we stop feeding our cravings, says Thich Nhat Hanh, we discover that we already have everything we need to be happy.
We all experience moments when we feel lonely, sad, empty, frustrated, or afraid. We fill up our feelings with a movie or a sandwich. We buy things to suppress our pain, despair, anger, and depression. We find a way to consume, in the hopes that it will obliterate the feelings. Even if a TV show isn't interesting, we still watch it. We think anything is better than experiencing the malaise, the ill-being in us. We have lost sight of the reality that we already have all the conditions we need for our own happiness.