We asked Buddhist teachers how new technologies might "disrupt" dharma.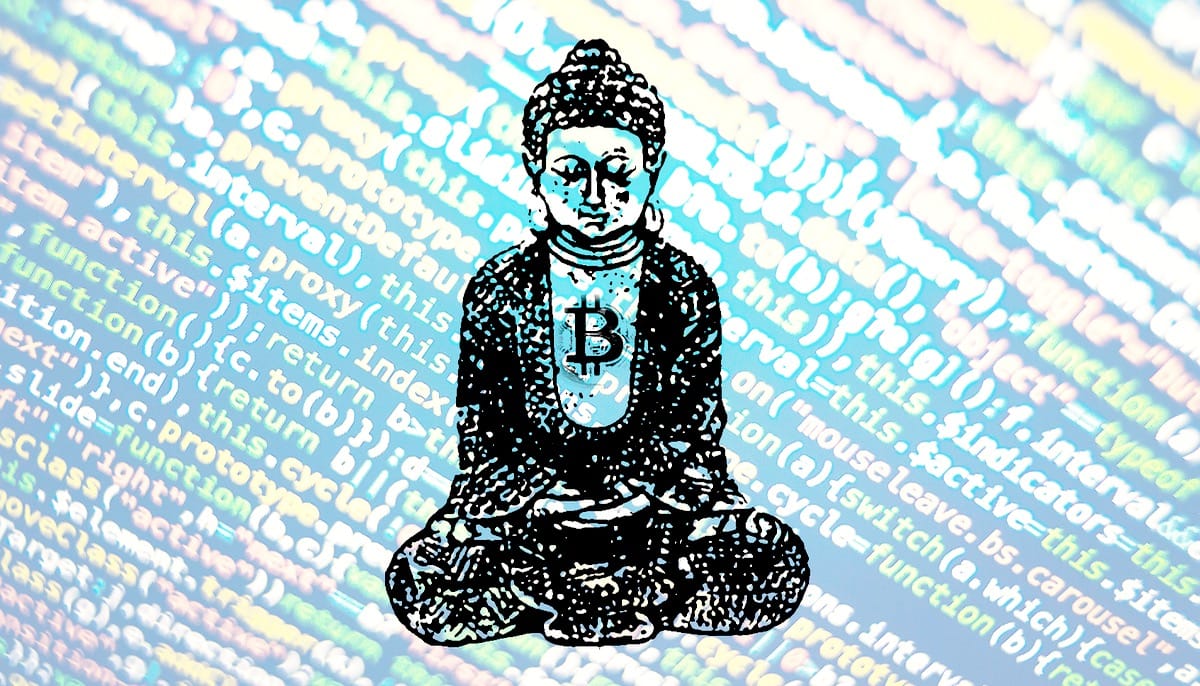 Last summer, a group of programmers proposed a new digital currency called "Karma Coin," which — they suggested — could fix the essential pitfalls of organized religion. This raised a contentious question: could some technologies make Buddhism better?
The Karma Coin would be the currency of an online community called "Lotos Network." The group proposed that an online community, run on the same technology that powers Bitcoin, could "decentralize religion," solving corruption, spiritual fraud, and inaccessibility. It's in part based on the concept of "Buddhist economics."
See also: Programmers say this "Buddhist Bitcoin" could "disrupt religion."
After we published our article on Karma Coin, many readers asked to hear more about the Buddhist teachings on technology, so we reached out to a few leading voices for their opinions.
Buddhist researcher Gregory Grieve is a professor of Buddhism at the University of North Carolina, specializing in digital Buddhism, and a long-time practitioner. In 2008, Grieve spent thousands of hours studying Zen Buddhism in the online virtual world "Second Life." During his research, there were 3,756 Zen practitioners in "Second Life," attending 75 meditation events each week. Based on his research, Grieve argues that Buddhist teachings can spread online in four main ways:
Sharing Buddhist materials.
Allowing access to teachers, which Grieve notes is "especially important for people who may be socially marginalized, or geographically isolated."
Creating online communities where students can study and practice together.
Facilitating transformational spiritual practice.
The Lotos Network also helps support the teacher–student relationship by making teachers' credentials transparent. "I think the transparency angle is interesting," says Sharon Salzberg, one of America's most prominent Buddhist teachers. "But, who is providing that 'expert' content and why? What's their motivation? Fundamentally, I would question anything that isn't predicated on our looking within."
Zen teacher Norman Fischer has explained that, in his tradition, an ideal teacher  is "willing and able to share life completely with others," noting that, "This takes a wide and deep acceptance of and interest in the many wily and wild manifestations of the human heart that arise in the course of practice over time."
"In the Buddhist tradition we already have a universal currency we exchange through practice, in the form of karma."
—Dan Zigmond
How well can a teacher and student know each other, and how transparent can they be with each other online?
While Buddhist communities need sustainable financial models, Dan Zigmond  — a Zen priest and the director of analytics for Facebook's newsfeed — thinks the concept of a "Karma Coin" could be a bridge too far: "I am skeptical of anything that provides monetary incentives for practice. In the Buddhist tradition we already have a universal currency we exchange through practice, in the form of karma. I am not sure we need another."
For millennia, Buddhists have helped popularize new technologies. Hundreds of years before Gutenberg invented his printing press, movable type was being used to print Buddhist texts en masse throughout Asia. With the advent of the Internet, countless Buddhist websites — including our own — popped up. But Grieve suggests caution with innovations in 2,500-year-old traditions. In part, he cautions against "digital utopianism," — the idea that technology can free users from repressive legal, governmental, and social structures.
"Like the notion of getting rid of big government, or Uber, for that matter, decentralization does not mean less institutions," says Grieve. "Just a different institution. I was a total lefty libertarian in my youth. And the older I get the more I've come to realize that there is a reason for institutions and traditions."
Grieve suggests that Buddhist teachers should "neither shun new technologies nor should they treat them as saviors that will solve all of a community's problems."
Nonetheless, there is no universally successful model for making Western Buddhist communities financially sustainable, Zigmond explains.
"Buddhism has an unsettled relationship to commerce… Many (and perhaps most) temples and meditation centers in the West struggle financially. It seems that the sangha has not yet found a fully sustainable economic model for supporting the dharma in these places. So I think there is room for lots of experimentation here, and [the Lotos Network] certainly represents a creative and thought-provoking approach."
Sharon Salzberg voices a similar outlook: "The current systems — donation only, fee-for-service — are just systems and can be used with a spirit of generosity or calculation, depending on one's mind state."
Traditionally, karma can be treated similarly. Grieve observes that "karma has a long and complicated history," and in some Buddhist traditions monks have even been known to tally karma.
"Workarounds are often creative, even more creative, than permanent solutions. They actually embody the Buddhist concept of impermanence."
—Gregory Grieve
This debate extends to myriad new technologies emerging in the Buddhist world. In Japan, a company has created a robot Buddhist priest to lead funerals. Buddhist teachers are exploring potential teaching opportunities with virtual reality. And, last year, a Chinese temple installed a robot monk to answer questions about Buddhism. Add to that a mountain of Buddhism- and mindfulness-based apps and evermore Buddhist neuroscience research, and it seems obvious that there are many innovative enterprisers who are keen to bring together Buddhism and 21st-century trends.
Grieve says that Buddhist technologies can be thought of not as a substitute, but as a "workaround."
"I don't mean to be pejorative. A workaround is a computer term describing temporary fixes to overcome problems encountered in a system. Workarounds are often creative, even more creative, than permanent solutions. [They] actually embody the Buddhist concept of impermanence, that all phenomena (even the Dharma) are transient, evanescent and inconstant. In a sense, all Buddhist teachings are workarounds. That is how many of the people in the online communities spoke about it. Most of the practitioners I spoke to saw the online community as a moment on their spiritual path, and not the final destination. "
But, beyond offering temporary support, Grieve also acknowledges that the act of practicing in cyberspace evokes profound questions. "Virtual worlds make one question: To what extent does reality as a phenomenon exist unmediated and to what extent do media practices determine people's experience of it?"
Underscoring all of this, many teachers and practitioners seem to have a bemused curiosity, perhaps best summed up by Sharon Salzberg: "I'd be willing to play, to see what it's like!"