Each Friday, we share three topical longreads in our Weekend Reader newsletter. This week, LionsRoar.com's Sam Littlefair goes back to the basics of Buddhism. Sign up here to receive the Weekend Reader in your inbox.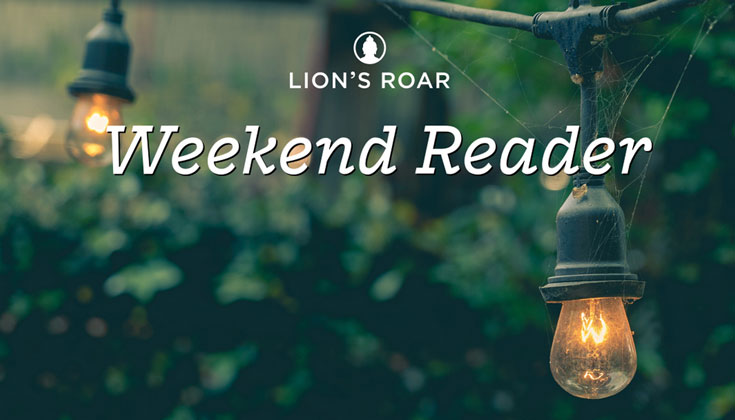 This week, the Pew Research Center released the results of a new survey into Americans' knowledge of religion. The survey found that Americans generally know a lot about Christianity, but their knowledge of other religions is lacking. And, when it comes to Buddhism, more than half say they know "not much" or "nothing at all." Three quarters don't even know a Buddhist.
And it shows. To test their religious knowledge, Pew gave participants a 32-question multiple-choice quiz. On a question about Buddhism's four noble truths, only one-fifth of respondents were able to correctly choose a noble truth out of four options. Another fifth of respondents (incorrectly) guessed that Buddhists believe in an immortal soul.
In this Weekend Reader, we're going back to basics, with an investigation of karma, one of the most important (and misunderstood) Buddhist concepts; an introduction to meditation, one of Buddhism's most essential skills; and a collection of frequently asked questions about Buddhism.
Ever after years of study, if someone asked me how much I know about Buddhism, I might still answer "not much." But, when I read the articles below, they helped me feel like I understood Buddhism a little more. I hope you'll feel that way too. Maybe you can even share them with a non-Buddhist in your life, and we can foster some mutual understanding.
–Sam Littlefair, editor, LionsRoar.com
Short answers to the most common questions about Buddhism.
No matter how long you've been practicing Buddhism, you've probably got questions. Especially if you're just starting out.
In every issue of Lion's Roar magazine, our editors answer a few common questions about Buddhism. These questions are helpful for beginners, and they're also entry-points for profound explorations. Seemingly-simple questions like "What does it mean to call yourself a Buddhist?" can be riddles that Buddhists wrestle with for their entire lives!
The Buddha taught that because of karma, beings are bound to the ever-turning wheel of rebirth. Only when a person stops believing in the existence of a permanent and real self can he or she become free from karma. Bhikkhu Bodhi, Jan Chozen Bays, and Jeffrey Hopkins discuss what that means.
Jan Chozen Bays: Karma is a wonderfully exact force in our lives. If you die angry, what happens to that energy of anger? Where does it go? When you walk into a room where people have been angry, you can sense it — the energy is palpable. So is that the kind of energy you would like to pass on, to be picked up by other lives? One can also look back at what energies have been passed down to you — perhaps by your family or the people who influenced you — and that helps you understand that energy doesn't die but rather continues on in some form.
I don't worry too much about questions like, "Am I going to remember that I was Queen Victoria or her servant?" People get caught up in that sort of approach to karma and rebirth, but it's almost irrelevant. The continuity of the energy is what's important. What do you want to pass on — suffering or happiness?
Buddhist meditation gives us time to slow down and wake up. Learn how to meditate with plain-language instructions and advice.
Basic Buddhist meditation comes down to two fundamental elements: concentration and insight. These are also called mindfulness and awareness. Many of the terms you have likely heard — shamatha, vipassana, zazen, vipashyana, mindfulness, awareness, calm abiding, insight, and so on — are names for one or both of these elements.
Buddhist meditation practice begins with techniques that help us calm and concentrate the mind. What often follows is insight. With the stable, focused, and fully present mind you have developed in your mindfulness practice, you can begin to investigate the nature of reality.