You might be comfortable sitting on the cushion for twenty minutes. But what if the session didn't end? The Lighthouse, starring Robert Pattinson and Willem Dafoe, offers a metaphor for the mind of the anxious meditator.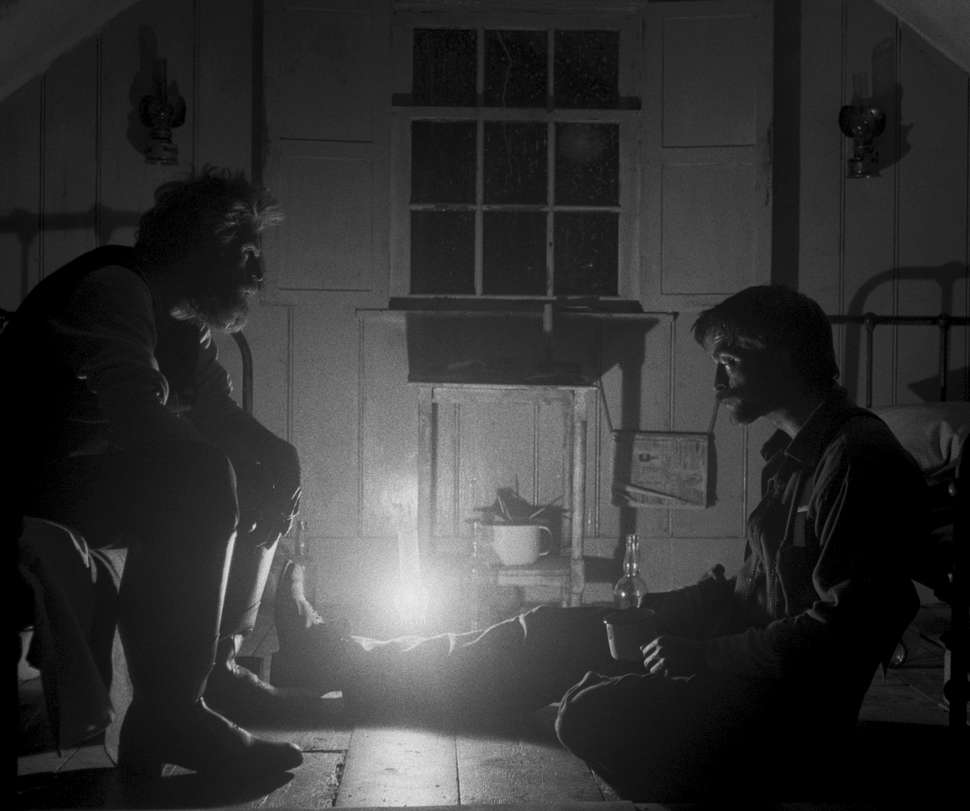 The Lighthouse, a 2019 movie about two lighthouse keepers or "wickies," centers on the relationship between the men, one older, one younger, whose combined responsibility it is to maintain an island light and foghorn for four weeks at a stretch, 24/7, one month on, one month off, until relieved by the next crew. As I watch I ask myself whether it's a cycle that would have more than one revolution for me. For a meditator it raises a skill-testing question: how fully have I absorbed the lessons and practice of mind training and how long would it take to come undone?
The movie's only two real characters manage to keep things civilish for the intended month but when an extended storm prevents the arrival of relief the two descend into (spoiler alert) madness. It turns out they've budgeted their sanity about as well as they have their rations, there's nothing left in either the physical or the mental larder. Physical conditions are bad and getting worse by the moment, their emotional intelligence and vocabulary, already limited, becomes perilously strained, and their respective grips on reality tentative and slipping. Intoxicants give the impression of briefly saving the day, making bearable the unbearable, until finally, definitively, plunging the entire business into the deep.
And at what point on that journey, I find myself asking, would I succumb? It's not so very different from my time on the cushion, mind training or not. I'm good for the hour, the day, the month, to which I've committed but god help me if the timer doesn't announce the arrival of the end and post-meditation as anticipated. I get antsy, fast. Because in some ways I'm holding my breath, I'm on my best behavior, I'm a dry drunk, holding on and waiting for it to be over.
I remember a teacher early in my sitting career who showed up several hours late for a talk. We were meant to meditate until he arrived. Familiar with his penchant for lateness I budgeted an extra hour, thinking that generous, and bumped it up to ninety minutes just to be sure. When three hours had passed I was nearly out of my mind. Four hours and I needed another cushion next to me I was so beside myself — apoplectic, incensed, and outraged under my screaming facade of calm.
When he finally got there he said, by way of acknowledging his tardiness, that it had been a relief to him knowing that we were safe, that no harm could come to us. We were in a good place. We were alright. Never was my mind so exquisitely and maddeningly thrown back on itself. I experienced a hybrid of you've-got to-be-kidding mixed with full-stop. He was right. Unless I counted the way I'd abused myself, worked myself into a lather, waiting for him had done me no harm. I was safe from all but myself. The only discomfort I experienced was at the hands of my own mind. Had I not been married to my expectations, my terms, my conditions, odds are good I'd have been fine inside and out.
Back to the movie, I'm imagining that, given my ability to work myself into a complete lather as effortlessly and unprovoked as I can on the cushion, I'd be a proper case if meditation never came to an end. If the teacher never showed up. If the relief boat never arrived. The meditative mind, it turns out, is still just something that happens only on my terms, when it suits me, as opposed to, well, something I oppose but embrace. And that's a good reminder.