Sangha, or community, is one of the three jewels of Buddhism (the others being buddha and dharma). Traditionally, the sangha is dividied into four categories, known as the fourfold sangha:
Monks (bhikkhu)
Nuns (bhikkhuni)
Laymen (upasaka)
Laywomen (upasika)
How important are these four kinds of Buddhist practitioners? In the Mahaparinibbana Sutta, the Buddha asserted he would not enter nirvana until he had followers from all four categories who were "accomplished, trained, learned knowers of the dharma." Only then would his work be complete.
Unfortunately, Buddhism has not historically valued these four sanghas equally. For centuries, "sangha" referred primarily to just one category: monks. This is changing in the modern world. In both Asia and the West, there has been a revival in recent decades of full ordination for nuns, and laymen and laywomen are taking stronger roles in their communities.
The importance of the fourfold sangha is also reflected in the increasing role of lay teachers, as it tasks all Buddhists equally with understanding, practicing, and sharing the teachings. The true fourfold sangha excludes no one while holding the highest expectations for everyone.
Read More
Learn more about the fourfold sangha in "The Fourfold Sangha Still Matters" by Ayya Yeshe and "Why We Need Monasticism," a conversation between four Buddhist teachers. To learn more about monks and nuns, look through our monasticism archive: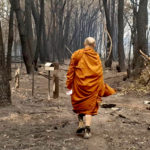 Sunntaram Forest Monastery, Santi Forest Monastery, and Vejjasala Retreat Center are all currently evacuated. No injuries or major destruction have been reported.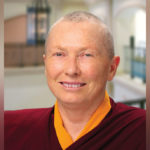 Ven. Karma Lekshe Tsomo calls for an end to the inferior status of Buddhist nuns, and of Buddhist women generally.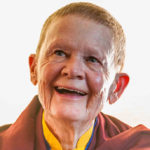 The Pema Chödrön Foundation has granted the deed to the residential property that they purchased for Pema Chöling to the community.
THANK YOU FOR READING LION'S ROAR. CAN WE ASK FOR YOUR HELP?
At Lion's Roar, our mission is to communicate Buddhist wisdom in today's world. The connections we share with you — our readers — are what drive us to fulfill this mission.

Today, we're asking you to make a further connection with Lion's Roar. Can you help us with a donation today?
As an independent nonprofit committed to sharing Buddhist wisdom in all its diversity and breadth, Lion's Roar depends on the support of readers like you. If you have felt the benefit of Buddhist practice and wisdom in your own life, please support our work so that many others can benefit, too.

Please donate today — your support makes all the difference.

Lion's Roar is a registered charity in the US and Canada. All US & Canadian donations are tax deductible to the full extent allowed by law.