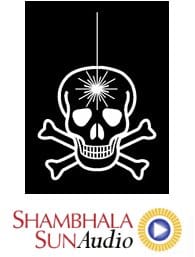 We recently shared with you three tracks from the new CD Dhamma Gita, as a way of answering the question, "What is the sound of the next generation of Buddhist music?" While those three songs (you can hear them here) were all different from each other, it's safe to say that, likewise, what you're about to hear is quite unlike them — or, really, just about any other Buddhism-inspired music you've heard.
Seattle-based Deadly Light is Max Neal (guitar, backing vocals), Don Baumer (drums, backing vocals), and Dave Vitello (vocals, electronics). The music on their new CD Six Walls is, as Don says, "fairly heavy rock/metal, with a bit of an ambient/tribal feel as well." (Fairly heavy might be a bit of an understatement, Don.)
And there's a Buddhist connection. More on that, and a track you can listen to (and read along with) right now, after the jump.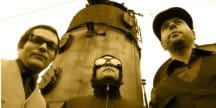 Regarding the band's connection to the dharma, Don Baumer tells me: "As practicing Buddhists, we have written lyrical content that deals with consciousness, the trials and triumphs of working with meditation and the path, and the difficulties of bringing that path into a society that often fosters materialism and alienation." Okay — I'm sold on the concept. But how's the music? Well, I'm sold on that too, but here's "Red as Blood,"  a sample track from Six Walls for you to check out, including lyrics:
Red as Blood
Your skin is red as blood
And your eyes, three eyes, empty as the sky
I watch you dancing on the sun
I through myself under
Empty goddess
Make me surrender
Your skin is red with love
And your smile, sharp as a knife
What's in your hand – a secret gift for me?
Skull cup to drink
Purify me
In emptiness
(…Don explains the song a bit: "'Red as Blood' deals with the process of surrendering to love and the passion for life. It's about relenting to the surging sense of eros driving the universe and experiencing a consuming, raging love and compassion for all its manifestations. The song describes the dance between the individual ego and an archetypal figure that embodies transcendental love.")
For more from Deadly Light:
You can hear a second track (also with lyrics), "Black Electric" over at The Worst Horse.