The titular figure behind the recent popular memoir Confession of a Buddhist Atheist, Stephen Batchelor has had a diverse and fascinating history as a contributor to the development of Buddhism in the modern world. Here he speaks to Danny Fisher about atheism, his understanding of what and how the Buddha taught, why he appreciates his critics, and more.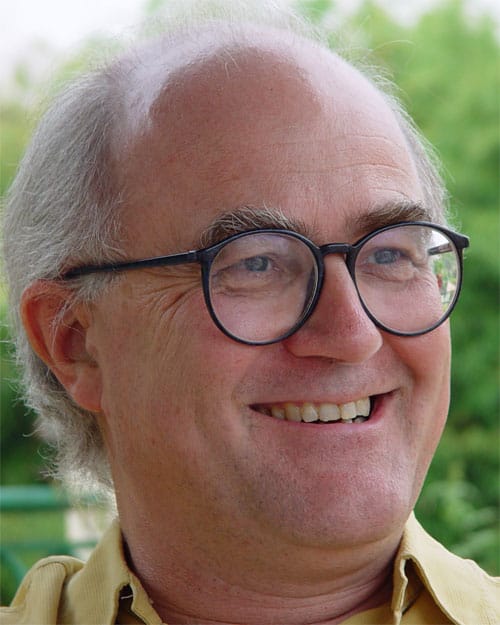 Stephen Batchelor has been, among many other things, a former monk in two traditions (Korean Son and Gelugpa Tibetan Buddhism) and translator (of, among other things, the most recognizable English translation of Shantideva's Bodhicharyavatara), and was also co-founder (with his wife Martine) of the Sharpham College for Buddhist Studies and Contemporary Enquiry and prolific author of other works before the publication of his bestselling book Buddhism Without Beliefs in 1998. With that work (as well as subsequent works), he became one of the principal and most influential figures in the so-called "secular," "pragmatic," "atheist/agnostic" Buddhist movement(s).
Batchelor, who now lives in France, will make a visit to the U.S. next month, where he will lecture for InsightLA on November 11th at the First Presbyterian Church in Santa Monica, CA.  I spoke with him via email ahead of the event…
Stephen, I was really interested in the way you said something during a recent interview for the Buddhist Geeks podcast. You said, "I honestly don't think the Buddha was interested in the nature of reality. The Buddha was interested in understanding suffering, in opening one's heart and one's mind to the suffering of the world." This certainly squares with much of what we find the Buddha saying in a primary text like the Dhammacakkappavattana Sutta, which records his first teachings. Other teachers, though, do argue that in these first teachings we also get "a coherent vision regarding the fundamental nature of reality" and that that's a vital part of understanding and addressing suffering. Are there ways you think teachings on the nature of reality—whether by the Buddha or his interpreters through the ages—can serve us on the path of understanding and addressing suffering? Or do you think they're really mostly off-point?
To contextualize this question, it is important to recall the Buddha's refusal to answer the standard metaphysical questions of his time: does the world have a beginning or end? is it finite or infinite? are the body and mind identical or different? does one exist or not after death? The Buddha compared those who refuse to engage with the Dharma unless he first answer such questions to a man who refuses to have a poisoned arrow removed until he knows every detail about the person who shot it, the kind of bow, the sort of feathers on the arrow-shaft etc.  It is remarkable how prescient he was, since we still argue over these same questions today. The Buddha was not an ontologist, i.e. someone concerned with the question of "being". Nor did he ever use the term "ultimate truth." Instead he teaches the four noble truths, or "noble tasks" as I prefer to call them.  In this sense his teaching is entirely therapeutic and pragmatic.  Nonetheless he does talk of the three 'marks of being': impermanence, dukkha and not-self, which could be interpreted as ontological claims. However, even here his intent is pragmatic. He suggests that one pay close, mindful attention to these features of experience because doing so is conducive to freeing the mind from attachment, grasping and so forth, which liberate one to enter the stream of the eightfold path. Whether or not he regards these features as the nature of "reality" is a moot point.
Seth MacFarlane, the creator of TV's Family Guy and an atheist, just this past week received the fifth-ever Harvard Humanist of the Year Award. Among the comments in his speech, he apparently remarked that atheists "can be just as irrational as anyone." There have certainly been vocal critics (not all of them religious) of the "new atheists" (Dawkins, Hitchens, Harris, et al) who have said much the same thing, and had other critiques as well. But what's your take on the modern atheist movement? What can Buddhists learn from the modern atheist movement, and what can the modern atheist movement learn from Buddhism?
It is hard to generalize about the "new atheists" since they are not all singing from the same hymn sheet, so to speak. Sam Harris, in particular, is clearly sympathetic to and has practiced Buddhist meditation. Christopher Hitchens' endorsement of my last book declares a surprising openness to the possibility of "numinous" experience.  And Richard Dawkins has recently published a book called The Magic of Reality.
I think in some respects the militancy of their atheist rhetoric has obscured a rather more nuanced attitude to questions of religious experience that comes through elsewhere in their writings. The problem with emphasizing the word "atheist" is that it paradoxically keeps one in thrall to the language of theism. The Buddha was certainly an atheist in the literal sense, i.e. there is no need to speak of God (or any of His surrogates, e.g. Truth) to understand or practice the Dharma, but he has no need to rant against the Deity.  On the few occasions in the suttas where he does address the question of God, he simply makes fun of the idea and moves on.  I consider him to be an ironic atheist.  Buddhists can nonetheless learn from the new (and old) atheists to be more alert to the subtle (and less subtle) ways in which theistic ideas have often infiltrated Buddhist teachings under different guises. I have noticed how terms such as the "Unconditioned," the "Deathless," and even "Buddhanature" are often interpreted in a quasi-theistic way.  I find the uncritical enthusiasm for Advaita Vedanta among some Western Buddhists equally alarming in this regard too.
On the other hand, I feel that Buddhism could offer the new atheists a way of life that provides both a coherent philosophy and meditative discipline which might help them realize fully their spiritual and religious longings without any need at all to use theistic language.
I reached out to people on Twitter and Facebook to find out if they had questions for you. One that came in from @RoryMullins that was especially good, I thought: "Have the responses and criticisms your work has received caused you to rethink or reconsider or go back to strengthen any of your positions about the Buddha and his teachings?" I'm also curious to know if there are positions you've held that you don't feel have been particularly well understood or even misinterpreted by critics or others?
I am very glad that my books have generated criticism and debate. If the Dharma is to be a living tradition it needs to be able to embrace "continuities of conflict" — as the philosopher Alasdair Macintyre puts it. I take my critics seriously, and often find that their comments lead me to think more carefully about what I'm doing. Sometimes their remarks reinforce my conviction in what I have written; while at other times they help me understand better the validity of another perspective. I cannot think of any criticism that has made me reject or seriously reconsider my core understanding of what I believe the Dharma is about. Of all the things I have written, that which readers — both sympathetic and otherwise — do not seem to grasp are the implications of my interpretation of the four "noble truths" as an interconnected series of tasks to be performed rather than a set of propositional truths to be believed.  The book I am currently writing (provisionally titled After Buddhism) will try to spell this out more clearly and at greater length.
Switching gears entirely, your 1979 English translation of Shantideva's Bodhicharyavatara is now over thirty years old. Often when I see it quoted, it's your translation that is being used. It's one of the iconic English translations of a Buddhist text, I think it's fair to say. (In fact, if I'm not mistaken, your translation is used in Martin Scorsese's Dalai Lama biopic Kundun.) I'm curious to hear you reflect a bit about the text, your translation of it, and your special relationship to the text.
The Bodhicharyavatara remains close to my heart and served a crucial role in my formation as a Buddhist practitioner and thinker.  Its most remarkable, perhaps unique, quality in Indian Buddhist literature is Shantideva's willingness to speak in the first person "I".  By contrast, most classical Indian Buddhist texts – apart from some of the tantric poems of the Mahasiddhas – are very impersonal and abstract.  By spending five or so years immersed in the translation of this work, I felt that I was allowed permission to write in a similarly personal style myself.
But like with many great works of religious literature, I also struggle with the text: as much as I am inspired by Shantideva's insights and remarkable gift for metaphor, I find myself at odds with a misogynist streak that runs through the work as well as his penchant for militaristic imagery.  Perhaps part of the text's greatness lies in its ability to engage the reader in a heartfelt dialogue: something I aspire to in my own writing.
One thing I would very much like to do one day would be to translate the 600 verse Tibetan text of the Bodhicaryavatara that was found among the Tun Huang manuscripts in China (the standard text is about 900 verses).  I suspect this is probably an earlier version, which would shed considerable light on the evolution of Shantideva's work – and on the author too: the Tun Huang text is not attributed to Shantideva but to a certain Akshayamati.  Unfortunately, apart from the wisdom chapter, this text has not even been edited and printed in Tibetan, let alone studied and translated.
For geeks: verses from my translation of the Bodhicharyavatara were recited (though not credited) in both Martin Scorsese's Kundun and Jean-Jacques Annaud's Seven Years in Tibet.
Lastly, I know that one of your abiding interests has been the growth and development of Buddhism in the West. I'm very curious to ask you: Now that we're over a decade into the twenty-first century, what is, in your words, "taking place in the encounter between Buddhist traditions of Asia and the modern world" right now? Where do you think we are we headed as the new century progresses?
As a participant in this encounter, I cannot see the forest because of the trees. In any case, it is too soon to say.
Visit Stephen Batchelor on the web here.