Each Friday, we share three topical longreads in our Weekend Reader newsletter. This week, Lion's Roar magazine's editorial assistant Hal Atwood explores the elements that make a community blossom.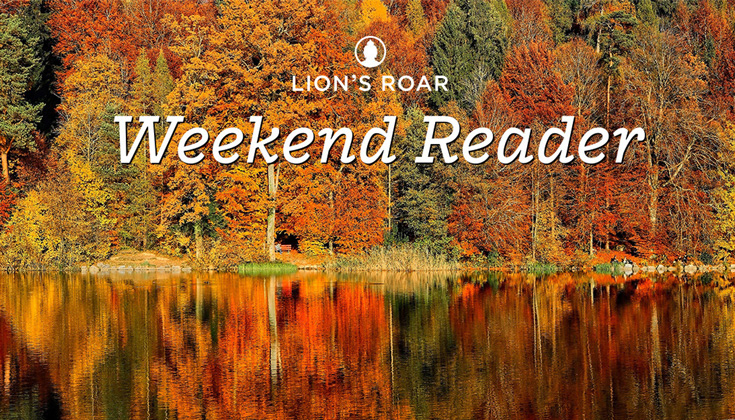 Sangha is a community that practices the dharma together. It's one of the Three Jewels in which Buddhists take refuge, along with the buddha and the dharma. In these treasures, we can find liberation and interconnectedness.
When I was a child, I imagined I would one day meet someone who would make me happy. As an adult, I know it's both unrealistic and unfair to place that much responsibility on another person. Others can add to our happiness, but they are not responsible for it.
Sometimes, we put this same responsibility on our communities. We collect people like loose change, and spend their energy, resources, and compassion trying to fix our unhappiness. We cannot expect our communities to be a constant source of joy and security. That's a recipe for failure. The articles in this Weekend Reader prove that sanghas flourish when people lift them up together.
In New York, the Brooklyn Zen Center focuses on fostering accessibility and diversity to better reflect the world around it. In Oakland, the East Bay Meditation Center has become a haven for people who feel unwelcome elsewhere. Thich Nhat Hanh says we should participate in our sangha like a drop of water in a river, allowing it to transform and heal us as we add to its depth, reach, and power.
A sangha blossoms when its members have respect for themselves and one another. While other people can't be the sole reason for our happiness, that doesn't mean they can't contribute to it. May we learn to lift ourselves up first, and then others, so we can succeed in community.
—Hal Atwood, editorial assistant, Lion's Roar magazine
Thich Nhat Hanh explains that sangha is more than a 
community

, it's a deep spiritual practice.

Taking refuge in the sangha is a very important practice. Abandoned, alone, you get lost, you get carried away. So taking refuge in the sangha is a very deep practice, especially for those of us who feel vulnerable, shaky, agitated and unstable. That is why you come to a practice center, to take refuge in the sangha. You allow the sangha to transport you like a boat so that you can cross the ocean of sorrow.
Read more »
East Bay Meditation Center in Oakland is a leader in developing dharma for people who don't feel welcome elsewhere. Lindsay Kyte explores EBMC's focus on respect, safety, and the joy of being seen for who you are.
East Bay Meditation Center is a lot of things to a lot of different people. As Larry Yang writes, "When we create practice opportunities so that both culturally-specific populations and the larger community can gather in cultural mindfulness and awareness of our shared humanity, we are invited to move from the question, 'Who am I?' to a broader exploration of 'Who are we? What kind of path is possible leading to collective liberation?'"
Buddhist centers cannot be separate from the 
communities

 around them. In this profile from 2015, Rod Meade Sperry takes us to Brooklyn Zen Center, a model of urban dharma and love in action.

They created a space first, with the sangha, or community, to follow. It was humble. Laura, Greg, and Ian spent the summer of 2005 scraping the walls of a small basement space on 11th Street in Park Slope. It was right next to the building's boiler room. "We put a little sign out and, incredibly, people slowly started to find us." The community that would come to be known as the Brooklyn Zen Center was born.