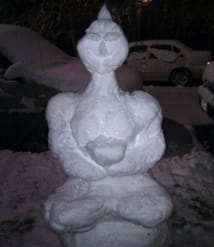 They say there's snow right now in 49 of the 50 United States. So, when life hands you snow — and some of us have been handed a quite a lot of it — why not make a Snow Buddha?
That's just what our industrious and good-natured friend Tyler Dewar did last night. Says he: "I noticed on the way home after a late-night work session at a local coffee shop that the entire city had been beautified by the snowfall, and that the snow was very 'packy.' I felt like having a little fun and didn't even intend to make a snow buddha; it just seemed to inexorably come out that way. It turned into a rather nice recollection and playful celebration. A fun chance to make some early-year aspirations on an inspiring Seattle night."
Those who live near Dayton Ave N in Seattle might have seen it in person. Thanks for sharing it with the rest of us, Tyler.