Each Friday, we share three topical longreads in our Weekend Reader newsletter. This week, LionsRoar.com's editor Sam Littlefair looks at how we can better engage with challenges in meditation. Sign up here to receive the Weekend Reader in your inbox.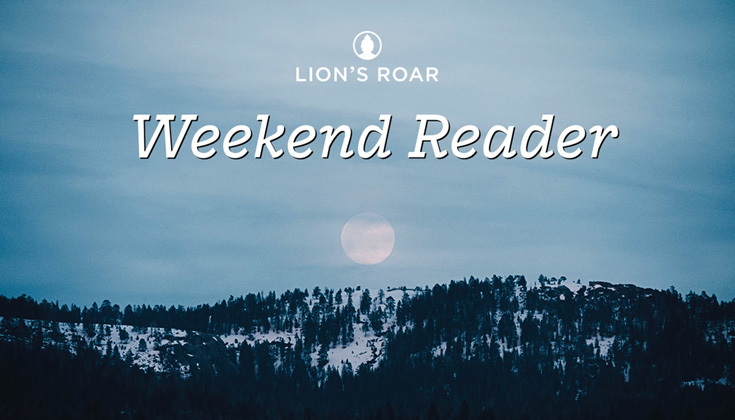 Last week, the Lion's Roar editors and designers met to discuss headlines for the February issue of Lion's Roar magazine. The issue features a great subject: formless meditation. In formless meditation, you don't meditate on an object — like your breath or a mantra. Formless meditation is sometimes described as "effortless," because you stop trying to meditate and just rest in natural awareness. (For a much better explanation of formless meditation, be sure to pick up the March issue.)
Naturally, someone suggested the headline "meditate effortlessly." Our editor-in-chief, Melvin McLeod, chimed in. "Well," he said, "We don't want to suggest that being effortless is easy."
I appreciate this distinction. Meditation can sometimes be effortless; but that doesn't mean it isn't hard. It's hard to abandon effort. It's hard to sit on the cushion every day. Meditation can be very challenging.
Personally, my biggest challenge in meditation is posture. I learned to meditate when I was eight. Meditation teachers always described a proper sitting posture as completely natural and relaxed. But, for decades, I've found the posture uncomfortable — sometimes painful. Many times, I've asked meditation teachers and massage therapists for advice, to little avail. The greatest relief, for me, has come in befriending my discomfort — to see it as an instructor.
Chögyam Trungpa Rinpoche once said that the idea of spontaneous (that is to say, effortless) realization is a misnomer.
"There is no such thing as sudden enlightenment in Buddhism," he wrote. "Sudden enlightenment is dependent on the slow growth of the spiritual process — the growth of commitment, discipline, and experience. This takes place not only in the sitting practice of meditation alone, but also through the lifelong experience of dealing with your wife, your husband, your kids, your parents, your job, your money, your sex life, your emotions, whatever you have."
The glamorous parts of Buddhist practice — wisdom, enlightenment, equanimity, boundless compassion — come along with years of hard work. I think it's a mistake to try to circumvent challenges on the path of meditation. In truth, we make progress by directly engaging with our challenges.
This Weekend Reader is about challenges. Because it's not always easy. But, I hope that these articles help you to work with — and maybe even appreciate — the difficulties that arise, on and off the cushion.
—Sam Littlefair, editor, LionsRoar.com
PS: We recently updated our guide to meditation, which includes hundreds of articles on Buddhist meditation — and an entire section on challenges in meditation. Please take a look and share it with friends!
Kate Lila Wheeler answers one of the most frequently asked questions about challenges on the spiritual path: Will meditation ever become enjoyable?
When you are meditating, grant yourself permission to be easy, simple, open for experiences. Feel your body. If you lack joy, let it be. Instead of fixing it, explore. What's this like for your body? Check for attitudes. If there's disliking or judging present, that's OK. Don't force yourself to be perfect. Breathe. Stay present and persist in gentle exploration. Bathe the whole mess in compassion or equanimity as needed.
The Alexander Technique was developed in the 1800's to help actors improve their posture and coordination. Now it's gaining popularity among meditators.
The Alexander Technique is well known for helping people improve their posture and their fluidity and coordination in movement. But according to Michael Ostrow, a longtime teacher at the New York Center for the Alexander Technique and a former Zen practitioner, although these are important benefits, the deeper goal is to free ourselves from habitual reactions to the moment-to-moment challenges of our daily lives, whether we are sitting still in meditation or running a marathon.
A classic conversation with Pema Chödrön and Jack Kornfield — originally published in 2005 — moderated by Michael Krasny about the everyday difficulties that provoke us, reveal our habitual patterns, and ultimately transform us.
Pema Chödrön: We get misled by the ads in magazines where people are looking blissful in their matching outfits, which also match their meditation cushions. We can get to thinking that meditation and the spiritual path is about transcending the difficulties of your life and finding this just-swell place. But that doesn't help you very much because that sets you up for being constantly disappointed with what happens every day at breakfast, lunch, and dinner — all day long.