As part of our #MeditationHacks series, we offer guidance on what to do if your breathing feels uncomfortable during meditation.
Why does my breathing feel uncomfortable in meditation?
You can't breathe wrong. Generally, Buddhist meditation is not a yogic practice in which you're supposed to breathe in a particular way (although this can be the case in certain advanced meditations). In mindfulness practice, the breath is often used as the focal point or object of concentration. Because it's a practice of nonjudgmental awareness, you're simply aware of the breath as it is, without trying to change it. In fact, trying to control your breath in some subtle way might be the reason you're experiencing discomfort. It's the paradox we find throughout Buddhism: the best way to get what you want is often to let go of trying to get it (and not trying not to try, to make it even more difficult).
Having said all that, doing a bit of yoga before you start meditating, or beginning your session with a few intentional deep, slow breaths, might help you get naturally to the deep and calm breathing that leads to—and reflects—a peaceful, aware mind.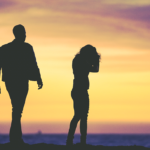 A new meditator's spouse disapproves of their newfound practice. Susan Piver, founder of The Open Heart Project, answers.