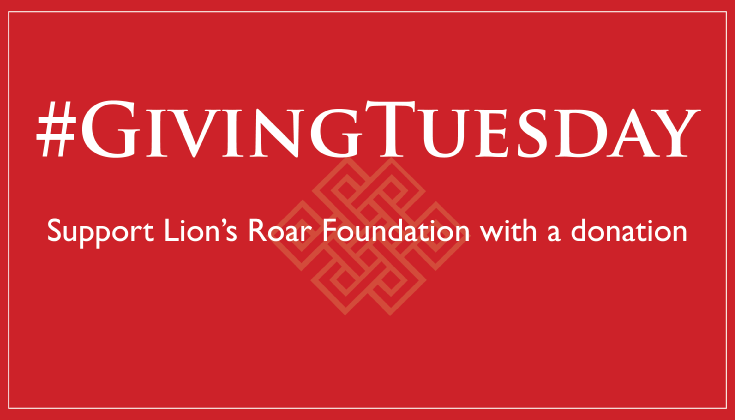 You may have noticed that there are no ads on the Lion's Roar website today. Except for one, that is, about today, #GivingTuesday, and how to donate to Lion's Roar Foundation. Here's why.
Lion's Roar — the site, the Foundation, and our two magazines, Buddhadharma and the Shambhala Sun — exists because of you, our readers, who understand the value of Buddhist meditation and wisdom for developing a much-needed, more compassionate world. I don't just mean that figuratively: you invest your time and you give your financial support. Without that, there simply would be no Lion's Roar.
As a Foundation, we can point to 30+ years of history as a sign of stability—in the media world, that's truly rare. But we operate without the benefit of an endowment or foundation grants, on very lean budgets, and without a reserve fund. We are a stable organization—but also fragile.
So we require your support more than ever before. That's why, this #GivingTuesday, we're asking our many online readers to consider joining with Lion's Roar, and investing in extending the breadth and depth of Buddhist wisdom with a donation. Whatever your ability to support, your donation will make a real difference in our mission to help bring Buddhist wisdom to all who can benefit from it. To donate, just click here.
With great appreciation,
Ben Moore
Publisher
Lion's Roar Foundation