Toni Bernhard on why a law professor like her would write a Buddhist book on how to deal with chronic illness, and how she came to terms with chronic illness herself.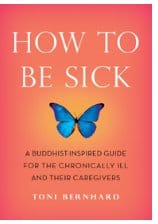 If someone told me ten years ago that I'd be having a book published in 2010, it wouldn't have surprised me. I'd been a law professor for almost 20 years. I could have written a book in one of my areas of expertise — a hot topic, like clergy malpractice or celebrity pre-nups.
But if I'd been told "and that book will be about chronic illness," I would have said, "Sorry, not my area of expertise." Such is the lesson of impermanence. As Joseph Goldstein likes to say: "Anything can happen at any time."
In 2001, my husband and I took a much-anticipated trip to Paris. On the second day there, I got sick with what the doctors initially diagnosed as an acute viral infection. But as the months wore on and the symptoms persisted, I became part of the world of chronic illness. And thus, a new area of expertise was involuntarily thrust upon me.
Before I got sick, I was an active member of the Buddhist community in Northern California. I had a twice-a-day sitting practice, and my husband and I co-led a vipassana sitting group in Davis. I also regularly attended meditation retreats.
One of those retreats was led by the late Ayya Khema. She told us that thoughts arise but were arbitrary and not reliable. "Most of them are just rubbish," she said, "but we believe them anyway." I took her words to heart and, before getting sick, had become quite adept at watching thoughts arise and pass without believing them. But put me in the sick bed all day and suddenly my thoughts seemed anything but rubbish, and I believed every one of them: "I'll never get out of this bedroom." "I'll never feel joy again." "I've ruined Tony's ( my husband ) life."
I was so confused that some days I was angry at myself for having abandoned the Dharma and other days I was angry at the Dharma for having abandoned me. But neither had happened. The Dharma was deep in my heart. The anger, the blame, the fear, the frustration were but ripples on the mind. I was encouraged by Sylvia Boorstein who reminded me that this illness was just this illness and was not a personal failing on my part. Slowly but surely, I began to find my way back to the many practices I'd learned as a devoted Buddhist. Soon, I was practicing the Dharma, not just to cope, but to cultivate equanimity and joy despite this unexpected turn my life had taken. Maybe, I thought, the Buddha is going to teach me how to be sick!
And so, one day I reached for my laptop (I call it my bedtop), opened a new document and titled it "How To Be Sick." I looked at the words on the screen for about a minute. "Nice idea," I thought, "a book in which I can use the Buddha's teaching and my own experience to help others with a chronic illness or condition. Too bad I'm too sick to write it." I hit "save" and closed the document.
Then I remembered Marianne. In 1999, I was on a ten-day silent retreat at Spirit Rock Meditation Center. To help the retreat run smoothly, each of us had "work meditation." As much as possible, we maintained silence as we worked. My job was to clear the trays from the serving tables in the dining hall after lunch and put the leftovers in containers. My partner was a woman who was about my age and introduced herself as Marianne. She looked a bit frail to me, but we shared the work equally, only speaking in a whisper now and then: "Is this container big enough to hold the extra salad?" In the meditation hall, I noticed that she seemed to be with a young man who might be her son. I remember thinking how nice it was that they were here together. She had a kind face and a gentle smile and I looked forward to seeing her every day after lunch.
In addition to working in the dining hall, we followed a path to a small building where the teachers ate and then we brought their serving trays back to the kitchen. On the seventh day of the retreat, to my surprise, another woman accompanied my Marianne. The three of us cleared the serving tables in the dining hall and then the new woman followed me outside as I began to walk down to the teachers' dining room. She asked, "Do you know about Marianne?"
When I shook my head, she told me, "She's very sick. She only has a couple of weeks to live." Then, she turned around and went back into the dining hall.
I continued to the teachers' dining room, shaken by this unexpected discovery. Later, I ran into one of the teachers. In my distress, I broke the silence. I asked her if she knew about Marianne. In response, she told me something she probably shouldn't have (which is why I'm not using her name). She said that Marianne was here with her son and that on the information sheet we fill out when we get to the retreat, under the question that asks if there's anything the teachers should know about us, Marianne had written, "I have just two weeks to live but it won't affect my practice."
The next day Marianne's spot and her son's spot in the meditation hall were empty.
***
Inspired by this woman I'd known for only a few days, I began the task of writing How to Be Sick. I described traditional Buddhist practices, such as metta and tonglen. I then illustrated each practice with examples from my own experience, making the book highly personal. I wrote about Buddhist-inspired practices that I'd devised on my own to help with the many difficulties that my husband and I were encountering – such as coping with the relentlessness of symptoms, weathering fear about the future, coming to terms with a life of relative isolation, facing the misunderstanding of others, and dealing with the health care system. Again, I used my personal experience to show the reader how to work with these practices.
The book was created slowly and with great difficulty. I wrote it lying on my bed, laptop on my stomach, notes strewn about on the blanket, printer within arm's reach. Some days I would get so involved in a chapter that I'd work too long. The result would be an exacerbation of my symptoms that would leave me unable to write at all for several days or even for weeks.
There were also periods when I was simply too sick to even think of putting a book together. Then the project would be left untouched for months on end. Being so physically sick would sometimes have such a strong affect on my mental state that, during the darkest moments, I considered tossing out all the work I'd done, despairing of ever being able to complete it.
But mental states come and go—and in the end, I pressed on, determined to finish the book in the hope it would point the way for others to live skillfully and with equanimity and joy despite their stressful circumstances. The Buddha's teachings have inspired and comforted me during this illness. He has indeed taught me how to be sick.