Unprecedented communication and information—but also speed, stress, and 24/7 distraction. Barry Boyce reports on a group of far-thinking digital leaders who are using mindfulness to humanize the brave new world they have created.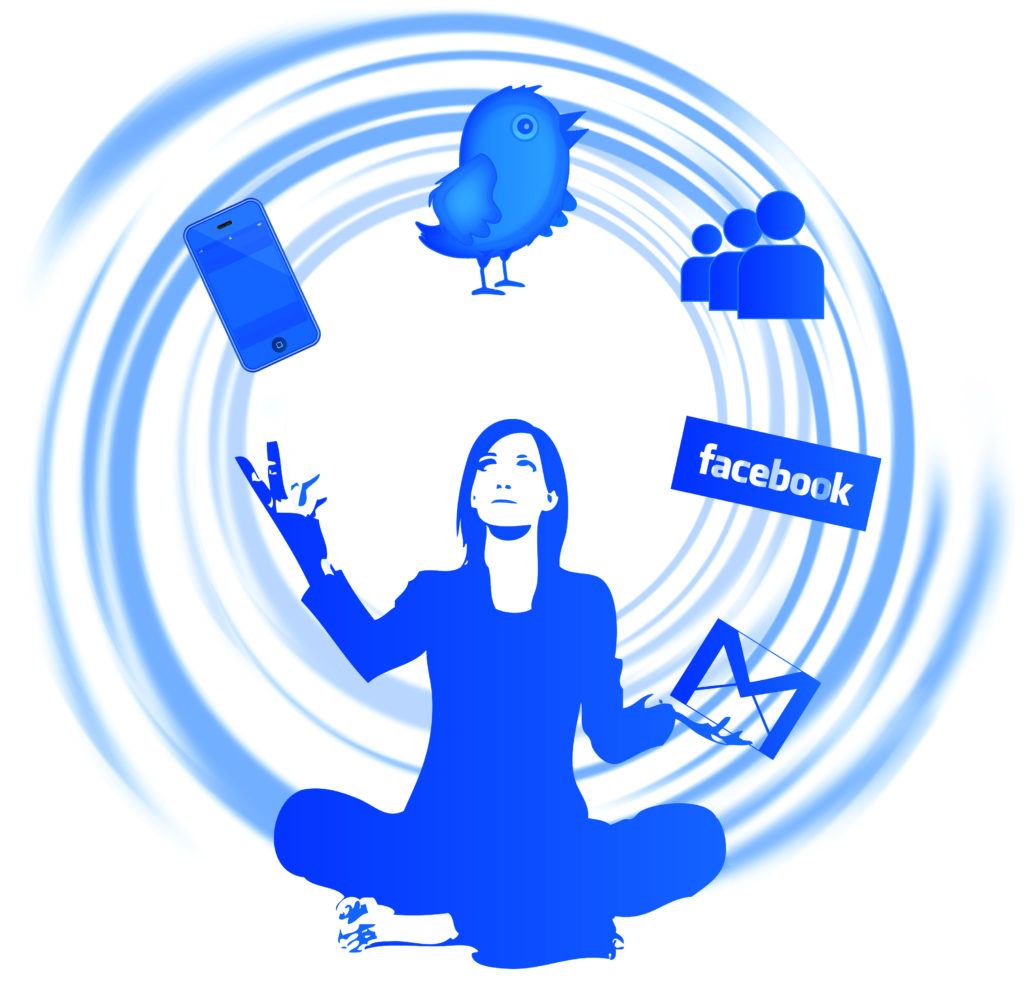 On the desk in my bedroom growing up, there was a pretty sizable machine, about as big as a breadbox, as we might have said back then. My dad brought it home from the office. It was an adding machine.
When I say that now it sounds incredibly antiquated, as if I lived in the time when trains were called iron horses. The sounds and shapes and sizes of those days seem so distant to me, and they're utterly nonexistent for my children. The staccato click of a phone as it dialed each number one by one, the bulky piece of furniture called the television, the record player with one LP after another stacked up like pancakes. The adding machine had huge keys that stayed depressed when you hit them. When you were ready for your sum, you pulled a crank. It was in our house because it had been replaced at work by an electric calculator, which seemed like a big advance at the time. Before long, they were building a large room at my dad's office to house computers.
Adding. Calculating. Computing. It was about numbers. Those clumsy machines helped us compute things faster than we could in our heads or with a slide rule. Little did we know how many things in life could be reduced to digits, and how our whole way of living would be transformed by that simple act. The digital world would change the very speed at which we live.
Soren Gordhamer, author of Wisdom 2.0: Ancient Secrets for the Creative and Constantly Connected, has made it his business to explore how technology alters our patterns of living and how we can work creatively with those changes. After writing his how-to for living mindfully in the digital realm, Gordhamer decided to start a conversation between people who live and work in the high-tech world, and people who teach mindfulness, yoga, and other techniques for relaxing and synchronizing the mind and body. The idea caught fire. He gathered sponsors and presenters from Google, Twitter, Facebook, eBay, and the like, and brought them together with influential meditation teachers such as Jon Kabat-Zinn, Jack Kornfield, Sharon Salzberg, and Roshi Joan Halifax. He called it Wisdom 2.0.
Three Wisdom 2.0 conferences have been held so far, under the banner "Exploring Living with Awareness, Wisdom, and Compassion in the Technology Age." The first conference, in May 2010 in Mountain View, California, was followed by a smaller satellite conference in Boulder, Colorado, the following November. I attended the second annual conference in Mountain View in February of this year. It was filled to capacity, with more than 400 people taking part. Wisdom 2.0 is fast becoming more than a conference in high-tech circles. It's a phenomenon.
Wisdom 2.0 is a conversation among people who have accepted technology and its benefits, but who are also deeply concerned about the inner life. It's a gathering that reaches right into the heart of the digital world.
"When we were kids we used to play hide-and-seek," he says. "Sometimes when you were 'it' you knew people were there but you just couldn't find them. So you would yell, 'Ally ally in come free, come out, come out, wherever you are.' Then people would come out where you could see them. Wisdom 2.0 is one big 'ally ally in come free.' I know there are people at Apple, Facebook, Zynga, Digg, and all these other places, but I don't always know who and where they are. The conferences are a way to bring everyone out into the light."
Gordhamer says that Wisdom 2.0 is occurring whenever people realize that "each of us longs for wisdom, and that is what's really important in life. It's easy to get caught in the speed of life and forget what we're here for, our true path."
Kevin Rose is one of Forbes magazine's "top five internet celebrities." He says, "When you're in tech and you're running from meeting to meeting and driving across town rushing to another meeting, it's easy to lose track of yourself. I need a reminder to take a moment and take a breath." Rose is the founder of Digg.com, a socially networked news site where people vote on stories so "the wisdom of the crowd" determines a story's play and visibility. "I love The Miracle of Mindfulness by Thich Nhat Hanh," he says. "It taught me to love washing the dishes, which I never enjoyed before. Why do you do the dishes? To do the dishes. And why should you care about mindfulness, about taking a moment to take a breath? Because bad things will happen to you if you don't. People say, 'Wow, it's great you made the cover of Business Week.' What they don't know is that I went to the doctor the previous week because I had heart palpitations, because I'm so stressed out from all this pressure that's on me. You've got to be careful or you will go crazy. It will catch up to you."
"We all can get fascinated by the latest gadget and get lost," says Gordhamer. "We need to be able to love that newest, latest thing but also completely realize that what's going to matter on our deathbed when we're saying goodbye to our bank account, our iPhone, and our name is whether we've lived a life that's been connected to what truly matters."
For some people, interactive gaming truly matters. FarmVille, for example, matters to a lot of people. With some sixty million users, the farm and economy simulation game—which promotes interactions with other "farmers" through social networking—is Facebook's most popular application, and is also widely used on the iPhone. But Eric Schiermeyer, one of the founders of Zynga, which developed FarmVille and other popular games, told the audience at Wisdom 2.0 in February, "I realized this morning that for all this time Ive been involved in this world, I don't really love technology. I love people."
The comment drew loud laughter, but Chris Sacca, one of the earliest investors in Twitter, immediately countered that the newer forms of technology "have brought the human back in"—for example, disillusioned Egyptians tweeted their grievances to the world in unison, unmediated. The exchange epitomized the dual nature of the Wisdom 2.0 phenomenon. The lords and leaders of high tech aren't about to dismiss new technology as the beginning of the end of humankind—not only because they don't want to work against their own economic interests, but because they believe in the innovative, interactive world fostered by new technologies. They believe that it connects people and that people are getting the technologies they are asking for. Yet they also know that technology can be distracting, not only from where we are in any given moment but from where we ought to be going.
When I tracked down Schiermeyer later, he made clear that in saying he didn't love technology he was pointing out that any technology is only as good as what people do with it and what kind of world they make with it. "Technologies are tools, and you can use them to do great things or not," Schiermeyer said. "We expect a plumber to provide us with good pipes, but we don't hold him responsible for what goes through the pipeline." He thinks the most successful and innovative tech companies are those that use "their own version of mindfulness" to listen carefully to what people want and supply it to them. "What Steve Jobs and Apple have done," he said, "is hone and refine a product development process that is so insightful and so carefully constructed that they've discovered what it is that human beings really want when it comes to devices."
Schiermeyer agrees with Kevin Rose's appraisal of the importance of mindfulness, but takes it a step further. "I would like
to see a shift in our culture, so that I would find being part of it more enjoyable on a daily basis. I see the cultivation of wisdom practices as something that could very much help bring out the kinds of shifts I think we need. If you look around, there's so much going on in everyday American life that's pathological, unnecessarily stressful, or just plain illogical." In the end, he believes mindfulness includes being innovative at every possible level, not just with our high-tech tools, but in how we construct the world we live in.
Changing the world is a tall order, so most people start with their immediate surroundings. In the tech world—where work and play and life are so tightly intermingled—the obvious place to start is the workplace. The best-known program in high tech for promoting wisdom practices is Google's Search Inside Yourself (See "Google Searches," Lion's Roar, September 2009), which was spearheaded by Chade-Meng Tan. Meng, as he is known, is already a veteran spokesperson for the Wisdom 2.0 movement. His core belief is that if you can reach people at their workplace, you can change how they are, and ultimately change the world. It's becoming a kind of article of faith for the Wisdom 2.0 crowd. For Kevin Rose, it includes things as simple as providing people at work with high quality loose tea, so they have to "at least interrupt their momentum long enough to properly make a good cup of tea," which they may then take the time to enjoy rather than simply gulp down.
Human resources departments at major technology companies are committed to providing access to practices that not only help their employees deal with stress, but to be more curious and strategic about how they go about their jobs. "We are very interested in the long-term well-being of the people we've invested in, particularly the managers," says Stuart Crabb, head of learning at Facebook. "We want them to be role models for being present. The education system rewards people for being supersmart, but it doesn't really develop wisdom. That's sorely lacking." Crabb notes that the "continuous stream of stimuli" that is the daily reality for tech workers, not to say the population at large, is a dangerous drug. "It looks like it's very powerful and enabling but it also has the possibility of permanently derailing someone."
Over the past year, Facebook has been adding about one hundred employees a month. Twitter has more than doubled its workforce. In this kind of growth environment, says Crabb, "Everyone needs to know the difference between sprinting and pausing. It's very hard to talk about work-life balance to the generation of people who make up our workforce. It's a big blur for them. That's how it is for our founder. It doesn't resonate if you try to tell them that they're running a marathon, not a sprint, because at this rate they'll be sprinting for a while. What we can teach them is the value of the pause. They have to break up their sprint into sprints."
Facebook leaders don't dictate how long an employee's work sprint should be, or their corresponding pause, or when and how it should happen. They know employees are the best judges of what they need. "People who end the year without having taken a vacation are not heroes here," Crabb says. "If you take time to figure out what the pause looks like for you and you take it, you will come back more refreshed and ready for the next sprint. And there will be one. If you don't take the time to pause, you're going to burn out and we're going to lose you before we've got the best of who you are."
Rich Fernandez, head of learning and organizational development at eBay, sees mindfulness practice as the best way for people to recognize the value of pausing and regulating themselves so they can make the best decisions. He talks about it as a form of "positive disruption," because it interrupts "our default mechanism of doing more, more, more. We think there's a linear relationship between time spent working and results, but so often the time away, the stop to rest, the long cup of tea, following our breath, replenishes us and brings insight. That's what the neuroscience is telling us too. Yet our paradigms for leadership usually reinforce the linear approach—it's about there and then, where you're going, rather than how you are being. We are a values- based company, and our first value is to keep it human. When we get away from that, we need to positively disrupt the paradigm."
Fernandez has been pleasantly surprised by how workers, when given a chance, take to having a real pause, and the company supports that. "When we do mindfulness talks, we pull employees away from the line for an hour and a half at a time. I saw 250 employees at an internet company sitting still for a talk for almost ninety minutes and then doing ten minutes of mindfulness practice. No one got up and left."
Michelle Gale is a mindfulness practitioner and coach who works full-time in Twitter's leadership and development department. Gale says her department's goal is "having wisdom practices be the underpinning of employee work life, so everyone feels they are growing personally and professionally. The Twitters, Facebooks, Googles, and eBays of the world are run by very soulful people whose underlying intention is to have a workplace that fosters well-being. People tend to take care of each other."
Gale says she has found that "synchronizing mind and body" is one of the most helpful practices. "When I was young, I lived a life that was very embodied.' I danced, I played sports, I climbed trees and rode horses. But somewhere along the line, I lost that connection with my body," she says, echoing the recollections of many others. In the tech world, she says, "there is very little opportunity to get out of our heads and into our bodies, to notice the intelligence and connection to something bigger that exists within our bodies. They constantly offer us brilliant information and we are just too busy to notice it. And yet, it's the very thing we need."
Gale has been exposed to various methods for developing "somatic intelligence," but she has been most taken by the approach taught by Wendy Palmer, founder of Conscious Embodiment. Palmer has practiced aikido for forty years, and the principles at its core form the basis for the body-mind practices she teaches. "The goal of aikido is to be able to protect the attacker as well as yourself," Palmer says, and when you extend that principle into how you deal with conflict and pressure, "it can put your body in a position that's conducive to a different kind of chemistry than high doses of stress hormones provide."
These practices extend mindfulness into the high-pressure situations Gale so often faces at work, where mindfulness might normally go right out the window. "Before I enter a potentially stressful meeting, before a difficult conversation, before a coaching session with a manager, when I encounter someone visibly upset," Gale says, "noticing how embodied I am and reconnecting on the spot has been such a big help to me. I see developing this kind of bodily intelligence as something that can make a big difference within Twitter and in the tech field altogether. So many people can benefit: product managers who need to manage multiple projects and have information charging at them from all over the company; managers who have employees who need them fully present but their minds are on a million other things; engineers who get interrupted during very deep coding sessions and need to get back to that space as quickly as possible; high-level executives who need to see the big picture and need to make space to foster innovation rather than control. The ability to synchronize our mind with our body supports all of these common daily challenges. We can always ask how embodied we are in any given moment."
When Todd Pierce, chief information officer at Genentech, the giant biotechnology firm, took over the IT department in 2002, employees had rated it the least satisfying place to work in the company. "I tried all the usual big-company things," Pierce says, "the traditional training programs and big meetings where you bring everyone together offsite and try to address their questions and inspire them. But it just wasn't working." He had experience with mindfulness and found it helpful, but the idea that mindfulness could transform the culture of a large organization was radical. In 2006, he decided to call in Pam Weiss, a seasoned executive coach with more than twenty years' experience as a meditation practitioner and teacher.
When Pierce challenged Weiss to come up with a mindfulness-based development program that could be available at all levels of the organization and potentially transform the culture, Weiss replied that she knew of no existing model. Pierce realized they had to create one. They started by introducing mindfulness classes, but the real goal was to develop a program that used mindfulness—but without calling it that.
The initial mindfulness classes were well received, and they are still offered regularly, but Pierce wanted something that would have more impact, something where people wouldn't have to sign up for mindfulness per se. What they decided to offer was a ten-month "personal excellence program."
"For the first one," Weiss says, "I invited fifty people to a voluntary program, but I soon learned that no one ever feels that an invite from the CIO is voluntary. Next time around we made it by application, but we didn't tell people that everyone would be accepted. We really wanted to see whether people would want to take part. I was sure that no one would bother to fill out the application—120 people applied for sixty spots."
The Personal Excellence Program (PEP) is now in its fifth year. In 2011, there are 115 new participants and one hundred graduates taking part, as well as twenty graduates who have been further trained to support the graduate groups. Six hundred and fifty people have taken part over the life of the program. "In the first year, I lived in fear that I would be discovered for doing this and taken away in chains. So I just told corporate people that we were doing an experiment and gathering data, which we were, and are," Pierce says. "Now my department is No. 2 in the company in employee satisfaction, and in 2009 Computerworld rated our IT department No. 2 in their listing of best places to work."
Weiss explains that the program begins by asking each person to pick a skill (for example, listening, giving feedback, delegation, work-life balance) and a quality (decisiveness, calmness, courageousness, receptiveness) they would like to develop. "It's important," she says, "that we start with people's genuine motivation, from their heart. We want them to tap into their intrinsic motivation, rather than what the company or their boss wants them to work on."
Pierce adds that the approach is deliberately counterintuitive. "In normal organizational life," he says, "we define the problem and go get the solution as fast as we can. I want this program to force people to slow down and discover what's deeply meaningful to them—not just at work but in their entire life. I've had to tell bosses to stop performance coaching people and give them the space to find out what is really happening with themselves."
The core of the program—and what makes it mindfulness-based—is a three-center check-in practice. The basic practice, Weiss says, is to pause and turn your attention inward to notice:
In my head center: what am I thinking?
In my heart center: what am I feeling?
In my body center: what am I sensing?
"We meet once a month," she says, "and after people have been chit-chatting for a while, we do the three-center check-in. Right away, the quality of the conversation changes. You can just hear it go vroopy dropping into something more authentic." The check-in is also a practice that participants use throughout the month to observe and "gather first-person data" on, for example, what they were thinking, feeling, and sensing when they were listening well, less well, or very poorly. Having discussed their aspirations with the group, they report back on their observations.
As a result, Weiss says, people have intimate insights about themselves that they can use, with the help of others in the group, to develop new behavior. "This is a living, breathing kind of mindfulness, one that's cultivated in dynamic, interactive, real-life contexts. I would not have believed that people could effect this kind of change without doing a lot of deep dharma practice, but I have seen this have a strong impact on the whole of the organization. And we have people continuing to participate in our mindfulness programs. We have eighteen people signed up to do a three-day silent retreat."
As a teenager growing up in Lubbock, Texas, Soren Gordhamer felt cut off from the places where meditation was being taught and retreats were happening. "It was technology that connected me to dharma, to wisdom teachings," he says. "In those days, I was listening to tapes, but the point is, people were able to teach me at a distance. I've never forgotten that. And with the web and social networking, the experience of shared wisdom has just become richer and richer." For Gordhamer, Wisdom 2.0 is about how new media makes it possible for more people to be exposed to teachings about mind-and-body awareness in increasingly interactive and dynamic ways. That's why he invited Tami Simon, founder of Sounds True, a multimedia publishing company in Louisville, Colorado, to participate in Wisdom 2.0.
Sounds True made its mark selling tapes and then CDs, but almost overnight that world has been transformed by the smart phone. "Now people are holding in their hand a kind of mailbox that has more interesting mail than they'll ever receive at home—phone messages, text messages, a whole new mix of news and information, and it's also a stereo and a television," Simon says. For many people, particularly in parts of the world such as Asia and Africa that never adopted the laptop on a wide scale, the smart phone has become the universal interface with the world. Compared with distributing teachings and instructions through physical media, she says, "making downloads through phone apps is incredibly efficient and effective. We can reach many more people throughout the world than we could through previous means."
Simon, like Gordhamer, is also encouraged by the rise of two-way communication media. "For our first twenty-five years, we were a one-way street—we sent out messages from our teachers. Now we are hosting online interactive teaching sessions, which are economical with as few as a hundred participants. It's powerful when teachings are interactive on a large scale, when a teacher is on stage in California and interacting with people from dozens of countries across the world. Real transmission definitely takes place. It's very rich and nuanced."
Simon sees similar potential in the electronic book. "For years, you listened to audio on one device, you watched video on another, you had two-way communication on yet another, and did your reading in still another. Now that whole experience, particularly with books of teachings and instruction, can be contained in one place." If you want to, she says, you can hear the power of the author's voice, or see them teach, or even send a question, take part in a discussion, or become part of a community surrounding the book.
It is this ability to connect that makes Gordhamer such a fan of the new technologies, and why Wisdom 2.0 champions them – while also warning about their dangers to young people brought up in a digital world. Looking back on his childhood, Gordhamer waxes poetic about long car rides in the wide open spaces of Texas, when he could just look out the window and take in the space. "Now on that car ride, I would be looking at a screen. I know my own son spends a lot of his day looking at screens. I can t exactly criticize that—my friends and I have helped to create it—but we are also concerned about the need to foster an inner life for our children."
In response to strong interest — much of it coming from tech leaders who are challenged by how to encourage balance in their own children s use of technology — Gordhamer has scheduled a conference devoted to how children and teens use technology. It will be called Wisdom 2.0 Youth: Sowing the Seeds, for Parents, Educators, and Teachers, and will take place September 17 in Mountain View. "Its been exhilarating having this conversation about how to integrate our inner wisdom technologies and our outer technologies," Gordhamer says. "Now we need to look at the legacy of what we are creating: how do we embody the qualities that we most want to pass on, how do we create a culture, in our schools and our families, that fosters genuine connection rather than distraction and disconnection. I honestly want to know. I have many more questions than answers."