Won Buddhism Takes a Major Step Forward in Its North American Ministry.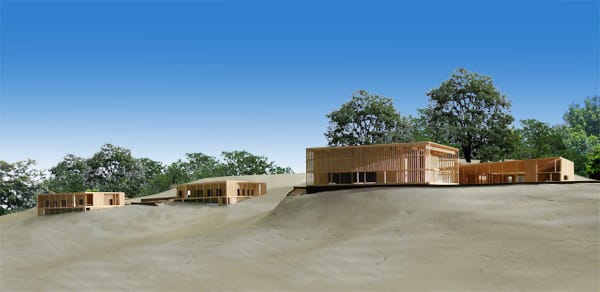 The year 2011 marks the beginning of a historic era in the development of Won Buddhism, with the Grand Opening on October 2 of the Won Dharma Center (WDC, www.wondharmacenter.org), its new retreat center and North American headquarters, in Claverack, New York. The retreat center design, by Hanrahan Meyers Architects (hMa), received the 2010 Faith and Form Design Award from the IFRAA International Award Program for Religious Art and Architecture. The project was featured in the 2010 Awards issue of Faith and Form Magazine and was displayed at the National Convention of the American Institute of Architects in New Orleans on May 12, 2011.
Dr. Thomas Coburn, President Emeritus of Naropa University, commented, "The opening of the Won Dharma Center and the events surrounding the visit of the Head Dharma Master to the United States signal a new maturation in the establishment of Won Buddhism in America.  Increasingly well known in its native Korea over the past century, Won Buddhism has been a modest, growing presence in America over the past thirty years. The events this fall will be of interest to those already familiar with or seeking to know more about Won Buddhism and to those seeking to deepen their spiritual awareness more generally, as well as to scholars interested in how religious movements migrate across cultures and oceans."
As part of the preparations for the Won Buddhist Centennial celebration in 2016, the order has built the WDC, a 48,000 square-feet green community located in the Hudson Valley, designed with sensitivity to nature and issues of sustainable design. The Center offers meditation retreats led by experienced dharma teachers, daily morning meditation, and regular dharma services. It also offers Volunteer and Work Exchange Programs for individuals interested in deepening their practice and revitalizing their lives through work and living at the Center.
In recognition of this significant event, Won Buddhist Head Dharma Master Kyungsan and many senior Won Buddhist clergy from Korea will visit the US to participate in the ceremonies. They will also travel to Won Buddhist sites for events and celebrations around the US. These will include a Dharma Festival and banquet sponsored by the Won Institute of Graduate Studies in Glenside, Pennsylvania, and the opening of a new dharma hall and Il Won Sang (Won Buddhist symbolic circle) enshrinement ceremony near Chapel Hill, North Carolina ([email protected]).
Dr. Robert Buswell, Distinguished Professor of Buddhist Studies and Director of the Center for Buddhist Studies at UCLA, a long-time friend and scholar of Won Buddhism, stated that he has been "especially impressed with the ways in which Won-Buddhism combines distinctive strands emblematic of different traditions of Buddhism into a new religious form that is explicitly tailored for the needs of contemporary people in both East and West." Buswell added that "Won-Buddhism offers a practical set of instructions on how we may overcome our attachments to all views and experience our pristine nature as enlightened beings." Echoing the sentiments of Won Buddhism's second Head Dharma Master, he expressed the hope that the WDC will become "a great practice site where distinguished religious leaders will be produced for all eternity."
Won Buddhism has had a presence in the US for some 30 years, during which time it has established its temples, retreat centers, and educational institution. With this preparation, it is now ready to expand its services to American Buddhists and others interested in spiritual transformation. The Won Institute's three programs support this work with training in the healing professions of Acupuncture, Applied Meditation, and preparation for the Won Buddhist ministry. The Dharma Festival on October 9 will reach out to Buddhists in the Philadelphia area, with the sharing of music and chanting from several Buddhist traditions and an open discussion with Master Kyungsan and his staff about promoting the prospects of Buddhism in North America.
More information: Won Institute of Graduate Studies www.woninstitute.edu (215) 884-8942 or [email protected]