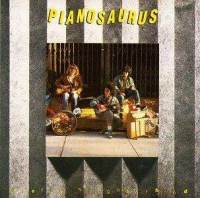 When I was a young, bitter punk rock kid, much of the (very small amount of ) light I saw in the world usually came from seeing that others had as caustic and cynical a take on things as I did. One exception, though, was Pianosaurus, a band that absolutely slayed on their instruments – all of which were children's toys. Their record, Groovy Neighborhood (left), was playful and non-cynical. To my best friend Josh and me, it was summer freedom on vinyl.
I always wondered what happened to those guys. Well, now I have some answers, thanks to Marc Maron and the newest installation of his fantastic comedy-insider podcast, WTF, which features non-comedian Dr. Stephen Dansiger – psychotherapist, happy family man, and lifetime musician who's played with some great bands, including Pianosaurus. So: why is this relevant to this blog? Well, Dansiger is also a Zen meditator now. (He's friends, too, with Josh Korda of Dharma Punx.) And he talks about all of this, and how he's gotten to the other side of some seriously rough times, on WTF. Click here to listen online. Or download via iTunes.
Warning: if you're not comfortable with the word that the "F" in "WTF" represents, this won't be easy listening for you. But it's a good listen nonetheless.