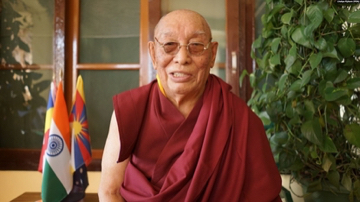 Yeshe Dhonden, the foremost Tibetan doctor in the world, died on November 26. He was 93.
Dhonden was born into a family of Tibetan peasants. When he was 11, he joined the Chakpori Institute of Tibetan Medicine, where he studied for nine years. In 1959, he accompanied the Dalai Lama when he fled the Chinese invasion of Tibet.
In 1961, when the Dalai Lama founded the Tibetan Medical & Astro-science Institute in India, Dhonden was the founding director. He served in that position until 1966. From 1963 to 1980, Dhonden served as the Dalai Lama's personal physician.
In 1969, Dhonden founded a personal practice in McLeod Ganj, India, near the Dalai Lama's residence. Buddhistdoor reports that Dhonden saw up to 50 patients a day, six days a week, relying primarily on his own senses to diagnose patients. Dhonden ran his practice for fifty years, until he retired in April of this year, at age 92.
In 2018, Dhonden received Padma Shree, the fourth-highest civilian award in India, for contributions to the field of medicine.
THANK YOU FOR READING LION'S ROAR. CAN WE ASK FOR YOUR HELP?
At Lion's Roar, our mission is to communicate Buddhist wisdom in today's world. The connections we share with you — our readers — are what drive us to fulfill this mission.

Today, we're asking you to make a further connection with Lion's Roar. Can you help us with a donation today?
As an independent nonprofit committed to sharing Buddhist wisdom in all its diversity and breadth, Lion's Roar depends on the support of readers like you. If you have felt the benefit of Buddhist practice and wisdom in your own life, please support our work so that many others can benefit, too.

Please donate today — your support makes all the difference.

Lion's Roar is a registered charity in the US and Canada. All US & Canadian donations are tax deductible to the full extent allowed by law.