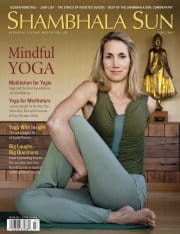 There are yoga asanas that can help the physical and mental aspects of your meditation. And your work as a meditator can enrich your practice as a yogi.
These classic teachings from the pages of the Shambhala Sun and Buddhadharma will help you to engage and enhance both yogic and Buddhist practices, individually and together.
Just click any article's title to start reading.
---
Andrea Miller profiles Cyndi Lee, Sarah Powers, Frank Jude Boccio, Jill Satterfield, and Phillip Moffit — five teachers who combine hatha yoga and Buddhist meditation. Is this the perfect mind–body practice?
Well-known yoga teacher Desirée Rumbaugh offers a short series of poses that will improve your sitting practice.


Shiva Rea talks with the Sun's Andrea Miller about what she sees as the power of self-less service and about the true and transformative nature of yoga.
Hatha Raja: Yoga's Path to Liberation

As in Buddhism, the true goal of yoga is liberation from ego and suffering. Yoga becomes a complete spiritual path, says Chip Hartranft, translator of the Yoga Sutra, when we join the familiar postures of hatha yoga with the meditative practices of rajah yoga.
A Q&A with yoga teacher Rodney Yee.
Yoga came along at the right time for me, or perhaps a little bit late, says Mark Epstein.
Tara Bray sets out to uncover the origin and meaning of savasana—corpse pose—and meditates on her life as a young Southern girl who lost her mother too early.


Traveling the breath, Zen priest and yoga teacher Edward Espe Brown has found himself in some unexpected places.
Stephen Cope, Victoria Austin, Richard Freeman and Jill Satterfield on combining yoga and Buddhism.
"Yoga and meditation are ultimately about turning our eyes away from the airbrushed images of the outside world," Anne Cushman says, "and looking deep within our own hearts."
A complete spiritual practice—or even just a healthy, satisfying life—requires working with both body and mind. Cyndi Lee and David Nichtern explain why yoga practice and Buddhist meditation is the perfect mind-body combination.
Being mindful of the body is a profound—though often overlooked—opportunity to deepen our meditation and develop our insight, says Phillip Moffitt. Meditating on the body, we discover all four of the Buddha's noble truths.
Three well-known teachers and practitioners of yoga and Buddhist meditation, Anne Cushman, Phillip Moffitt and Richard Freeman discuss the benefits and pitfalls of bringing both to your mat.
Shiva Rea and Sarah Powers, both featured in our current issue, have a connection with Lama Tsultrim Allione. In this online exclusive, all three talk about the interface between yoga and Buddhism in America, the role of women in these traditions, and the perils and promise of making ancient Asian practices workable in the West. Devon Ward-Thommes guides the conversation.
---
THANK YOU FOR READING LION'S ROAR. CAN WE ASK FOR YOUR HELP?
At Lion's Roar, our mission is to communicate Buddhist wisdom in today's world. The connections we share with you — our readers — are what drive us to fulfill this mission.

Today, we're asking you to make a further connection with Lion's Roar. Can you help us with a donation today?
As an independent nonprofit committed to sharing Buddhist wisdom in all its diversity and breadth, Lion's Roar depends on the support of readers like you. If you have felt the benefit of Buddhist practice and wisdom in your own life, please support our work so that many others can benefit, too.

Please donate today — your support makes all the difference.

Lion's Roar is a registered charity in the US and Canada. All US & Canadian donations are tax deductible to the full extent allowed by law.