Our July 2012 magazine is our annual all-teachings issue, celebrating the qualities of awakened mind and the Buddhist meditations that cultivate them. But meditation can present physical challenges, which is why Charlotte Bell wrote Yoga for Meditators. In this excerpt, "Setting Up: Finding the Right Support," Bell offers some guidelines on choosing a proper sitting position.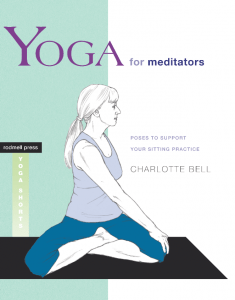 During a question-and-answer session on a meditation retreat I led many years ago, one participant asked, "Why do we have to sit in such an uncomfortable position?" I knew what she meant. After years of sitting on a bench or cushion with no back support—with aching knees, low back, and shoulders—I had often wondered the same thing.
I pondered her question for a few moments, and then the answer came: Any position you sit in for a long period of time is going to get uncomfortable after a while. Whether you're sitting on a hard wooden bench with no back support or luxuriating in the most ergonomically supportive lounger, after a while your body is going to want to move.
Perhaps this sitting meditation scenario is familiar to you: You've been sitting a little while, and you suddenly notice that you're slumping a bit. You immediately correct by jerking your body back to a more upright position. Not long after, you notice you're slumping again, and once again you correct your position. The cycle can happen over and over in the course of a sitting. This little dance could be a sign that the spine is out of congruence, that your basic sitting position is not self-sustaining.
Traditional sitting postures—whether on a bench, zafu, or some other type of support—were developed to make the most of the body's natural energy flow. An upright, neutrally aligned spine allows for the most efficient movement of energy. When the spine, and therefore the spinal cord, is in an easy, neutral position, the nervous system has a much better chance of finding equilibrium, which creates a supportive environment for the mind to quiet.
When the spine is out of integrity, we struggle. Struggle creates an uncomfortable combination of agitation and fatigue. As we spend muscular energy to support the spine in sitting, we create tension and agitation. Over time, tension and agitation tire us out. Then we spend more muscle energy to prop ourselves up. As we tighten our core postural muscles to maintain an upright position, breathing becomes shallower. This decreases our energy further, inclining us to slump over. The cycle sustains itself.
When your spine is aligned naturally, it holds itself up. We need to supply some intention, but the energy expenditure is minimal. Two things have to happen in order for the spine to be in optimum alignment. First, your foundation (the parts of the body in contact with your cushion, bench, or chair) must be evenly and efficiently grounded. Next, your spinal curves must be intact. When these two conditions are met, while you may experience fatigue or agitation for reasons other than spinal misalignment, your body—and therefore your mind—has a much greater chance of finding equilibrium. Your sitting position then sustains, rather than depletes, energy.
The first step for creating a sustainable position is to determine what sitting position best allows for spinal congruence in your unique body. I will address five possibilities here: a zafu, a v-shaped cushion, a meditation bench, folded blankets, and a chair. You don't have to choose just one of these. If you are on a long meditation retreat, you may want to switch between a zafu and a chair, for example, if this fits within the guidelines of the retreat. In your home practice, you may find that a bench suits you on days when your energy is low, whereas a v-shaped cushion supports you better on days when you're feeling agitated. Staying open to shifts in your body-mind will help you determine what works best at a given time.

Most important, the position(s) you choose must sup- port even grounding through your foundation and integrity of your natural spinal curves. The human spine, or vertebral column, develops with four natural curves. Two are convex; the other two are concave (Figure 1). These curves allow for shock absorption, and allow your spine to flex, extend, rotate, and side bend naturally as you move through space.
The two convex curves, in the sacrum and thorax, are stable, while the two concave curves, in the lumbar and cervical spine, are flexible. The concave curves give support to the structures immediately above them: the rib cage and head. When these curves are in integrity, the intervertebral discs create even space—front to back and side to side— between each vertebral body. When the vertebrae are evenly spaced, the discs stay healthy, not developing flat spots that can become brittle or bulging spots that can create pain by pushing out from between the vertebrae and impinging on nerves. When the vertebrae are in congruence, the discs create the cushion the spine needs to maintain its buoyancy and integrity.
In order to maintain these curves, we must focus our initial attention on the sacral angle. The sacral angle determines the ability of the rest of the spine to maintain its natural curves. The optimum angle for the sacrum is approximately 30 degrees, with the top of the sacrum angling forward.
There are a whole host of muscles and muscle groups that, when tight, can limit the sacrum's ability to find the magic angle. Tight hips, hamstrings, quadriceps, adductors, and abductors can all pull on the pelvis, causing it to tilt out of neutral, which usually brings the sacrum's angle to vertical, or can even cause the sacrum to tilt back. Postural habits such as constant tightening of the abdominal muscles can also affect the sacral angle and flatten the lumbar. All of these conditions not only make the spine unable to hold itself up easily, but over time they can also cause disc damage.
The even grounding of the sit bones is also essential. When we sit unevenly, with one sit bone more grounded than the other, the spine will misalign in whatever way it needs to for the body to stay upright.
Support is the key to bringing the spine to its optimum position. Even very flexible people don't do well sitting flat on the floor. So even if you have little restriction in the muscles that act on the pelvis and femur bones, using a bench, zafu, v-shaped cushion, chair, or blankets will allow you to sit more easily.
In our competitive Western culture, we often tend to see props as crutches. This is not at all the case—in yoga or in meditation. Using a cushion, bench, or chair in meditation simply allows you to create the most supportive position for sitting for long periods. You wouldn't want to run a marathon in flip-flops. Instead, you would wear shoes meticulously designed to help your body withstand the impact of constant pounding. The same applies to sitting. Struggling against the body is counterproductive in meditation. Even with the best sup- port, you will likely experience challenges in your body when you sit. But if your spine is not aligned properly, struggle will be constant, and your nervous system will not be able to find equilibrium. Why not give yourself every possible opportunity to sit comfortably?
Selecting what you will sit on can take some experimentation. There are supports you can use for short meditation sessions that might not work for longer ones, and there are some that won't feel comfortable for you from the outset. You may try out something in a shop and find it perfectly comfortable, only to get it home and decide it's not the right choice for you. I sat on a meditation bench for my first several years of practice and then switched to sitting cross- legged. It took me a while to find the most comfortable position for long-term sitting, and I'm well aware that as time goes on I may shift yet again.
Here are guidelines for choosing a cushion or bench:
When you decide to shop for a support, it might be helpful to bring along a friend who can assess whether your pelvis rests in the optimum angle on a cushion or bench. The illustrations in this section should help you understand what that looks like. Your most reliable feedback, of course, is your own body. Remember, feeling at ease and breathing freely is the most important cue. Explore all the options that work for your body, and be open to the possibility that over time your preferences may change.
From Yoga for Meditators, copyright © 2012 by Charlotte Bell. Illustration copyright © 2012 by Lauren Keswick. Reprinted by permission from Rodmell Press.