On Sunday night, Karen Maezen Miller logged onto social media to see a steady stream of "me too"s coming across her feed — women identifying that they had been victims of sexual harassment or assault — and it broke down a barrier between "me" and "you."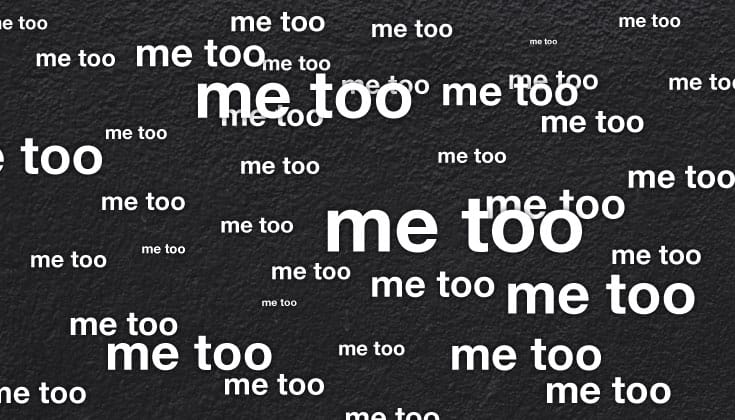 As usual, I was late to the social media movement. Returning from retreat, I saw the hashtags sailing through my newsfeed late last night until I puzzled out the meaning. #MeToo, #MeToo, I read in an endless stream, aiming to convey the magnitude of the problem before us: sexual harassment and abuse, more ugly evidence of the systemic exploitation and degradation of women.
But I knew that one more entry into the Facebook feed would never convey the magnitude of our affliction.
Earlier in the day, I'd spoken to some sangha members about the issue. "This is just the way it is," I said, "this is way it has always been."
I am old and jaded. I have never known a world without a gender power imbalance. The experience of harassment is ubiquitous, and any solution seems outside my modest reach. Ignorance, and the suffering it causes, is eternal and exhausting.
What I see is you, you, and you: an infinite whole that conveys the magnitude of the suffering.
In our practice, we talk a lot about compassion as embodied in the bodhisattva Kuan Yin, "she who hears the cries of the world" and responds with "a thousand eyes and arms." Conjure up that image and it seems fantastical — yet another religious myth without any conceivable application outside of a morality tale.
And yet, compassion isn't a fable. It isn't an unattainable ideal. It is simply a turn away from the isolation of ego and toward the world we create, inhabit, and share. From this perspective, every single cry fills my entire universe. Every single problem is my problem. Every wound is mine to heal. Sure, suffering can divide us into the perpetrator and the victim, the powerful and the powerless, but it can awaken and unite us, too. In fact, it must.
I've read the #MeToos. I know the fear and pain. I listen to the cries, which echo my own. But what I see in this goes beyond me alone. What I see is you, you, and you: an infinite whole that conveys the magnitude of the suffering, the empathy required of us, and the urgent need for each of us to wake up and begin to do good.
When I can forget myself, even for a moment, the barrier between us dissolves. Then my own eyes and arms reach out to touch #YouToo.
THANK YOU FOR READING LION'S ROAR. CAN WE ASK FOR YOUR HELP?
At Lion's Roar, our mission is to communicate Buddhist wisdom in today's world. The connections we share with you — our readers — are what drive us to fulfill this mission.

Today, we're asking you to make a further connection with Lion's Roar. Can you help us with a donation today?
As an independent nonprofit committed to sharing Buddhist wisdom in all its diversity and breadth, Lion's Roar depends on the support of readers like you. If you have felt the benefit of Buddhist practice and wisdom in your own life, please support our work so that many others can benefit, too.

Please donate today — your support makes all the difference.

Lion's Roar is a registered charity in the US and Canada. All US & Canadian donations are tax deductible to the full extent allowed by law.