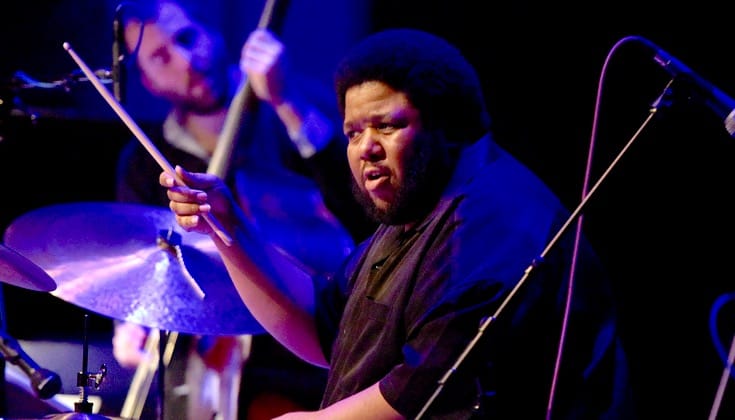 Tyshawn Sorey performing in Brooklyn, NY, 2014. Photo by Steve Pisano, via
Feast of Music
.
The 2017 John D. and Catherine T. MacArthur Fellows were announced on Oct. 10, and among the 24 individuals was 37-year-old musician and composer Tyshawn Sorey.
The MacArthur fellowship — also known as the "genius grant"— is a $625,000 no-strings-attached award distributed over a five year period to those who show "exceptional creativity" based on significant past accomplishments.
"It's the biggest honor I've ever received in my life," Sorey told the Hartford Courant about the fellowship. "I'm still processing it."
A multi-instrumentalist specializing in drums, percussion, trombone and piano, Sorey is known for defying distinctions between music genres, specifically when it comes to breaking down the lines between improvisation and composition into a singular expression of contemporary music.
While often associated with jazz and classical music, Sorey is wary of being identified with any specific genre. If there is a label that applies to him, it's "experimental."
Over the past decade, Zen Buddhism has played an important role in Sorey's work. In 2006, he visited a Japanese monastery, which sparked his interest in Zen concepts and meditation. Not only was he interested for his well-being, but also found it inspiring musically. Sorey felt that, while his music was good, it was often difficult for difficulty's sake.
With this in mind, meditation helped shape two of his five recordings: That/Not in 2007 and Koan in 2009. While That/Not is praised by music critics as breathable and melodic, Koan is polarizing in its existentialism and aims to explore how we experience listening.
Sorey released his most recent album, Verisimilitude, in August. The recording consists of five abstract, spontaneous, yet formal compositions in which Sorey challenges the expectations of the jazz piano trio tradition.
Sorey received his Doctorate in Musical Arts in Composition from Colombia University and is currently an assistant professor of music at Wesleyan University in Connecticut.
Can you help us at a critical time?

COVID-19 has brought tremendous suffering, uncertainty, fear, and strain to the world.
Our sincere wish is that these Buddhist teachings, guided practices, and stories can be a balm in these difficult times. Over the past month, over 400,000 readers like you have visited our site, reading almost a million pages and streaming over 120,000 hours of video teachings. We want to provide even more Buddhist wisdom but our resources are strained. Can you help us?
No one is free from the pandemic's impact, including Lion's Roar. We rely significantly on advertising and newsstand sales to support our work — both of which have dropped precipitously this year. Can you lend your support to Lion's Roar at this critical time?