The Zen Peacemakers Order this week has been honoring one of its stalwart members, Polish actress Małgorzata (Malgosia) Braunek, who passed away from cancer June 23 at the age of 67.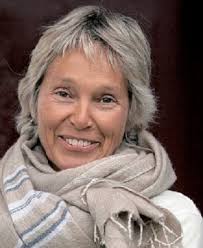 Braunek, a Zen practitioner under various teachers since 1979, led the Polish sangha Kanzeon since 1992 and was one of the co-organizers for many of Zen Peacemakers' well-known Bearing Witness retreats at the site of the Auschwitz extermination camp. The ZPO blog has published several personal remembrances of Braunek. Catherine Pagés shared a tender final moment:
"Two days before [Braunek's] passing, in the bed of her hospital room, surrounded by a few senior students, she gave Hoshi (the position of Dharma Holder) to one of them. Without many words, she took the time to look closely into the eyes of each of them – one by one – and finally said: I love you all so much.
"That was where her teaching came from, directly from her heart. So connected with her own heart, she inspired others to go deep into themselves and find the way to the source of their own lives, the source of their being, their heart."
Read the ZPO post about Braunek here, and the personal remembrances here.