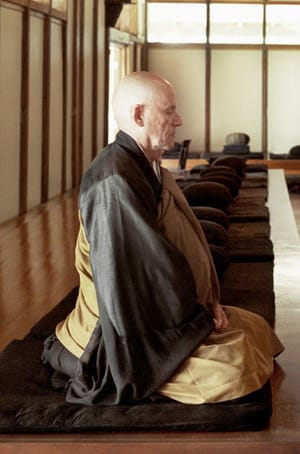 Daigan Lueck in the Green Gulch Farm zendo, by Alison Bank, via blogs.sfzc.org.
Sweeping Zen reports that Zen priest David Daigan Lueck died in the afternoon on Sunday April 26. He was 84 years old.
Lueck would serve as the head monk of San Francisco Zen Center's monastery, Tassajara, in 1994. After serving in the Korean War and living in Japan, he came back "and started working for a travel agency in Minneapolis," he told David Chadwick in a 2006 interview. "Hated every bit of it." He eventually traveled to San Francisco from Minneapolis, in 1969, as an actor.
"I came to Zen Center in the City in 1970," he told Chadwick. "My first sitting was in 1970; I'd go over there in those days, acid tripping and so on. I decided I needed some kind of focus." He would begin practicing with Tarthang Tulku's Nyingma Institute, in Berkeley, but eventually returned to the SFZC fold by way of Green Gulch Farm: "[…] about '77 I started coming as a guest student. Then I started coming more and more […] Then little by little I said, I need this in my life. I have to get some discipline. I have to actually take it on. So in '84 I started living here." In 1990, he was ordained by Mel Weitsman.

Lueck was also a poet and painter. He is survived by his wife, Arlene Lueck.
There will be a funeral at Green Gulch Farm on June 7 at 4pm.