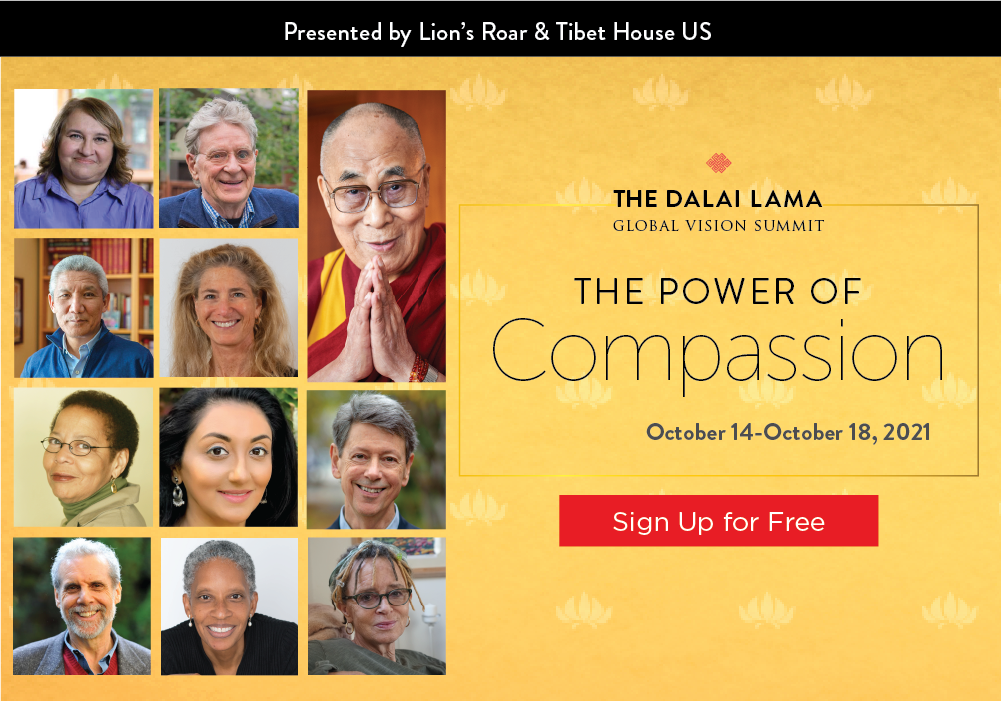 Robert Thurman, Sharon Salzberg, Anne Lamott, Thubten Jinpa, and Rick Hanson headline this month's 2nd Annual Dalai Lama Global Vision Summit, titled "The Power of Compassion." This free online event is an historic investigation of the value held dearest by one of the great spiritual figures of our time, His Holiness the Dalai Lama.
Produced by Lion's Roar in partnership with Tibet House US, this five-day free online event brings together 20 renowned spiritual teachers, scientists, activists, and interfaith leaders to share and discuss the Dalai Lama's message of compassion and how it can better our world, from our individual lives to the health of the planet itself. The event has the personal support and endorsement of His Holiness.
"The Dalai Lama is the world's best-known Buddhist, and yet he has famously said, "My religion is kindness," reflects Melvin McLeod, Editor-in-Chief of Lion's Roar and host of the event. "Whether we call it kindness, love, compassion, caring, empathy, it is life's magic ingredient. If there is a panacea, a universal cure for all that ails us, it is compassion."
Guided meditations by leading teachers and experts will help enable viewers to cultivate compassion and its benefits in their own lives.
The five themes of this year's Dalai Lama Global Vision Summit are:
The Transformative Power of Compassion
The Science of Compassion
Compassion in Our Daily Lives
The Compassionate Society
Compassion for the Earth
The Power of Compassion is free to join. Register now, and see the full list of presenters and schedule, here.