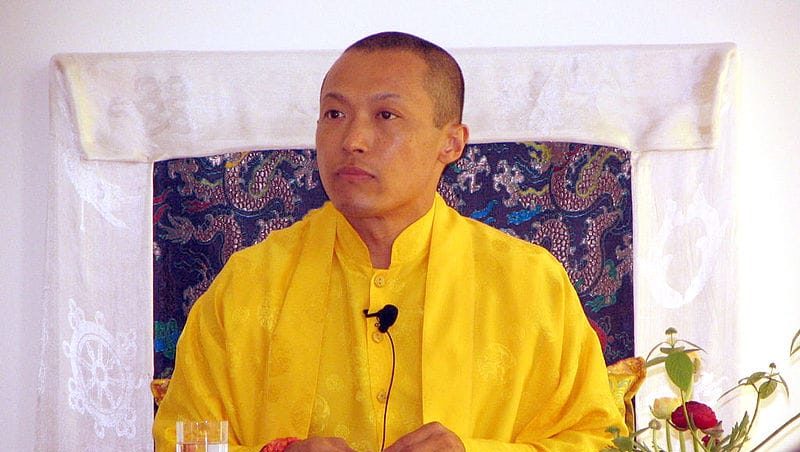 Sakyong Mipham. Photo by robertivanc via WikiMedia Commons.
The nine members of the Kalapa Council, the highest leadership body in the Shambhala Buddhist community, stepped down on July 6 following allegations of sexual assault and clergy sexual misconduct against the community's leader, Sakyong Mipham Rinpoche.
Stating that the resignations will begin "a healing process for our community," the Kalapa Council writes, "We recognize that parts of our system are broken, and need to dissolve in order to make room for real change."
Update — July 31, 2018: On July 30, the Kalapa Council announced Shambhala's leadership transition plan. In a letter to the community, the council stated that a transition team will select and appoint an interim board of directors, which will separate current leadership from the appointment of the next board of directors. The transition team will also select a process team responsible for improving Shambhala's future leadership, representation, and governance structures.
The process team and interim board are expected to be in place by September 10, with the Kalapa Council transitioning its responsibilities to the interim board by September 22.
In its letter to the Shambhala community, the council also announced that it has hired a law firm in Halifax, Nova Scotia, the group's international headquarters, to do an independent investigation of the allegations against Sakyong Mipham, which were made most prominently in a report last week from Buddhist Project Sunshine.
The announcement from the Kalapa Council does not include any statement by Sakyong Mipham, who has not publicly addressed the charges in the Buddhist Project Sunshine report.
The report featured detailed first-person stories by three women alleging sexual assault and clergy sexual abuse committed by Sakyong Mipham. According to the council's statement, the law firm will also investigate any allegations of sexual misconduct committed by other teachers and leaders in the Shambhala organization.
The statement from the Kapala Council reiterated that Shambhala has contracted the service of An Olive Branch, an organization that helps Buddhist communities address issues around sexual misconduct. It says An Olive Branch will "serve as a neutral party for receiving stories of harm, survivor advocacy and consulting on our policies going forward."
The full text of today's letter from the Kalapa Council can be viewed via this link.
Meanwhile, Naropa University in Boulder, Colorado, has announced that its board of directors has asked Sakyong Mipham to step down from his positions as Naropa Lineage Holder and non-voting board member, and that he has submitted his resignations.
The joint announcement by the university's board chair and president states, "We have reviewed the accounts presented by several women who, at the time of the encounters, were members of Shambhala International, relating abuse that occurred as recently as 2011. We find these stories credible and believable."
The statement also says, "None of the alleged conduct took place at Naropa, nor did they occur in the performance of any role at Naropa. Nonetheless, that does not make the needs for these board actions any less important for the integrity of the Naropa community."
Previous coverage on LionsRoar.com:
Can you help us at a critical time?

COVID-19 has brought tremendous suffering, uncertainty, fear, and strain to the world.
Our sincere wish is that these Buddhist teachings, guided practices, and stories can be a balm in these difficult times. Over the past month, over 400,000 readers like you have visited our site, reading almost a million pages and streaming over 120,000 hours of video teachings. We want to provide even more Buddhist wisdom but our resources are strained. Can you help us?
No one is free from the pandemic's impact, including Lion's Roar. We rely significantly on advertising and newsstand sales to support our work — both of which have dropped precipitously this year. Can you lend your support to Lion's Roar at this critical time?