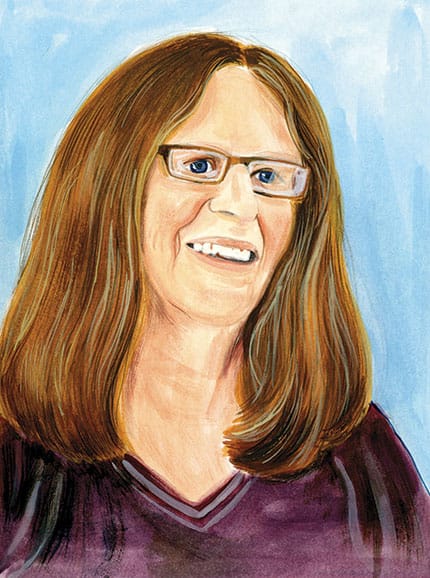 Illustration by Kim Scafuro
What is it I resist about taking care of my mother? It's not just the actual tasks involved—it's the whole idea. It's giving up my own stuff to do hers; giving up my own time to be with her; continually giving up my own needs to satisfy hers.
My mother is ninety-three and lost her eyesight this year; she requires more care now than ever before. Ambulatory and active, she still lives alone but needs help with meals, supervision, companionship, medication management, and other daily things.
My three sisters and I split her care. Two of us live close to her here in Florida, and two live out of town and fly in for three- to six-week stays. Recently, I went to California for five months to take care of my eighteen-month-old granddaughter, preparing her to transition to daycare. Doing so left me burnt out, exhausted, and hospitalized for three days with a lung infection and pneumonia, delaying my return trip to Florida. Now that I'm home, my sisters are chomping at the bit for me to return to "mommy-care duty." I resisted at first on the grounds that I'm still recovering from pneumonia. But with time, I find myself making up new excuses and investigating assisted-living facilities. I also find myself annoyed and irritable whenever I am with my sisters and my mother.
My Buddhist training emphasizes compassion, including compassion for self, even while acknowledging the concept of no-self. I try for self compassion, but in my Catholic and military family it comes across as selfishness. Maybe it is the way I deliver the message. I don't know.
If I have no self, why does it get so tired? I look within to see why I resist so, but all I see is a needy mommy wanting to swallow me up. How do I get some relief? Will it come only when she dies? How will I feel then: remorseful or relieved? Even on airplanes they tell you to put the oxygen mask on yourself before trying to assist others, including your kids or the elderly. If you don't save yourself, you won't be able to save anyone else. I guess you could argue that you are saving yourself only so you can help others. So that's where I am right now. Putting the oxygen mask on. And it may take a while before I get enough oxygen to help someone else. Is it a given that once the mask is on, we must immediately go about the task of helping all others? To be a good Buddhist, I guess the answer would be yes. Am I a bad Buddhist?
Excerpted from the Fall 2014 issue of Buddhadharma: The Practitioner's Quarterly, available on newsstands and by subscription.