The Lion's Roar Foundation is a mission-driven, reader-supported publisher of Buddhist teachings, news, and perspectives. We are committed to ensuring that the understanding and practice of Buddhism flourishes in the contemporary world.
---
Our Readers Support Us When They: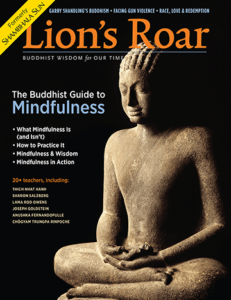 Subscribe
When you subscribe to our print magazines or digital editions, you support our mission and enjoy delivery of the complete package of content our editors carefully curate and edit for each issue. The best of Buddhist wisdom, carefully considered, respectfully edited, and beautifully designed. Subscriptions begin at US$24/year. SUBSCRIBE
Donate
If you enjoy our web content or want to help us make a greater contribution to the world, please consider making a donation. By donating to the Lion's Roar Foundation, you join your resources with ours in pursuit of sharing Buddhist wisdom and supporting practitioners—and the dharma—worldwide. Your donation of any amount is very much appreciated. DONATE
Our operations are funded almost entirely through sales of our magazines, advertiser support, and individual donations from readers like you—we operate without an endowment or the support of major sponsors or foundation grants.
---
Our Work
"The proclamation of the truth of the dharma is as fearless as a lion's roar."
—The Buddha
We are committed to ensuring that the understanding and practice of Buddhism flourishes in the contemporary world.
To be of greatest benefit to people's lives and our society, we believe it must remain authentic and complete, and become sustainable and integrated.
We measure the success of our mission against the extent to which contemporary Buddhism is: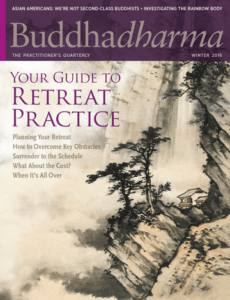 Authentic Serving only nonego and enlightenment not corrupted by physical, psychological, or spiritual materialism.
Complete Encompassing the full range of and depth of Buddhist practice, philosophy, and ritual.
Sustainable Supported by the institutions, infrastructure, and financial resources needed to establish a religious tradition that will last for generations to come.
Integrated Becoming an accepted and natural part of Western society, not a foreign implant or fringe phenomenon.
Of Greatest Benefit Reaching all who would benefit from it.
We contribute to this mission by making Buddhist teachings, insightful commentary, and thoughtful perspectives available to all who might benefit from them, and by connecting individual practitioners with great teachers and strong communities, via all effective forms of communication. At present, our principal means of supporting our mission are:
Publishing Buddhist teachings, news, and perspectives
Lion's Roar magazine
Buddhadharma: The Practitioner's Quarterly
LionsRoar.com
Connecting our audience with great teachers
Our annual readers-retreat at the Garrison Institute
Online teachings and learning opportunities at learn.lionsroar.com
Acting as media sponsor to teaching and community events presented by our partners
Live events and teachings
Do you own or work for a business that shares our values? Consider supporting our efforts by advertising in our publications or sponsoring our events. You'll benefit from excellent exposure to a values-driven audience while supporting the Foundation's mission.
---
Lion's Roar Foundation Board
Our volunteer board of directors includes teachers and community leaders from the Zen, Theravada/Insight, and Vajrayana traditions and supports our vision of inclusivity and diversity of voices.
Charles G. Lief (Chair), Naropa University
Mirabai Bush, Center for Contemplative Mind in Society
Eric Colombel, Tsadra Foundation
Ken Einhorn
James Gimian, Foundation for a Mindful Society
Trudy Goodman, InsightLA
Andy Karr
Liza Matthews
Melvin McLeod
Ben Moore
Roshi Enkyo O'Hara, Village Zendo
Tim Olmstead, Pema Chödron Foundation & Tergar International
Brenda Salgado
Gina Sharpe, New York Insight Meditation Center
Organizations listed for identification purposes only.
Staff

Editorial
Melvin McLeod, President & Editor-In-Chief
Rod Meade Sperry, Editorial Director, Special Projects & LionsRoar.com
Sam Littlefair, Editor, LionsRoar.com
Lilly Greenblatt, Assistant Editor, LionsRoar.com
Tynette Deveaux, Editor, Buddhadharma
Andrea Miller, Deputy Editor, Lion's Roar
Koun Franz, Deputy Editor, Buddhadharma
Lindsay Kyte, Associate Editor, Lion's Roar
Rory Lindsay, Review Editor, Buddhadharma
Liza Matthews, Art Director & Associate Editor, Lion's Roar
Seth Levinson, Art Director, Buddhadharma
Andrew Glencross, Associate Art Director & Production Coordinator, Lion's Roar
Publishing
Ben Moore, Publisher
Dan Scott, Associate Publisher, Circulation & Digital Editions
Andy Karr, Finance Director
Cindy Littlefair, Operations & Human Resources
Alan Brush, Circulation Planning Director
Iain McGlashan, Marketing
Sharon Davis, Account Representative
Paul Laybolt, Account Representative
Rebecca Pearson, Circulation Associate
Pam Pedersen, Digital Designer
Alicia Browne, New Initatives Coordinator
Kenneth Swick, Controller
Connie Jones, Administrative Assistant
James Gimian, Consulting Publisher
Founder
Chögyam Trungpa Rinpoche
(1940–1987)