Meditations, interviews, dharma talks and audio features to awaken your heart and mind. Subscribe on iTunes, Stitcher, and Spotify.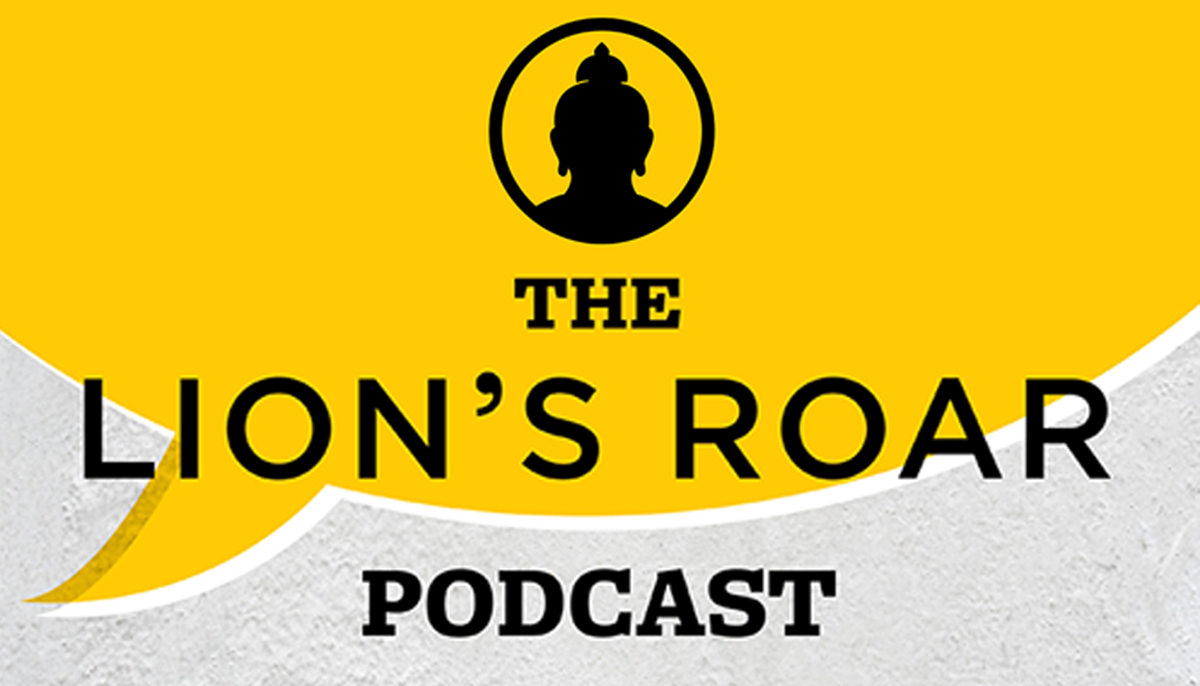 We've been publishing for decades about every aspect of life through the lense of dharma, collecting the works of leading Buddhist teachers on topics ranging from everyday mindfulness practice to facing your fears, protecting and connecting to the Earth, taking social action, and even knowing when not to take action.
The Lion's Roar Podcast is where you'll hear the voices of these teachers, as well as practitioners and creative minds who have been inspired by them. Their voices tell the stories of how Buddhist wisdom can fit into your real life whether you're Buddhist or not.
Below you'll find an up-to-date list of our podcast archive. Listen and enjoy!
A Marriage Made in Heaven with Anne Lamott and Neal Allen / Positive Change in Buddhism with Melvin McLeod
Anne Lamott grew up in a family with atheist parents and a great disdain for spirituality. Neal Allen was raised in a Protestant Christian family but until he was 52 years old believed he had no use for god. They were married by an episcopal minister, a Jesuit priest, and the Buddhist author and teacher, Jack Kornfield. In an interview for Lion's Roar magazine, the joyous interfaith couple describe how they found the sweet spot where seemingly opposite beliefs meet.
Apology from an Abusive Father with Eve Ensler
Sharing your most personal stories can seem impossible. But in her book The Apology, Eve Ensler goes one impossible step further. She tells the story of her abusive father from his perspective. Ensler is known for her famous episodic play, The Vagina Monologues – a testament to the healing power of sharing the traumatic, scary experiences that we think we can't tell anyone. In her interview with Lion's Roar's Andrea Miller, she explains how she found the courage to tell the story of her abuse, what it means to tell the true story of your trauma, how to respond when someone tells you their traumatic story, and how to create a culture around apology that allows for true healing in the aftermath of abuse.
Right Livelihood with Buddha's Office author Dan Zigmond
Life as we know it has changed, including work life. Technology tends to fill in the gaps left open by the need to distance ourselves from one another, but can work and technology actually help our spiritual well-being? In his book, Buddha's Office: The Ancient Art of Waking Up While Working Well, Dan Zigmond gives a lot of thought to bringing technology and spiritual life together in healthful, wise ways. Melvin McLeod talked to him about how we can find a balance between the two, and how to incorporate our work lives into our spiritual lives in a way that can help us achieve right livelihood.
The Dalai Lama's First Album / Why PoC Sanghas are Different with Julio Rivera
Julio Rivera is the founder and CEO of Liberate, a meditation app and community for black indigenous and people of colour. We spoke in March, at the height of coronavirus related deaths in New York City, where he lives and works. We talked about what makes a sangha of non-white practitioners different, and why Liberate has shifted to focusing on black and indigenous healing foremost – a message that's only amplified by the recent news, and demonstrations in response to, police violence against George Floyd and too many others. After the interview you'll hear "Compassion," the first song released from the Dalai Lama's first album of music, Inner World.
Self-help with Melvin McLeod and Mental Health with Jeff Warren
The podcast is shifting to bi-weekly starting with this episode, allowing us to prepare a slew of new projects coming your way. Today, Lion's Roar publisher Ben Moore speaks with Canadian meditation teacher and co-author of Meditation for Fidgety Skeptics, Jeff Warren about founding the Consciousness Explorers Club and engaging mental health through the lens of spiritual practice. But first, our editor-in-chief Melvin McLeod shares why Buddhism — famous for its doctrine of non-self— is the ultimate form of self-help.
How to Love with bell hooks / The Truth of Romantic Love with Dr. Polly Young-Eisendrath / Pure Love Tonglen Meditation with Dr. Judith Simmer-Brown
Author and activist bell hooks shares a simple formula for a healthy romantic relationships, starting with the myth that love is a feeling – a noun. In fact she says, "love is what to do."
Jungian psychoanalyst and Zen Buddhist Dr. Polly Young-Eisendrath lays out the pitfalls of romantic love that lead us to idealization, delusion, disappointment and depression, and how to avoid them.
Then an introductory tonglen meditation to refresh and expand your heart, from the online course Flight of the Swans: Dharma Comes West, by Lion's Roar and Naropa University.
How to Be Sick with Pema Khandro Rinpoche and Toni Bernhard
Buddhist teachers Toni Bernhard and Pema Khandro Rinpoche have both known chronic illness first hand. In this conversation—especially relevant in the coronavirus era—they talk personally about relating to health and sickness through the Buddhist lens, and Bernhard describes the teachings that continue to help her find peace even 20 years after being diagnosed with a life-changing illness.