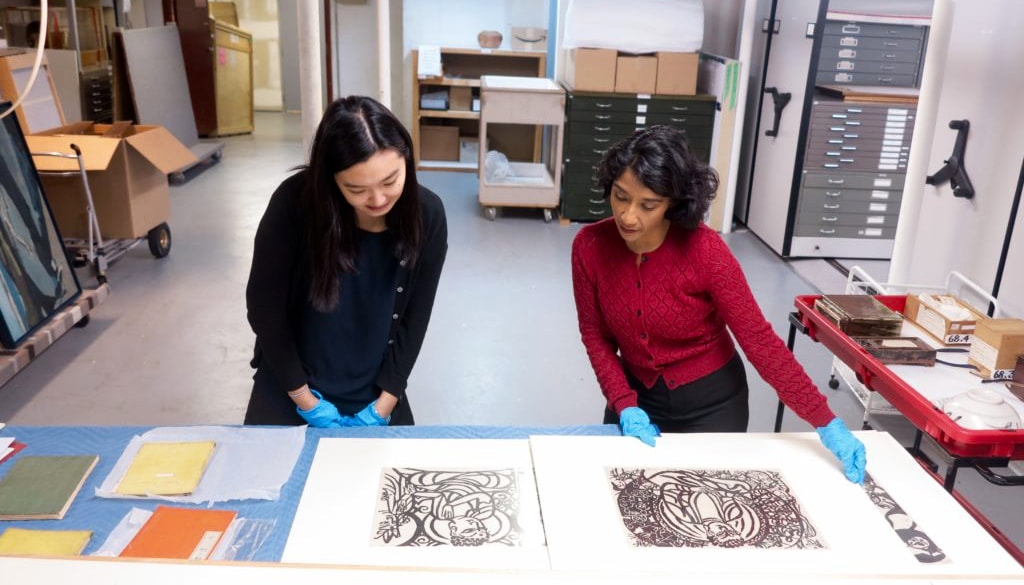 The Canadian gallery's project will focus on artists who have heavily drawn on Buddhism in their art, including Yoko Ono, Marina Abramovic, John Cage, and Tenzing Rigdol.
The Art Gallery of Greater Victoria, in British Columbia, Canada, has launched a project to explore Buddhism's relationship to contemporary art. The project explores two sides of one coin: how modern art keeps Buddhism relevant and how Buddhism inspires socially relevant art.
The project, called "In the Present Moment: Buddhism, Contemporary Art and Social Practice" kicks off on Oct 25 with lectures featuring Kay Larson, Suzanne Lacy and Jodie Evans, who will discuss how Buddhism informs their work and the work of others.
Curator Haema Sivanesan says she aims to deepen our understanding of the relationship between Buddhism and contemporary art. "I believe that art has been an important aspect of the teaching of Buddhism in the West," she says. "At the same time many artists have drawn on art practice as a site of inquiry into Buddhist teaching; and accordingly, Buddhism has had a significant impact on developments in contemporary art."
Sivanesan says the keynote speakers have all contributed to this thinking: Kay Larson through her work on American artist John Cage; Suzanne Lacy by way of an essay she wrote on engaged Buddhism as a source of public art practice; and activist Jodie Evans, who draws a connection between activism and art as a means to change how we see the world.
See also: Kay Larson on John Cage's groundbreaking work 4'33"
The gallery project focuses on American artists who have heavily drawn on Buddhism in their art, such as Mark Tobey, Yoko Ono, Robert Filliou, Allan Kaprow, Pauline Oliveros, and Marina Abramovic.
The project will also include a study of significant Canadian artists like Nobuo Kubota, Jack Wise, Kalsang Dawa, Tomoyo Ihaya, Dylan Thomas, and Chrysanne Stathacos. The keynote speakers will discuss them and others whose art, while addressing important social issues, also furthers modern Buddhist thought.
Earlier artists like John Cage are known for influencing the way Americans consume art, transforming it from a product to an experience. They also helped bring Buddhist thought to the West at a time when Buddhism was seen as mysterious and esoteric.
Cage was a student of Daisetsu Teitaro Suzuki and examined Buddhist concepts through his works, like the controversial performance piece "4:33," which is four and a half minutes of silence. Cage's work transformed the landscape of American art while exploring expressed Zen views on being.
More recently, Tibetan artists such as Tenzing Rigdol have used Buddhist iconography to address social and political issues, stimulating the conversation around the Tibetan diaspora. "They function in the broader social and cultural milieu in order to affect these conversations," says Sivanesan.
"I expect that the panel discussions will elaborate on these ideas in significant ways," says Sivanesan. By bringing together like-minded artists to explore the role of Buddhism in contemporary art, the aim is to bring new perspectives and creative investigations together in a published book and art exhibit.
The first event, Lecture On Nothing with Kay Larson takes place Oct 25, at 7 pm at the University of Victoria. Beautiful Trouble: A Conversation on Activism, Art and Buddhism with Suzanne Lacy and Jodie Evans is Oct 27 at 3:30 pm.
"The one takeaway that I would like the public to have," Sivanesan said in a Q&A on the event website, "is to gain a sense of the intriguing and unexpected ways in which Asia has had a long cultural impact on North America; and the role of artists in being open and receptive to those influences."