In our 40th anniversary year, Lion's Roar is looking forward at the next 40 years of Buddhism. In the fourth installment from our yearlong series, Melvin McLeod, Dorotea Mendoza, Satsuki Ina, rev. angel Kyodo williams, David Loy, and Andy Hoover explore the interface of activism and modern Buddhism.
I believe modern thought's greatest contribution to Buddhism is to our understanding of the second noble truth—the causes of suffering.
According to Buddhism, the root cause of suffering is ego, our mistaken belief in a solid, separate, and continuous self, and the three poisons we use to protect it—aggression, attachment, and ignorance. We act selfishly in service to a non-existent self.
This is Buddhism's essential, life-changing insight. By understanding and acting on it, we can reduce, and maybe even end, the suffering of beings. The second noble truth is the diagnosis that leads to the cure, and today our diagnosis is more accurate than ever.
Buddhism traditionally said that the cause of suffering was personal and individual. Now to the personal causes of suffering we have added the psychological and the political.
We understand how suffering and trauma are passed down within families, generation to generation. We work to break the cycle.
We see how ego and the three poisons operate on a vast scale in our political, social, and economic systems. We take action against injustice and work for a more caring society to fulfil our basic vow as Buddhists—to reduce suffering. Buddhists are political because suffering is political.
In this anniversary series, we're looking at the challenges facing Buddhism in the next forty years. In this issue, we hear from five Buddhists on the front lines of right activism. Because in the next forty years, there's no greater challenge facing Buddhism than the challenges facing our world.
—Melvin McLeod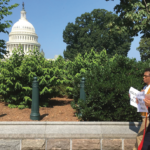 None of us is free until all of us are free. In America, says rev. angel Kyodo williams, that means outer and inner liberation from white supremacy.
Read the rest of the series, "Buddhism: The Next 40 Years"
Can you help us at a critical time?

COVID-19 has brought tremendous suffering, uncertainty, fear, and strain to the world.
Our sincere wish is that these Buddhist teachings, guided practices, and stories can be a balm in these difficult times. Over the past month, over 400,000 readers like you have visited our site, reading almost a million pages and streaming over 120,000 hours of video teachings. We want to provide even more Buddhist wisdom but our resources are strained. Can you help us?
No one is free from the pandemic's impact, including Lion's Roar. We rely significantly on advertising and newsstand sales to support our work — both of which have dropped precipitously this year. Can you lend your support to Lion's Roar at this critical time?