For our 40th anniversary, Lion's Roar is looking forward to the next 40 years of Buddhism over the course of six issues. In the second issue, Melvin McLeod looks at the importance of diversity in the development of modern Buddhism.
It's easy for privileged people to think of diversity as just about appearances—how a company looks, who's in a community, what groups are represented on stage. People who run things would like us to think of diversity that way, as kind of superficial. Because real diversity challenges power structures and puts us on the spot about who we are as human beings.
This collection of five powerful essays on diversity and Buddhism is part of our year-long series marking the fortieth anniversary of Lion's Roar. Our theme is the next forty years of Buddhism—how it can change, deepen, and, yes, diversify in order to be of most benefit to many different people's lives, to our society, and to the future. Benefit, after all, is Buddhism's only goal and the standard by which it is measured.
Becoming more diverse will be as challenging and transformative for Buddhism as for the rest of society. But while each of these important essays offers a powerful, sometimes damning critique of the Buddhist status quo, each also points to the tremendous progress and benefit that real diversity will bring. It is one of the most important things we can do to make the Buddha's teachings a reality.
—Melvin McLeod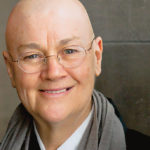 Roshi Pat Enkyo O'Hara on how to move past our discomfort and old ideas and make Buddhist communities welcoming to people of all gender identities and sexual orientations.
Read the rest of the series, "Buddhism: The Next 40 Years"
Can you help us at a critical time?

COVID-19 has brought tremendous suffering, uncertainty, fear, and strain to the world.
Our sincere wish is that these Buddhist teachings, guided practices, and stories can be a balm in these difficult times. Over the past month, over 400,000 readers like you have visited our site, reading almost a million pages and streaming over 120,000 hours of video teachings. We want to provide even more Buddhist wisdom but our resources are strained. Can you help us?
No one is free from the pandemic's impact, including Lion's Roar. We rely significantly on advertising and newsstand sales to support our work — both of which have dropped precipitously this year. Can you lend your support to Lion's Roar at this critical time?