Sam Littlefair learns why there are so few Buddhist apps and how — even if they're not totally necessary — they might help you on your spiritual journey.
I select Stop, Breathe & Think on my iPad, and the app opens to a friendly drawing of a meditator, next to a large "Begin" button, which I tap. I'm swept into my guided meditation. Close your eyes, reads the next page. Take a deep breath, and think about how your mind and body feel. Below the text is another button: "Dim screen for ten seconds." I tap and go into ten seconds of contemplation. Next, the app asks me some questions about my mental, emotional, and physical state. Based on my answers, it recommends a few guided meditations for me—top among them is a nine-minute meditation called "Great Compassion."
Breathe, as the app is called for short, isn't made for Buddhists, per se. However, like some other popular secular meditation apps—Dan Harris's 10% Happier, Matthieu Ricard's Imagine Clarity, and Rohan Gunatillake's Buddhify—Breathe is made by Buddhists, based on Buddhist teachings.
In America in 2017, we spend more than one and a half days on our phones each month, and there are 1.5 million apps available for the more than one billion Apple devices in use around the world. So far, however, developers haven't made many apps specifically for Buddhists.
Programmer Gordon Shotwell launched a new addition to the app world last year: the Shambhala Meditation App, which uses a drag-and-drop interface to let users arrange their own routine of talks, timers, and gong sounds. In designing the app, Shotwell discovered the key challenge that all Buddhist app developers face.
"From a Buddhist perspective, you have everything you need to fully realize the teachings without needing to buy an app," says Shotwell. "If you are making a product, you want your users to need to buy your product." He wanted the opposite—an app that users would realize they don't need.
Other Buddhist apps include digital dictionaries, prayer books, scriptures, malas, timers, and bells. Most of these, Shotwell explains, are created by and for small sanghas that have no intention of marketing them to a mass audience, so they tend to be rudimentary and buggy.
Mainstream yoga and mindfulness apps, on the other hand, are wildly popular. With 750,000 regular users, Insight Timer includes hundreds of talks and guided meditations, customizable sounds, and 2,500 spiritual discussion groups.
Vincent Horn is the founder of Buddhist Geeks and a longtime observer of the Buddhist app world. "The vast majority of apps I've seen are mindfulness apps and not explicitly Buddhist ones," says Horn. "It's hard to think of a single explicitly Buddhist app that is particularly innovative or successful."
Horn attributes that in part to Buddhist attitudes. "I think that for way too long, we've allowed our ideals to cloud our practical ability to create high-quality and culturally relevant forms."
So are Buddhists behind the times, or are smartphones simply an unsuitable vehicle for the dharma? Many practitioners, like Zen priest Karen Maezen Miller, simply feel that a Buddhist app misses the point. "I can't say that apps are antithetical to the practice of Buddhism," says Miller. By putting a meditation app on your phone, she says, you have at least taken a first step in recognizing an addiction to distraction. "We have this feeling that we need to take a step in another direction—but we feel we can't do it without the phone. I can tell you how to do it without the phone. Just set your phone down."
With his app, Shotwell takes a middle view: an app can never replace instruction from a human being or a connection to a physical place. "I think of it like woodblock printing or building a stupa or prayer wheel," says Shotwell. "It's another way to communicate."
Here are eleven apps — either explicitly Buddhist, designed by Buddhists, or indirectly related to Buddhism — that might help communicate some dharma, support your practice, and — ultimately — get off your phone.
Liberate Meditation
Price: Free
Availability: iPhone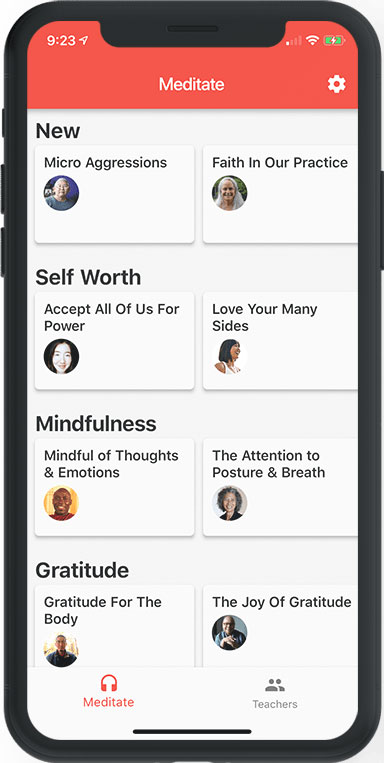 Liberate meditation aims to support the Black, Indigenous, and People of Color community. The free meditation app features dharma talks and guided meditations by Buddhist teachers of color, like Ruth King, Gina Sharpe, and Mushim Patricia Ikeda.
Awaken
Price: Free, with in-app purchases
Availability: iPhone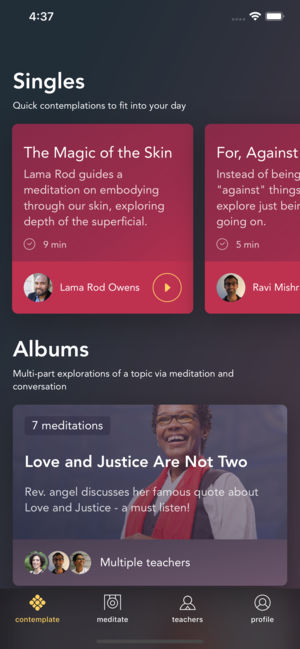 Awaken, created by Ravi Mishra, offers meditation instructions to help users explore social issues like race and gender.
Stop, Breathe, & Think
Price: Free, with in-app purchases
Availability: iPhone, Android, Web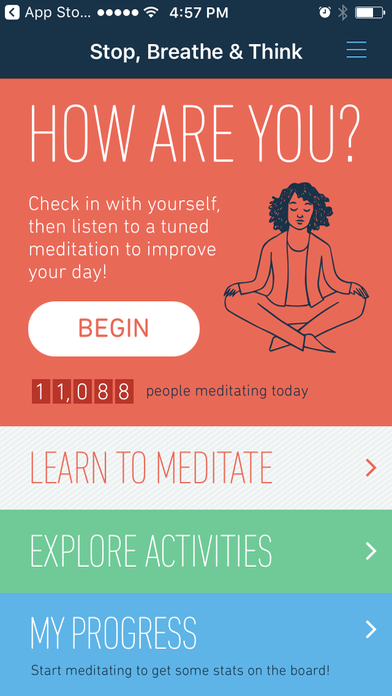 Stop, Breathe, & Think was created by Tools for Peace, a not-for-profit founded by Buddhist teacher Lama Chödak Gyatso Nubpa that is dedicated to fostering kindness and compassion. Stop, Breathe, & Think guides users through step-by-step meditations and compassion activities.
Shambhala Meditation App
Price: Free, with in-app purchases
Availability: iPhone,  Android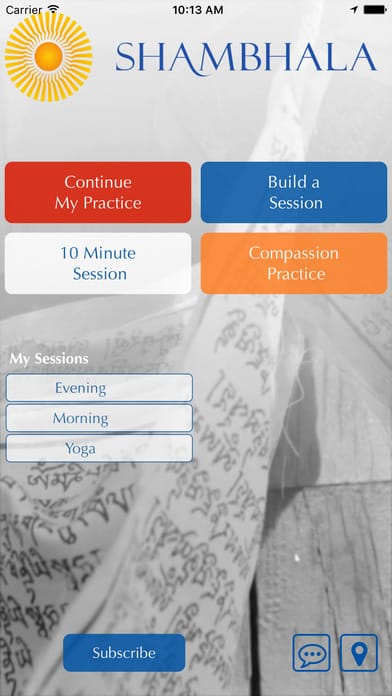 The Shambhala Meditation App is unique because it gives users the freedom to create their own routine by dragging and dropping meditation periods, gong sounds, and audio teachings. It's stocked with a few free teachings by Shambhala teachers, with more available with a paid subscription. It also includes a "Find a Shambhala Centre" map.
Buddhist Geeks
Price: Free
Availability: iTunes, Soundcloud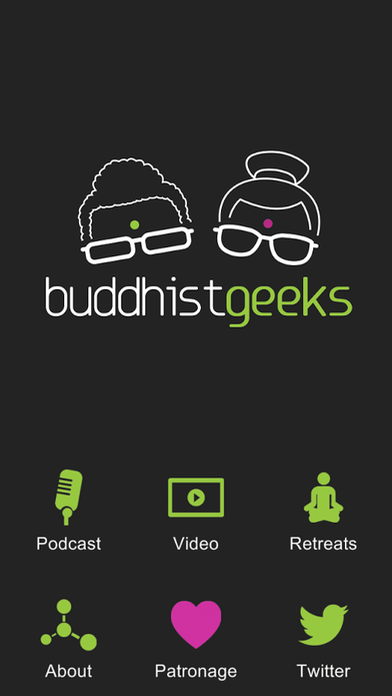 Buddhist Geeks, founded by Vincent Horn and Ryan Oelke, was a popular Buddhist podcast. While the founders shut down Buddhist Geeks at the end of 2016, the app lives on with the podcast's full library of content.
10% Happier
Price: Free, with in-app purchases
Availability: iPhone, Web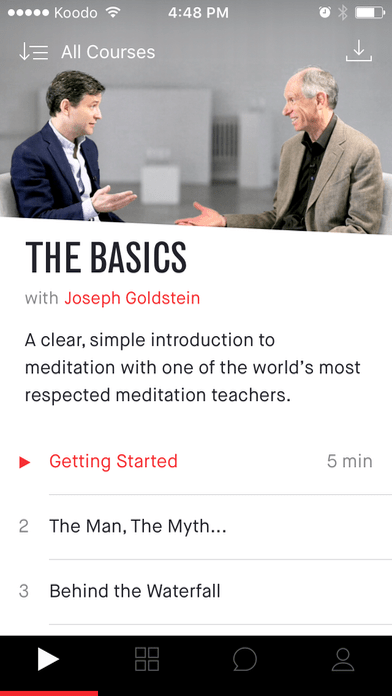 Buddhist practitioner and news anchor Dan Harris teamed up with Buddhist teachers Sharon Salzberg and Joseph Goldstein to create 10% Happier, a collection of guided meditations to teach you to meditate. The app comes with a small library of content to explain the basics, and then offers a paid subscription for ongoing access to content ($9.99/mo or $79.99/year).
Buddhify
Price: $6.99
Availability: iPhone, Android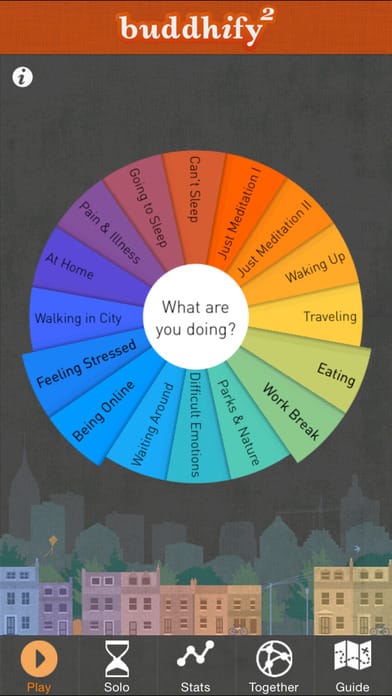 Buddhify is a beautifully designed collection of guided meditations. Choose an activity and Buddhify will give you a selection of meditations to undertake it mindfully.
Imagine Clarity
Price: Free, with in-app purchases
Availability: iPhone, Android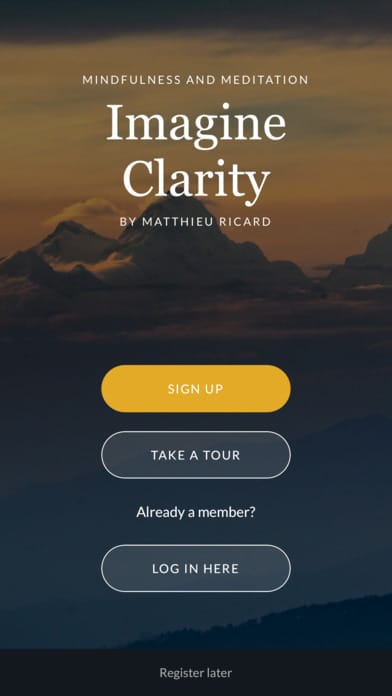 Imagine Clarity is an online meditation course by famed Buddhist monk Matthieu Ricard, with more than 100 video and audio tutorials in English and French, photography by Matthieu Ricard, and daily content. For unlimited access, users pay for a subscription ($11.99/mo or $79.99/year). The app also has a social justice component: some proceeds go towards Ricard's humanitarian organization, Karuna-Shechen, which provided immediate and ongoing on-the-ground relief to over 200,000 villagers following the 2015 earthquake in Nepal. App subscribers also get access to "Karuna Stories."
Insight Timer
Price: Free, with in-app purchases
Availability: iPhone, Android, Web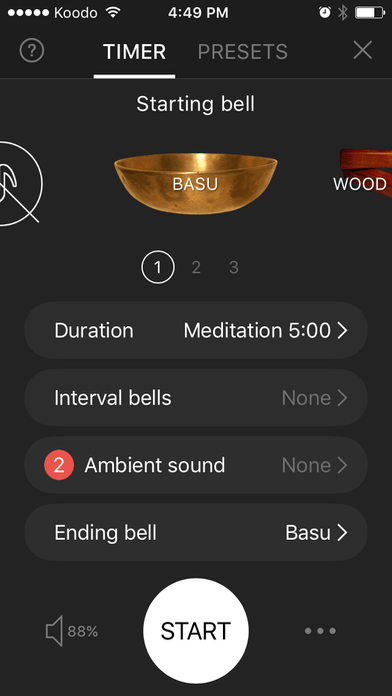 Insight Timer offers a meditation timer, a library of Buddhist talks, and a large discussion forum. The app boasts thousands of talks by hundreds of teachers from various spiritual traditions — including many prominent Buddhist teachers.
My Mala
Price: Free
Availability: iPhone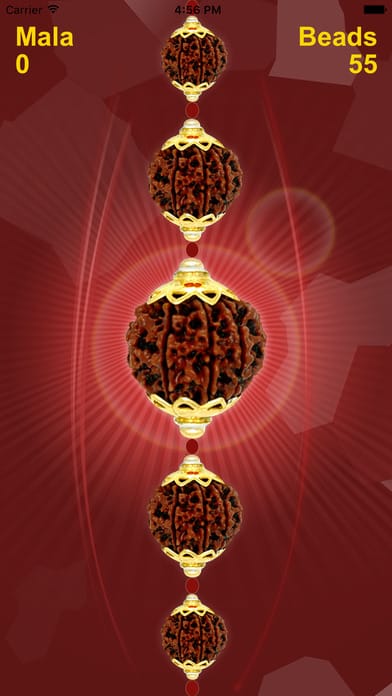 My Mala is a digital mala with 108 beads, which Buddhists can use for counting practices like mantras. The app makes a sound as you count each bead, and buzzes on the 108th.
Mindfulness Bell
Price: $1.39
Availability: iPhone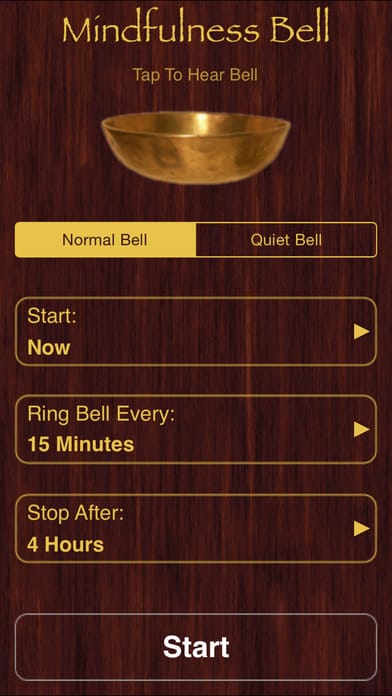 Mindfulness Bell rings a Tibetan singing bowl at intervals throughout the day to encourage mindfulness.
Daily Buddhist Prayers
Price: $2.79
Availability: iPhone, Android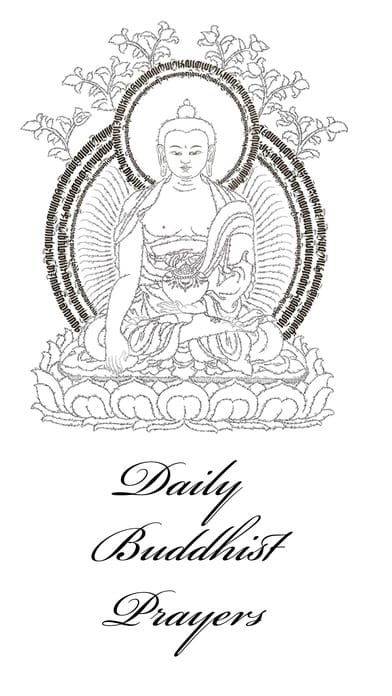 Daily Buddhist Prayers is a library of transliterated Buddhist prayers with audio guides by a monk from one of the Dalai Lama's monasteries.
Buddha Board
Price: Free
Availability: iPhone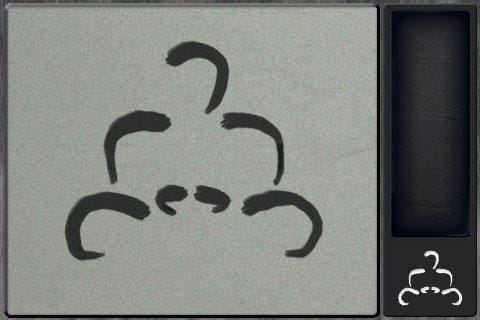 Buddha Board is a digital interpretation of the art of Buddhist calligraphy (and, more directly, Buddha Board's analog product). As you create images on the screen, they slowly fade away as a reminder of impermanence.
When Things Fall Apart
Price: $9.99
Availability: iPhone, Android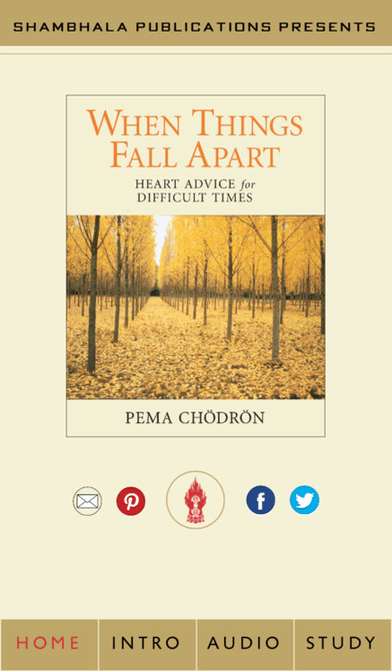 Shambhala Publications offers an app version of Pema Chödrön's best-selling book, When Things Fall Apart, including the text of the introduction, the audiobook read by Pema, and contemplation cards.
Kirsan Buddhist Messenger
Price: Free
Availability: iPhone, Android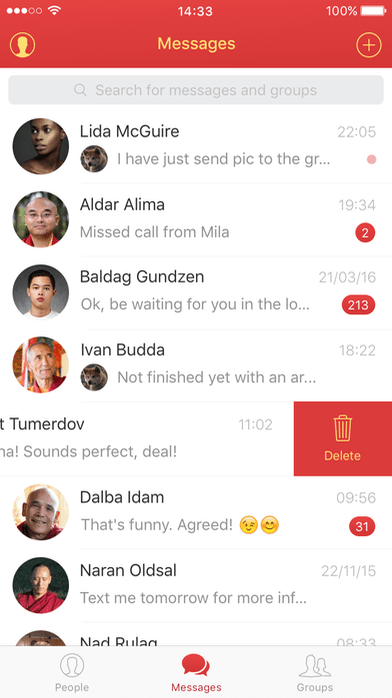 Kirsan is a simple messaging app targeted specifically at Buddhists. The app is named for its founder, Kirsan Ilyumzhinov, the controversial former president of Russia's predominantly-Buddhist Republic of Kalmykia, and president of FIDE, the international chess governing body.
Guideful
Price: $9.99/month
Availability: Web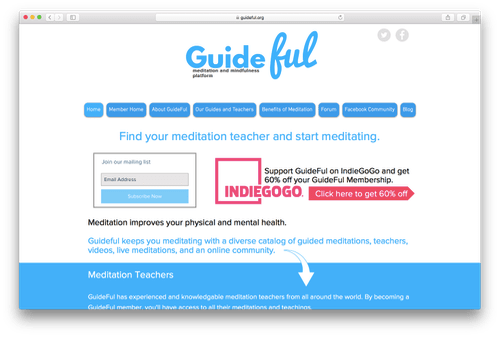 Guideful is a new meditation and mindfulness platform from Justin Whitaker and Bob Funk. The app includes guided meditations, teachings, videos, live meditations, and an online community.
Dalai Lama
Price: Free
Availability: iPhone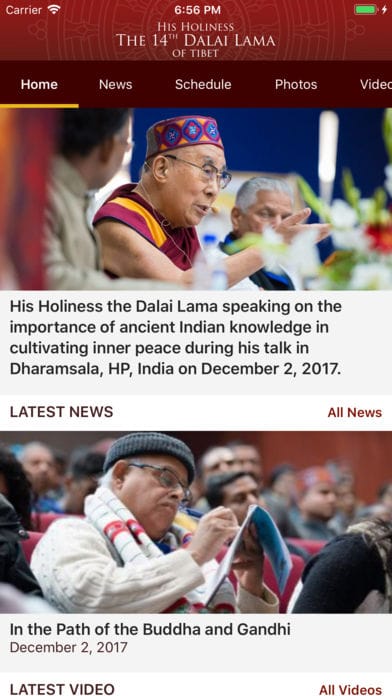 The free iPhone app includes news, videos, and photos, as well as a schedule that allows users to track the Dalai Lama on his tours around the globe and watch live streams of his scheduled teachings.
WeCroak
Price: $0.99
Availability: iPhone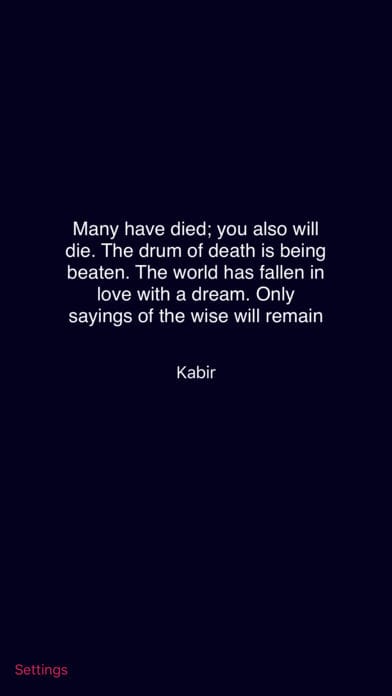 Inspired by a Bhutanese folk saying that says everyone should contemplate death regularly, WeCroak will alert you to your inevitable demise randomly five times throughout the day. The app delivers a quote with the alert and invites you to take a moment of meditation. The app isn't specifically Buddhist, but it certainly sounds like a good aid to dharma practice.
Do you use apps in your practice? What do you use and how helpful is it? Let us know on Twitter and Facebook.