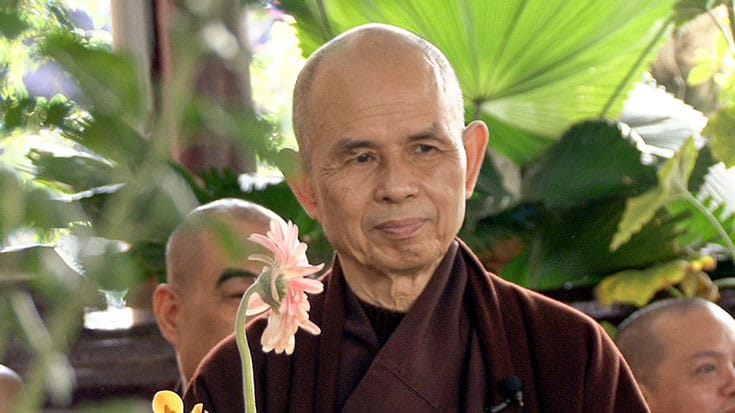 Thich Nhat Hanh giving a dharma talk in Vietnam in 2007. Photo by Velcrow Ripper.
Famed Zen teacher Thich Nhat Hanh was awarded the prize for "Outstanding Inner Peace."
The World Peace Forum has awarded a 2019 Luxembourg Peace Prize to famed Buddhist teacher Thich Nhat Hanh, 93. Nhat Hanh is widely credited with having brought mindfulness to the West, and was nominated by Rev. Martin Luther King Jr. for the Nobel Peace Prize in 1967.
The Luxembourg Peace Prize has been awarded every year since 2012 at the World Peace Forum. The forum is an initiative of the Schengen Peace Foundation, which was founded in 2005 with approval fromHenri, Grand Duke of Luxembourg. The organization is dedicated to promoting peace, tolerance, and understanding.
The Luxembourg Peace Prize is awarded each year in a number of categories. Nhat Hanh was awarded the prize for "Outstanding Inner Peace." The organization explains that Nhat Hanh's key teaching is that "through mindfulness, we can learn to live happily in the present moment—the only way to truly develop peace, both in one's self and in the world."
According to the Luxembourg Peace Prize website, the laureates are selected by a global jury of "respected, admired, and extraordinary people who have made extraordinary contributions to sustaining peace in the peace field globally." Recipients receive a certificate, an invitation to publish in the Global Prospects Journal, and the opportunity to nominate youth for Luxembourg University scholarships.
Other 2019 award recipients included conservationist Jane Goodall for "Outstanding Environmental Peace" and Rotary International for "Outstanding Peace Education."
THANK YOU FOR READING LION'S ROAR. CAN WE ASK FOR YOUR HELP?
At Lion's Roar, our mission is to communicate Buddhist wisdom in today's world. The connections we share with you — our readers — are what drive us to fulfill this mission.

Today, we're asking you to make a further connection with Lion's Roar. Can you help us with a donation today?
As an independent nonprofit committed to sharing Buddhist wisdom in all its diversity and breadth, Lion's Roar depends on the support of readers like you. If you have felt the benefit of Buddhist practice and wisdom in your own life, please support our work so that many others can benefit, too.

Please donate today — your support makes all the difference.

Lion's Roar is a registered charity in the US and Canada. All US & Canadian donations are tax deductible to the full extent allowed by law.