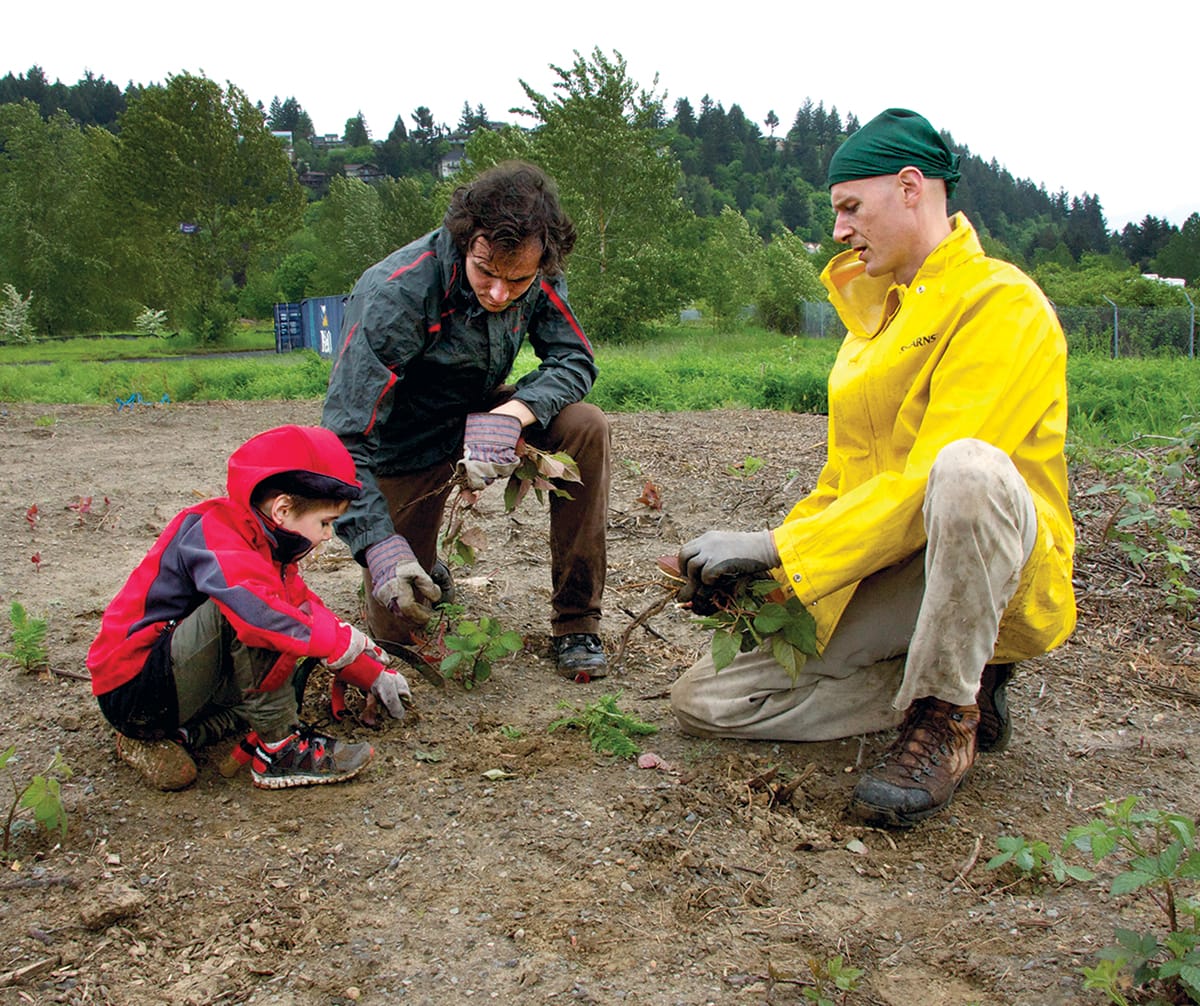 Kakumyo Lowe-Charde (right) planting with volunteers on the site. Photo by Ken Barker.
For almost fifty years, from 1936 until 1983, a twenty-six-acre plot of land in Portland, Oregon, was used as a gravel pit and construction landfill. For thirty more years, as a "brownfill" property called Siskiyou Square and capped with clay and soil, it remained vacant. Developers were wary. The likeliest candidate seemed a big-box store like Walmart or Target, because only a large company would be willing to take on the expense of building on environmentally damaged land, with its potential for methane explosions and seismic instability. When Walmart showed interest, however, neighboring communities protested. They wanted something more enriching.
In 2012, Portland's Dharma Rain Zen Center made the first move to alter the course of half of that brownfill property when it decided to leave its home of twenty-five years and purchase fourteen acres.
With the support of Portland's Brownfield Program, which helps developers with potentially contaminated land, Dharma Rain has been restoring the land and building a multiuse facility. Jenn Bildersee, Program Coordinator of the Brownfield Program, says, "While landfills are traditionally approached as, at best, blank slates that can be capped for redevelopment, the DRZC's plans tap into the site's unique opportunities for ecological renewal, community access to open space, and creative design response to environmental concerns."
There will be a park and wildlife corridor, an oak grove, community gardens, a traditionally built Zen center, a preschool, bike paths away from the busy neighboring road, and a small block of residential properties. The buildings will have light profiles, without the deep footprints of big-box stores, and the reclaimed land will be a haven for native plants and wildlife.
The temple and the site will be a public resource, with public park space and a variety of daily classes, programs, and events that will be open to all.
For Kakumyo Lowe-Charde, Dharma Rain's development director, the project is a way of practicing compassion and living ethically with the land, and something he believes has the potential to create a cascade of positive change. "My hope," he says, "is that lessons learned on this site spread to other sites and collaborations."
With the help of grants from the Environmental Protection Agency, Dharma Rain has invested in stormwater-management systems, methane-mitigation systems, and improvements to the topsoil. Invasive species are being removed and native species restored. Together with Friends of Trees, volunteers from Portland have planted five thousand trees and shrubs, and they hope to increase the canopy from about 10 percent to over 50 percent in the next fifteen years.
Local schools and universities are involved in the project. Eventually they will bring students to study conservation, ecology, and conduct field research—"place-based, hands-on, earth and life science learning," says Lowe-Charde.
The Madison Neighborhood Association, which opposed the Walmart proposal in 2006, has been helping with the new project. Youth work crews have been learning about green leadership. Dharma Rain has also been receiving help, Lowe-Charde says, from a number of "fungal partners," groups that are involved in land restoration and educational projects using mushrooms. A variety of regional and local government entities have all contributed money, time, expertise, and advocacy to the project.
Bildersee says, "It's hard to find a more inspiring narrative than a long-vacant landfill—across the street from a school and in the heart of a residential neighborhood—being reimagined as a living, growing center for people, plants and wildlife. DRZC's vision, patience, and resilience are transforming a literal pile of trash into a healthy working landscape."
For Lowe-Charde, one of the special aspects of their work has been "hearing or seeing new species show up in little habitats that didn't exist two years ago—getting the sense that the natural world is appreciating all this effort. It's pure delight." Just two years into the project, wildlife is already returning.