Anne Lamott, Joko Beck, the mindful family, Black liberation — Tracy Franz looks at new books offering the spiritual wisdom we need today.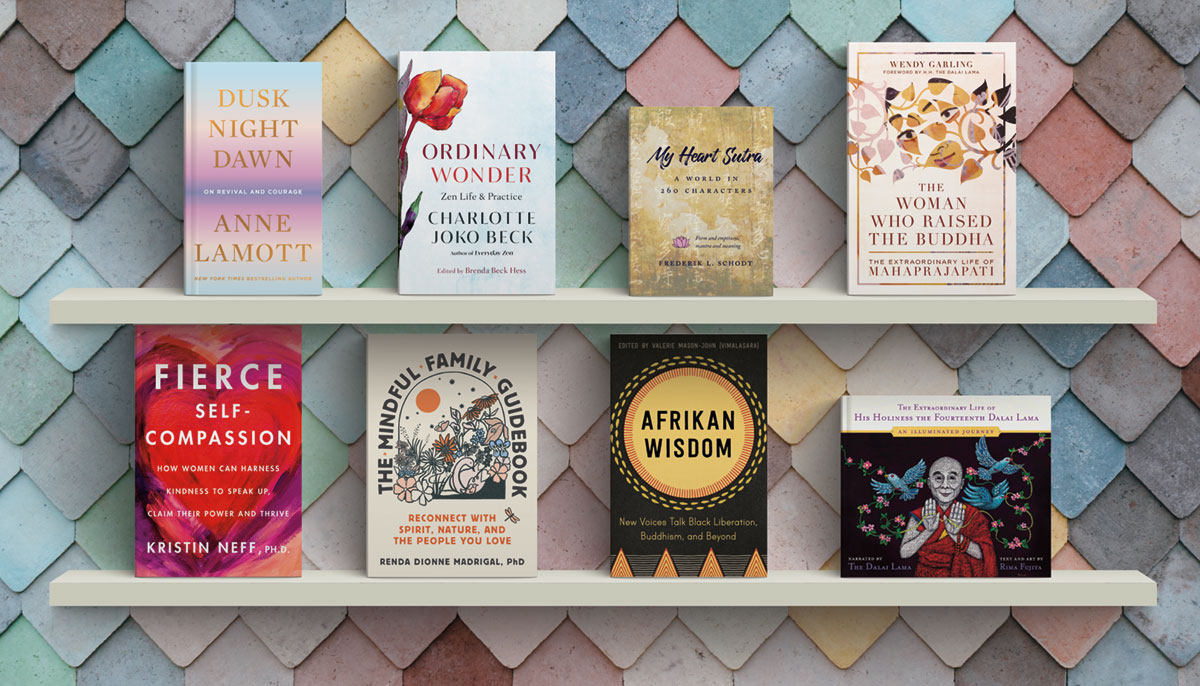 In a world growing darker by the day, how can we find our way to the light? Author and activist Anne Lamott's latest collection of essays, Dusk, Night, Dawn: On Revival and Courage (Riverhead Books), is a personal exploration of faith in troubling times. Pulling the reader in like a dear old friend, Lamott employs equal measures of gritty humor and candid vulnerability throughout her musings on relationships, aging, sobriety, and global turmoil. Ultimately, Lamott's work is steeped in both struggle and resilience, the raw truths of our human existence. "When the lights go out and we deploy our candles and lanterns, we see the beauty of contrast, which makes both light and shadow precious," writes Lamott. "In art and photography it is called chiaroscuro…and of course, we find shadow and light in our families, and ourselves."
"As you embrace the suffering of life, the wonder shows up at the same time. They go together." Influential Zen teacher Charlotte Joko Beck (1917–2011) offers these words in Ordinary Wonder: Zen Life and Practice (Shambhala Publications), a collection of previously unpublished talks compiled by her daughter, Brenda Beck Hess, from recordings taken over many years. Beck expounds the value of practice in navigating the many dimensions of our lives—from daily experience, to dealing with emotion, to cultivating confidence, to sustaining positive, meaningful relationships.
Throughout, Beck references working with, and ultimately transforming, what she terms our "core belief"—a false, negative appraisal of who we are—and our "basic strategy"—the ways we habitually think and react, based on our false appraisal. "When we practice," she says, "we develop a basic vision, which gets stronger over time, as to who we are and what we're really doing in our life." Joko Beck's voice is, as always, both relatable and illuminating.
In this issue's Explore Buddhism, we look at the Heart Sutra, chanted and referenced in many Mahayana Buddhist traditions. In My Heart Sutra: A World in 260 Characters (Stone Bridge Press), writer, translator, and interpreter Frederik L. Schodt dives into this profound sutra through his personal interest and experience. "Contemplating the Heart Sutra," writes Schodt, "memorizing it, chanting it, copying it, even writing about it, could be my practice, my fragile toehold in what most people might think of as the world of faith." Like the Heart Sutra itself, Schodt's words are prismatic—stories of a lifetime of personal encounter with this ancient sacred text are set alongside historical, cultural, and linguistic commentary, each facet both intriguing in itself and an invitation to further inquiry.
Scholar and dharma teacher Wendy Garling's groundbreaking new biography, The Woman Who Raised the Buddha: The Extraordinary Life of Mahaprajapati (Shambhala) draws a captivating portrait of a foundational but often overlooked figure in Buddhism. Mahaprajapati became both the queen of the Sakya clan and Siddhartha's loving mother when her sister Maya died seven days after giving birth to the Buddha-to-be, leaving Mahaprajapati to raise and guide him into adulthood. Later, when Siddhartha returned home from his spiritual seeking to deliver teachings as the Enlightened One, Mahaprajapati became ordained as the first nun in his new tradition.
According to Garling, androcentric revisions of the literature over time erased or minimized Mahaprajapati and other women from many Buddhist narratives. Drawing on ancient oral tradition, sacred art, and written texts, Garling blends storytelling and insightful commentary to reinstate Mahaprajapati as an inspiring first mother of Buddhism.
Patriarchal structures and practices persist in most every sphere of our daily lives, causing ongoing harm to all. So what can we do to move toward a more equitable existence? Self-compassion researcher Kristin Neff reveals a way forward in her latest book, Fierce Self-Compassion: How Women Can Harness Kindness to Speak Up, Claim Their Power, and Thrive (Harper Collins). Through extensive research, personal experience, and relevant teachings, Neff delivers a comprehensive explanation of what she describes as the three elements of self-compassion: mindfulness, self-kindness, and humanity.
Hands-on activities are interspersed throughout the book, allowing the reader to readily move from theory to practice. "As we [women] reclaim the fierceness that has been suppressed throughout the ages, we are restoring equilibrium and honoring our true nature," writes Neff. "As we learn to be tender without being submissive, and fierce without being aggressive, we are not only integrating yin and yang within ourselves, but in society as a whole." Both women and men will find this to be an enlightening read.
Another guidebook out this summer focuses on family. The Mindful Family Guidebook: Reconnect with Spirit, Nature, and the People You Love (Parallax Press) by Renda Dionne Madrigal provides compassionate instruction for strengthening what may be our most important and intimate (and sometimes most challenging) relationships. Madrigal is a member of the Turtle Mountain Band of Chippewa, a mindfulness facilitator, and a clinical psychologist. She blends Indigenous wisdom and mindfulness practices as a means of grounding families in skillful ways to work with difficulty, create meaningful connection, and embody healthy values. Madrigal writes, "The practices in this book reawaken ancient intuitive awareness as a guide for the journey forward and help you to intentionally cultivate your connection to your ancestors, each other, and the larger world." Most chapters are designed to take about a month to complete; going through the entire guidebook requires about a year.
Afrikan Wisdom: New Voices Talk Black Liberation, Buddhism, and Beyond (North Atlantic Books), edited by spiritual teacher Valerie Mason-John (Vimalasara), is a powerful new collection of essays on the intersectionality of Blackness and religion. "Liberation in a spiritual context can mean enlightenment, awakened mind, acceptance of our mortality, freedom from the prison of one's own mind, and a heartmind filled with loving-kindness, compassion, sympathetic joy, and equanimity for all beings," writes Mason-John. "This can be a big ask of Black people who do not have the same freedom to walk on the streets as their peers, of Black parents who are having to teach their children that they don't have the same civil liberties as their white counterparts." The contributions from Black teachers and thought leaders are divided into five key themes: Reappropriating the Buddha, Black Liberation, Social Justice, Decolonizing Mindfulness, and The Personal is Political. The variety and breadth of offerings in this anthology will inform and inspire those who seek true liberation for all.
In The Extraordinary Life of His Holiness the Fourteenth Dalai Lama: An Illuminated Journey (Wisdom), the Dalai Lama tells the story of his life in his own words, with additional text and illustrations by award-winning artist Rima Fujita. This compelling first-person account invites the reader to experience this seemingly well-known tale from a unique perspective—and some fascinating new details are revealed along the way. Fujita's colorful, luminous images throughout depict the humble beginnings, recognition, monastic life, exile, and dedication to peace of His Holiness. For readers of all ages, this book is a reminder of how one who describes himself as just a "simple monk" has had such a profound influence on the lives of so many.