Sherri Posey is a Buddhist hospital chaplain and professional watchmaker. She reflects on how time's fleeting nature connects everyone.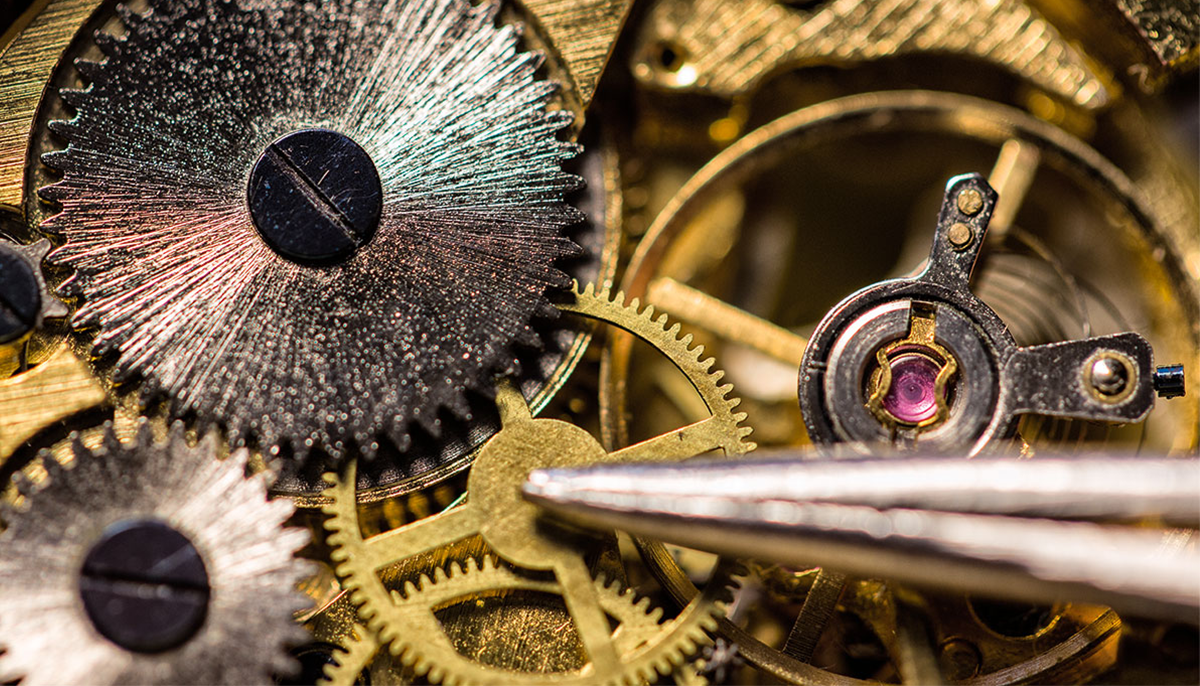 For twenty-six years, I've been a watchmaker in the luxury timepiece field. Every morning I sit at my bench with my tools laid out and a watch movement ready to be disassembled, cleaned, lubricated, regulated, and reassembled. Lowering the magnifying loupe to my left eye, I select one of my many pairs of tweezers or appropriate-sized screwdrivers and begin to work. I assess how damaged or worn the parts are. Perhaps it's just the tiniest piece of lint caught between the teeth of a wheel, stopping the whole mechanism. Sometimes I have to replace the entire movement because it's gotten wet and is now an immovable ball of rust. Other times the job requires putting in a round calendar disk and setting the hands in the center. I look, I listen, I diagnose, and hopefully I fix. Then I move on to the next timepiece.
I have also been a Buddhist hospital chaplain for twelve years. I go to a patient's hospital room. Before entering, I check the wall next to the door for any special instructions. Then I sanitize my hands, knock on the doorframe, and enter unhurriedly and with consideration for the patient, the roommate, and the space the patient is in. I scan the room, looking at the whiteboard announcing the patient's name, their doctor, and their evening nurse. I glance at the bedside table with, perhaps, a half-eaten meal, get-well cards, and a cell phone. Family photos on the wall in front of the bed mean the patient has been in the hospital for a while. A small dreamcatcher hanging from a machine that monitors vitals or a laminated prayer card taped to a bedside rail near the head symbolizes hope. I show my badge, introduce myself, and ask if they're up for a visit. If their answer is yes, I take a seat in the visitor's chair and—in this time of mask-wearing due to Covid—I smile with my eyes.
"What's happening for you today?" I ask.
I listen. Maybe they talk about a devastating diagnosis, irritation with staff, disappointment with being back in the hospital yet again, spiritual anxiety, or loneliness. Maybe none of their family or friends want to talk with them about their impending death—no one's comfortable with that conversation—but they think the chaplain might be. I remain still, attentive. Is meditation wanted or prayer required? Or, is silence and presence desired? I look, I listen, and I don't try to fix. Then I go on to the next patient or staff member.
A few years ago, I realized that my two professions had run into each other. Or perhaps they'd always matched up, and I hadn't noticed. Both jobs measure a "passing"—of time or of a life.
When people find out that I'm a watchmaker, they want to talk about time. People wonder where their lives have gone. Did they spend too much time at work and not enough with family and friends? How much time did they give to themselves? Often, they talk about regrets and that there isn't enough time to accomplish anything now because… time is running out very quickly.
I've always relied on my Buddhist practice for my life and work. While it's great if you meditate every day and "feel Zen" when times are good, it's when things have collapsed to absolute shit that keeping up with your sitting practice really means something.
A teacher once posed a question in a spiritual-path class that I attended: "What do you want from your practice?" It was a simple enough question, and it made me think of my mother. My mom is an evangelical Christian. She relies on her Christian faith. She's consistent in good times and bad. I instantly said, "I want what my mother has."
I didn't want to be the Buddhist version of a "Black church lady," but I did want to rely on my Zen Buddhist practice, and I have. As a Black woman during these very racially tense times, I've relied on and engaged my practice much more these past few years. It helps me take care of myself and be there for others, especially the POC community.
The more I engage my practice the more I think about the connections between my watchmaking job and being a Buddhist chaplain. Death is not convenient. People often die wearing their watches. So, I've handled watches sent in by grieving individuals and families that—through their damage—tell me when (the exact time the watch stopped) and how (from the impact damage and blood) someone died. People never feel they have enough time. They speak about how the passing of time is so fast it's as if their clock's hands are spinning round and round. I hear this not just at the hospital, but also at the watch company.
Yet, it's time that connects all of us, casting its net over everything. I'm not separate from any of my patients or watch clients, and they're not separate from me. Acknowledging my own times of suffering allows me to acknowledge the suffering (and the joy!) of others. I remember my own suffering when my wife was rushed to the hospital and how in that dark moment, as I was feeling lost, a chaplain came to me.
I still have much to learn and experience. I continue to learn—again and again—that moment to moment, second to second, right here and right now, we are together in suffering and joy.