TV character Ted Lasso embodies what we need right now: goodness. In a world of antiheroes, says television critic Jennifer Keishin Armstrong, he just wants to make us better people.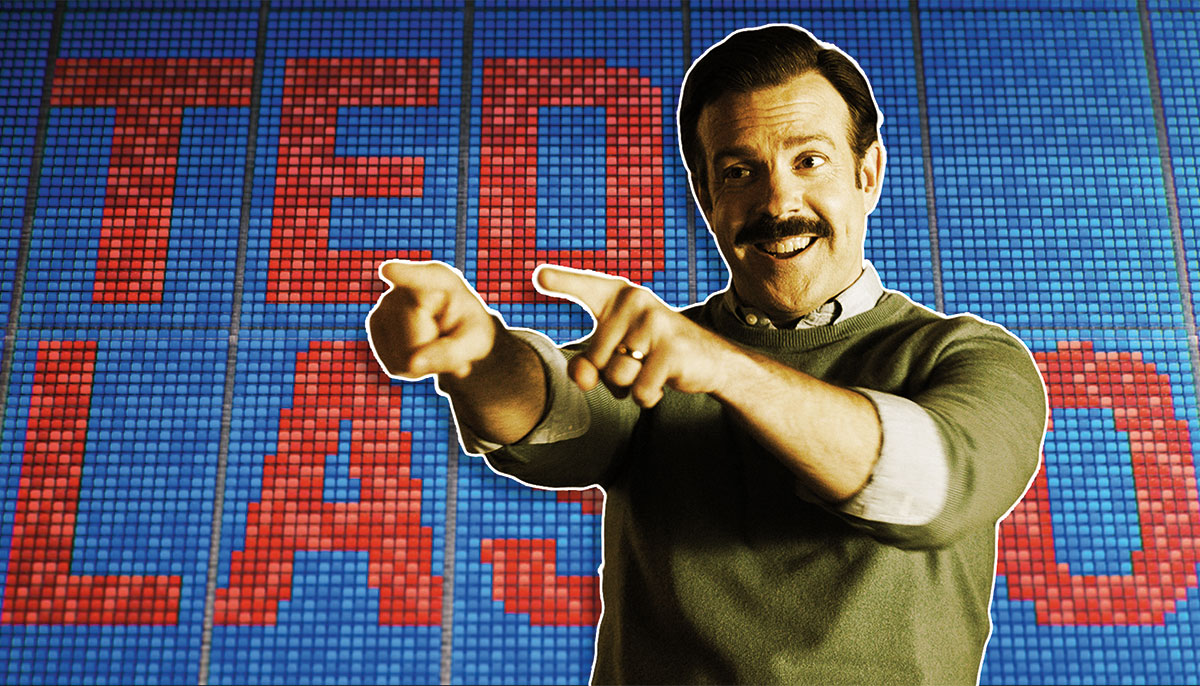 What you need to know about Ted Lasso as a character is that he is capable of going viral by simply dancing with glee. He's just led a subpar American college football team to an important victory, and he's caught on camera celebrating with his players by doing an enthusiastic running man, along with a few other choice dance moves. A sports announcer showing the clip describes it as "celebrating a moment of joy with his team that you really have to see to understand, and then even when you see it, I don't necessarily know that understanding is what we're doing."
But, in fact, we are understanding. It's just the kind of understanding that goes beyond words. Those dance moves? They are the understanding. This is the koan of Ted Lasso.
Ted Lasso was one of those quarantine TV saviors, like Tiger King or The Queen's Gambit, but with a major twist: a truly inspiring title character, without an ounce of cynicism. Ted wasn't here to shock us with his lack of morals, or intrigue us with his dark side, or wow us with his stellar smarts. In fact, he was here to do the opposite. He wanted to show us there was good in the world, at exactly the time we needed it.
As it turned out, this felt far more startling than the pileup of animal cruelty, shady dealings, and maybe-murders that defined our first national quarantine obsession, Tiger King. In fact, Ted Lasso felt downright revolutionary.
I started watching after two friends whose taste I trust begged me to check it out, despite a premise that offered me absolutely nothing on its surface. It's a show, they explained, based on an NBC Sports promo, about a goofy American football coach from Kansas who's recruited to coach a British soccer team. He's basically set up to fail, but he begins to make progress through the first season mainly through his guileless approach to people. Like the title character, the show shouldn't work. But it does, and that's the miracle.
It premiered last summer on Apple TV+, and slowly built word-of-mouth to the point of near absurdity. It was the new Schitt's Creek, everyone wanting to tell everyone else it was so good. This only intensified after Jason Sudeikis won a Golden Globe for his performance and the show won a prestigious Peabody Award heading into its second season this summer.
Like Schitt's Creek, Ted Lasso taps into something that's been mostly missing in TV in general, an absence that became even more glaring during the darkest pandemic days: goodness. For more than twenty years, our prestige television has been rife with Sopranos-style antiheroes—Walter White of Breaking Bad, Don Draper of Mad Men, the women of Orange Is the New Black, even Kate Winslet's riveting main character in the recent Mare of Easttown. These are people we root for despite their massive moral failings, and they've made for some high art on television.
But we're ready for genuinely good heroes now, even more so after a grueling year of witnessing the cruel capriciousness of life. Ted Lasso offers a perfect bridge between Tony Soprano and pure, unearned, goody-two-shoes-ness. The writing and supporting characters allow enough cynicism and wit to balance Ted, but it's refreshing to see someone rewarded for kindness and empathy. One of Ted's signature moves is looking into someone's eyes and saying, "I appreciate you." One of the miracles of the show is that, as played by Jason Sudeikis, we believe him.
Nothing in the show explicitly references Buddhism (in the very first episode, Ted is reading a well-worn, vintage edition of Jack Kerouac's The Dharma Bums). But Ted Lasso exemplifies a number of Buddhist values. His viral dance is one of true expression, a character trait he displays throughout the series. He is in tune with his emotions and often shares them with startlingly skillful means. He is, however, hardly perfect, and he lashes out when he's devastated by his impending divorce.
Ted's superpower is that he's unafraid of intimacy and vulnerability, and this disarms everyone around him. When a cynical British journalist named Trent Crimm spends a day with him, intending to do a hatchet job story, he instead comes away from the experience baffled and charmed. Ted explains to him over dinner that his coaching strategy is to help the players become better people, nothing more. "In a business that celebrates ego, Ted reins his in," Trent Crimm writes. "And though I believe that Ted Lasso will fail here … I won't gloat when it happens. Because I can't help but root for him." What people at first read as weakness—look at this rube!—is strength. He is Mr. Rogers coaching Premier League.
It's the kind of soft gentility we need after the last year-plus. Ted Lasso is who you'd want on your side in a quarantine, and perhaps even more so as we continue to recover to whatever extent we can. He would tell us that we can do this. He would tell us that he appreciates us, at whatever level of effort we can give right now. He would know we're doing our best.
This is not the kind of character who makes us think, "What Would Ted Do?" Instead, I find myself thinking, "What would Ted say to me right now? What's the pep talk he would give me? What strengths do I have that I take for granted, that he would sincerely point out to me right now? How can I be a better person? How can I be the person Trent Crimm roots for, in spite of himself? How could I make Ted proud?"
Whether facing a wife who wants to end their marriage or a boss who has been purposely undermining him, he manages to flip the situation—and evoke audience tears—with presence and grace. He doesn't lash out. He doesn't argue. When he forgives his boss for her treachery, we understand that it comes from his empathy for her own traumatic and public divorce. It comes from a place of strength, the kind of strength we can only hope to have.
The kind of strength, that is, that Tony Soprano and Walter White could never even dream of. The kind of strength the world needs more of right now.