When we truly face death, we live more fully. Tracy Franz presents a selection of new books (and one movie) on bereavement, self-discovery in nature, and more.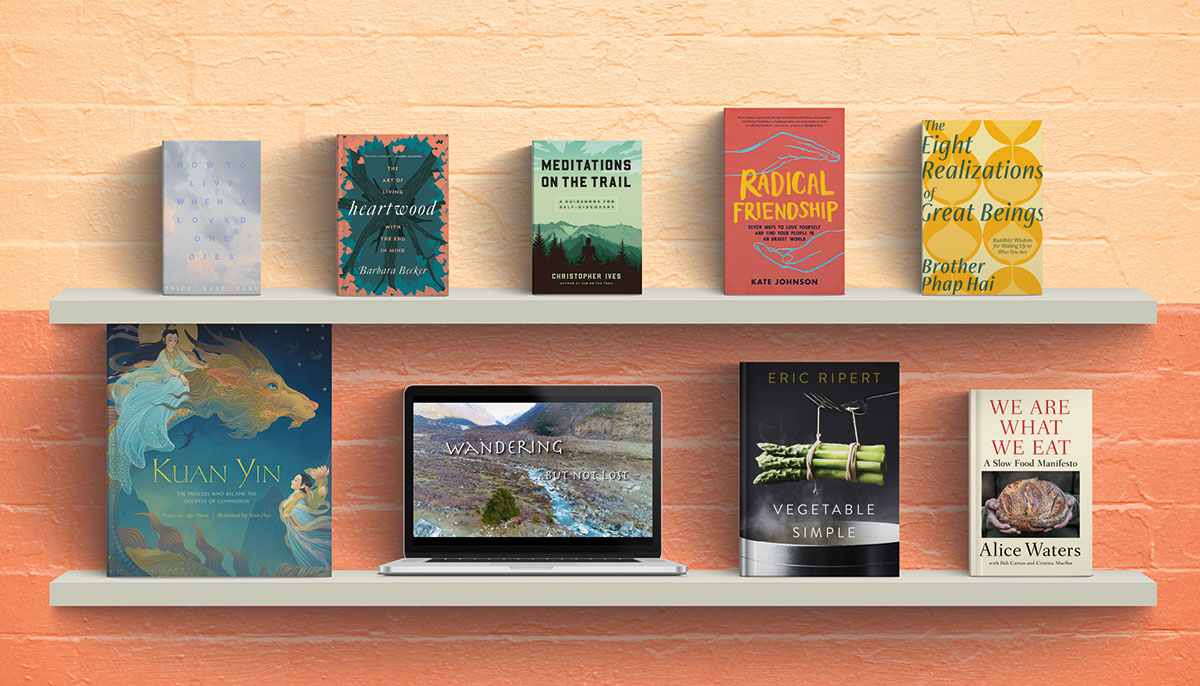 "We need to understand the goodness of suffering," writes Zen master Thich Nhat Hanh. "It is the compost that helps the roses to grow. It is the mud from which magnificent lotuses emerge." In How to Live When a Loved One Dies: Healing Meditations for Grief and Loss (Parallax Press), Nhat Hanh offers wisdom for working with life's greatest challenge. Drawing from both previously published books and unpublished dharma talks, the teachings in this collection explore Buddhist perspectives on bereavement as well as practices for healing. We are reminded that everything is in a state of constant transformation and that all beings past and present are connected, including us and those we have lost. Mindfulness practices, Nhat Hanh says, allow us to center ourselves within this understanding. He writes, "When we practice mindfulness, we touch freedom—freedom from remorse and regrets, freedom from anguish and fear."
Another book out this summer explores what it is to live with loss—and truly face the eventuality of our own passing. "In the perfect ecology of a tree, the dead become the heart of the living, and the living nourish the enduring essence of the dead. So it is with our lives, where life and death cannot exist separately from each other," writes hospice caregiver and interfaith minister Barbara Becker in Heartwood: The Art of Living with the End in Mind (Flatiron Books). Each chapter in Heartwood is a personal story of profound loss and the teaching found from within that loss—from Becker's childhood friend dying of cancer, to residents in hospice care in their final moments, to Becker's parents passing just months apart. "The journey of life and loss has changed me, deepened me," writes Becker, whose message is ultimately one of hope, love, and compassion.
As various Covid-related restrictions lift and we begin to reenter life outside of our bubble, some may be drawn to explore (or re-explore) the outdoors. Christopher Ives' Meditations on the Trail: A Guidebook for Self-Discovery (Wisdom Publications) delivers clear and informed instruction on how to connect with nature in an authentic, meaningful way. Ives is a religious studies professor whose work has focused on ethics in Zen Buddhism and Buddhist approaches to nature and environmental issues. His new book outlines a series of guided mindfulness meditations centering on hiking, but you can do many of them by simply going outside. This slim volume could easily be slipped into a backpack to carry along for the journey.
In Radical Friendship: 7 Ways to Love Yourself and Find Your People in an Unjust World (Shambhala Publications), Insight meditation teacher Kate Johnson asks, "What is the practice that can wake us up to the dynamics of privilege and oppression that exist within us and between us? How do we ever connect authentically across the differences that our society has so painfully divided us by?" Johnson, the daughter of a Black Honduran father and a white American mother, speaks from lived experience as she illuminates seven strategies based on the Buddha's instructions on friendship in the Mitta Sutta, linking them to both personal and global transformation. According to Johnson, radical friendship—and the skills we build in developing it—will also help us "build social movements, transform political power, bridge splits, recover losses, repair wounds, and share joy."
Brother Phap Hai, a senior disciple of Thich Nhat Hanh, unpacks one of Buddhism's essential sutras in The Eight Realizations of Great Beings: Buddhist Wisdom for Waking Up to Who You Are (Parallax Press). Each chapter begins with three nuanced translations of one of the eight realizations, followed by insightful commentary and relevant practices. The Eight Realizations of Great Being Sutra, Hai writes, "is not an analytical text or a theoretical treatise; it's a practical and down-to-earth meditation manual. It's a very structured and concrete exposition of the steps we can take to realize the entirety of the Buddhist path for ourselves." From his initial resistance to the sutra's seeming simplicity to his discovery of its profound beauty, Hai invites us to keep exploring for a lifetime, ground ourselves in ordinary truths, and allow ourselves to wake up to something new.
In 2011, world-renowned Tibetan Buddhist meditation master Yongey Mingyur Rinpoche walked away from his monastery in Bodhgaya, India. He left under the cover of night, telling no one and carrying nothing with him beyond a small bag and the robes on his back. Thus began his four-and-a-half-year retreat as an anonymous wandering yogi. Wandering. . . But Not Lost, a documentary by Paul MacGowan, recounts Mingyur Rinpoche's odyssey, from sleeping on the streets of northern India, to nearly dying of food poisoning, to living in a secluded cave in the mountains of Nepal. MacGowan's film captures colorful urban landscapes and stunning natural vistas—as well as their inhabitants—as Mingyur Rinpoche revisits his journey and the insights he gained along the way. The film will be available on YouTube starting August 1.
Two new books on food serve up inspiration for ethical, healthy eating. Michelin-starred Buddhist chef Eric Ripert's cookbook Vegetable Simple (Random House), with photographs by Nigel Parry, is appealing to both the eye and the taste buds. A broad selection of plant-based dishes is available here, including starters, sides, mains, and desserts. Think "Popcorn, Yuzu-Citrus Salt," "Warm Potato, Goat Cheese Parfaits," "Silky Broccoli Soup," and "Baked Candied Apples." Each recipe has only a short list of fresh ingredients and the instructions are uncomplicated. As Ripert puts it, in this book the vegetables are the "star of the plate."
Celebrated chef and food activist Alice Waters' We Are What We Eat: A Slow Food Manifesto (Penguin Press) delivers a cogent argument for embracing healthy and sustainable eating. Waters contrasts fast food culture with the slow food movement by examining the pitfalls of convenience, cheapness, speed, and the "more is better" attitude—and lauding the value of biodiversity, seasonality, interconnectedness, and the pleasures of gathering, preparing, and eating an ethically sourced meal. "If we cook and eat and serve food that is ethically grown," writes Waters, "not only are we nourishing ourselves, but we are digesting the values of slow food culture, values that guide us to create ecological lives."
Maya van der Meer's new children's book, Kuan Yin: The Princess Who Became the Goddess of Compassion (Shambhala Publications), tells the origin story of this beloved Buddhist figure. We are transported to a kingdom in ancient China where two sisters—Ling and her big sister Miao Shan—live under the strict rule of their father the king. As various adventures ensue, Ling bears witness to her sister's eventual transformation into the bodhisattva Kuan Yin, "the one who hears the cries of the world." Ultimately, both sisters learn to embrace their power and follow their own paths. Wen Hsu's intricate and vibrant illustrations draw the reader into the magical world of Kuan Yin. My young daughter read it and said, "Every page is my new favorite picture." Both children and adults will find something to enjoy in this enchanting tale.