Lion's Roar associate editor Mihiri Tillakaratne reports on "May We Gather," the national Buddhist memorial Ceremony for Asian American ancestors that took place on May 4.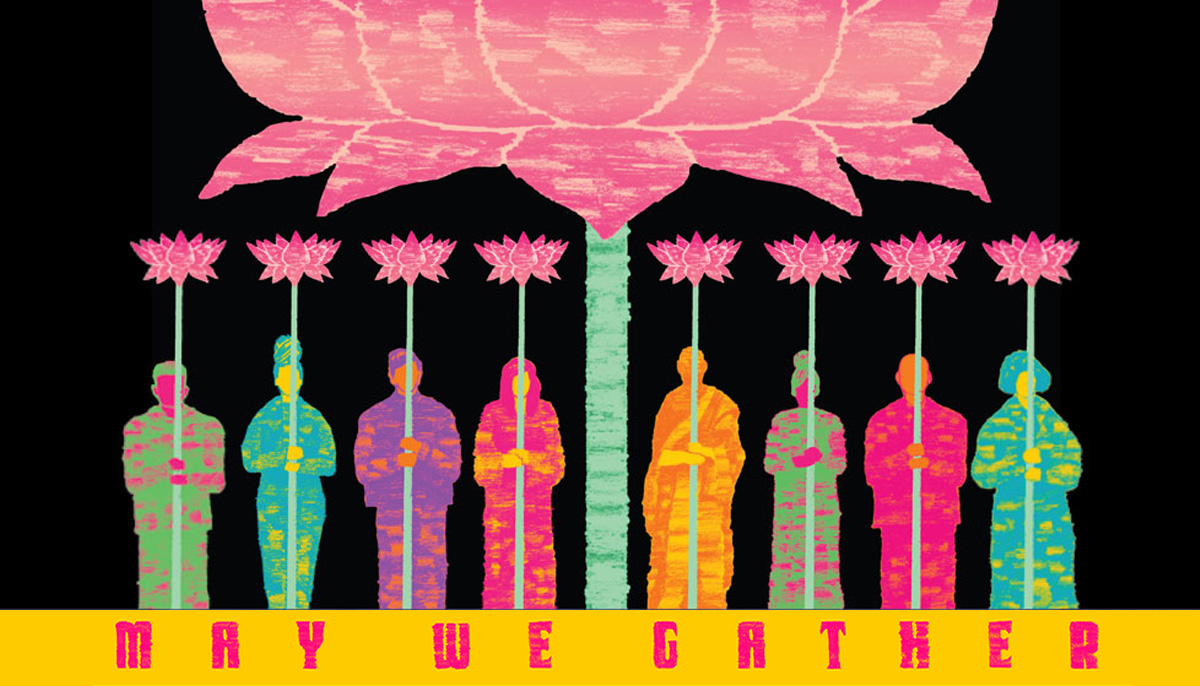 On May 4, 2021, Buddhist clergy from many lineages and ethnicities gathered at the Higashi Honganji Buddhist Temple in Los Angeles's Little Tokyo for "May We Gather: A National Buddhist Memorial Ceremony for Asian American Ancestors." The event commemorated the 49th day after the horrific murder of eight individuals in Atlanta, Georgia, six of whom were Asian American women.
Rev. Cristina Moon's voice broke as she recited the names of the six Asian American women who were murdered on March 16, 2021: Tan Xiaojie, Feng Daoyeu, Hyun Jung Grant, Soon Chung Park, Kim Suncha, and Yong Ae Yue. Moon cited these women as examples of vīrya, or spiritual strength. They are women who "risked everything to build a brighter future … The strength they had to make America their home, working multiple jobs and navigating a new world for the sake of their families was tremendous. Let us commit to matching their spiritual strength, their vīrya, today and every day to come as we remember and honor them."
May we gather to remember, may we gather the pieces, may we gather to repair, and may we gather to liberate together.
The attack was one more example of how Asian Americans have faced racialized violence throughout U.S. history, with targeted attacks against Asian Americans, particularly elders, increasing during the COVID-19 pandemic. Higashi Honganji Buddhist Temple was vandalized earlier this year in February when an unknown individual set fire to the building.
The event, organized by Chenxing Han, Dr. Funie Hsu and Rev. Duncan Ryūken Williams, was livestreamed on YouTube to an audience of thousands. The YouTube chat was full of people from all over the U.S., Canada, and the world sharing their appreciation to the organizers for providing a space for healing from the emotional and spiritual traumas that racist violence wreaks in communities of color.
Many were struck by the pan-Buddhist nature of the event. One commenter wrote, "It is so special to see all these Buddhists sects coming together in the U.S. in one ceremony to honor all those who have suffered due to ignorance and fear in their communities." Clergy and teachers representing Fo Guang Shan, Jōdo Shinshū, Nichiren, Zen, Theravāda, Thiền, Tibetan, and other traditions were present to chant suttas and sacred texts during the ceremony. Six different teachers from various traditions spoke on the six pāramitās of wisdom (prajñā), mindful action (śīla), patience (kṣānti), meditation (dhyāna), spiritual strength (vīrya), and giving (dāna). They offered spiritual reflection on May We Gather's purposes: May we gather to remember, may we gather the pieces, may we gather to repair, and may we gather to liberate together.
More than a space for spiritual reflection, May We Gather was a fierce declaration. Communities of color, especially Asian American immigrant communities, are encouraged to forget their histories and traumas in the name of harmony and assimilation. Remembering, or bearing witness, in this way is an act of defiance as well as healing.
An altar held seven white memorial tablets with black dharma wheels. Six tablets represented specific individuals who had been killed due to racial violence:
Sia Bun Ning, killed September 2, 1885 in the anti-Chinese Rock Springs Massacre in Wyoming
Kanesaburo Oshima, shot May 12, 1942 inside the Fort Sill, Oklahoma internment camp
Thien Minh Ly, stabbed to death January 28, 1996, in Tustin, California
Tommy Le, shot by police for holding a pen on July 19, 2019 near Seattle, Washington
Vicha Ratanapakdee, died after being attacked on January 28, 2021 in San Francisco, California
Yong Ae Yue, shot on March 16, 2021, in Atlanta, Georgia
The last tablet represented "all beings who have lost their lives through racial and religious animus." As Chenxing Han noted, "Because the history of systemic anti-Asian violence in the U.S. includes erasure, many of the names of those killed have not been documented. We say the names of these six individuals while acknowledging and honoring the many other names not on the altar today."
Rev. Duncan Ryūken Williams claims that despite this "lineage of racial hurt," May We Gather allows the Asian American community to "join together to repair the racial karma of this nation, because our destinies and freedoms are intertwined. Though the mountain of suffering is high and the tears of pain fill the deepest oceans, our path compels us to rise up like a lotus flower above muddy waters."
This was clear in the event's use of kintsugi, the Japanese art of repairing broken pottery; we cannot fix what is broken, but we can attempt to mend it, and in that mending, create beauty. On a dais sat a white ceramic lotus, with cracked petals spreading out and up. The cracks were still visible, but beautiful. As the chanting began, monastics went one by one to gild the cracks with gold lacquer. It was a remembering of a community that has been harmed by violence.
In her opening remarks, Dr. Funie Hsu said, "We do not suffer alone. Nor do we heal alone." In mending, but not erasing, the cracks of racial violence that have harmed us, "May We Gather" offered a space to heal and move forward together.
Watch a replay of "May We Gather" below: