An interview with Jan Chozen Bays from our "Meet a Teacher" series in the July 2022 issue of Lion's Roar magazine.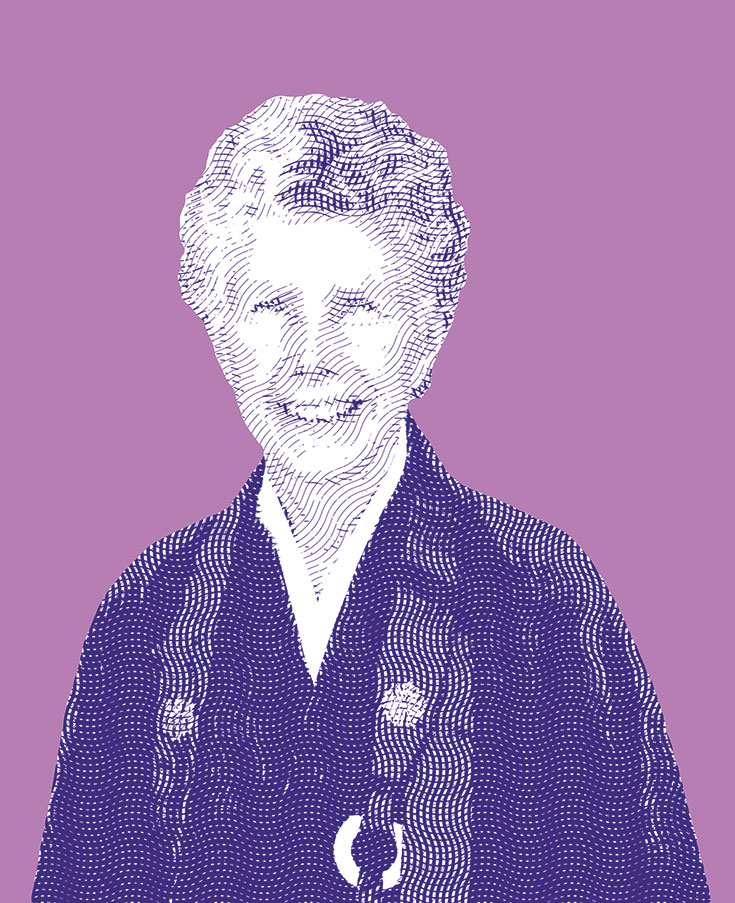 I was born in Chicago in 1945, on the day the atomic bomb was dropped on Nagasaki. My parents were pacifists during WWII (not a popular position), and they were very saddened by the bombing.
I was raised in a liberal Protestant church, and my mother believed that God was love. When I was a teen we spent two years living in Korea, where my father was teaching. I remember climbing up a mountain in the dark to watch the dawn light touch the face of a Buddha in a cave. Maybe that's why I'm a Buddhist priest, or maybe it's because I used to sit as quietly as possible in the forest, so the forest animals would not know I was there, or maybe it's because my first breath contained the dust and vows of all the Buddhist priests who were vaporized by the bomb.
I've practiced Zen since 1973. From 1978 to 1983 I lived at Zen Center of Los Angeles, studying with Taizan Maezumi Roshi and directing the Zen Center's nonprofit medical clinic. I finished formal koan study in 1983 and was given dharma transmission that same year. Following the death of Maezumi Roshi, I continued my training with Shodo Harada Roshi.
With my husband, Laren Hogen Bays, I've been a teacher for Zen Community of Oregon since 1985. In addition, we're cofounders and co-abbots of Great Vow Zen Monastery in Clatskanie, Oregon.
I am a pediatrician, specializing in work with abused children. I'm also the author of various books, including Jizo Bodhisattva: Guardian of Children, Women, and Other Voyagers and Mindful Eating.
What is your current or next project?
I just finished writing a book called Mindful Medicine: Forty Simple Practices for Healthcare Professionals to Heal Burnout and Reconnect to Purpose. Circling in my head are a children's book about Jizo Bodhisattva, and books about the inner critic and preparing for death.
Favorite meditation practice?
The four foundations of mindfulness and open awareness.
What dharma books do you recommend?
The Pali canon, Cultivating the Empty Field by Hongzhi Zhengiue, and any book by Sheng-yen. Actually, I recommend any book that inspires you to put it down and go sit on the cushion.
Your favorite virtue?
Patience is my lesson for this lifetime. And maybe the next.
Your chief characteristic?
A positive outlook in the face of samsara, impermanence, and human cruelty.

Your principal poison?
I'm a greed type.
Your idea of happiness?
Sitting in the forest, sledding down a snowy hill in the moonlight, or wearing a sparkly skirt while square dancing with my husband.
What's the worst job you've ever had?
Cleaning out the open toilet at a temple in Japan. I used a long-handled dipper to scoop out feces, toilet paper, and maggots, which I then carried to the garden. I tried to keep my mouth shut as it splashed all over me.
If not yourself, who would you be?
Me, with all my life experience, but with a younger body.
Name three of your heroes.
Ayya Khema, Nelson Mandela, and Zenshin. Zenshin was a teenaged girl who was the first person to be ordained as a Buddhist in Japan. She kept the faith despite persecution.
The natural talent you'd most like to have?
To speak ten languages.
Your favorite author?
Mary Oliver and Opal Whiteley.
Your favorite musician or group?
Countertenor Jakub Józef Orliński singing with Mika or The King's Singers.
Your favorite current TV show?
I don't have a TV, but I do like some shows from Masterpiece: Unforgotten, Mrs. Wilson, and Elizabeth Is Missing.
What's for dinner?
Homemade vegan, gluten-free pot pie; steamed spinach with tamari and sesame oil; and orange sponge pudding cake.
A motto that represents you?
"Awareness brings choice and choice brings freedom."